Demand Insights
> Last 7 days
Demand Rank
Worldwide
WW
#
January 27, 2022
WW
Daily Demand (Last 7 days)
Travelability
Global Travelability indicates how well a title performs internationally relative to its home market
Za Marzenia's
home country is:

Poland
Demand Score
Worldwide
WW
Average Demand for Za Marzenia is 0.0 times the demand for the average show in Worldwide in the Last 7 days.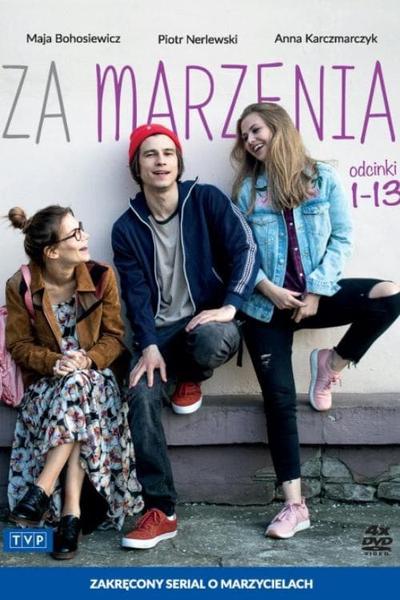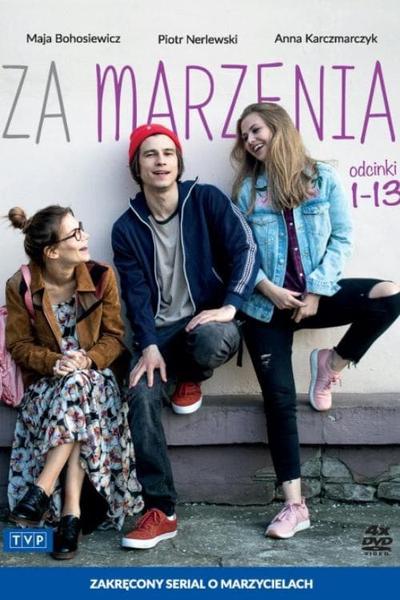 Trend
Worldwide
WW
Za Marzenia has a neutral trend. It has grown in demand by 0x in Worldwide in the Last 7 days.
In Genre Performance
Worldwide
WW
Za Marzenia ranks at the 0.00th percentile in the genre. This means Za Marzenia has higher demand than all other titles in Worldwide
About this title
Country: Poland
Type: scripted
Language: Polish
Release Date: February 26, 2018
Also Known As: Za marzenia
Cast
Tomasz Ignaczak
as Receptionist
Iwona Wyrzykowska
as Wedding Planner
Mikolaj Cieslak
as Erwin Anielak
Maria Wieczorek
as Patient Dorota
Kacper Dziubalko
as Teenager
Krystyna Wachelko-Zaleska
as Jadzia
Krystyna Tkacz
as Secretary
Monika Krzywkowska
as Ewa Morawiec
Pola Blasik
as Bride Klaudia
Rafal Maslak
as Sport Teacher
Anna Oberc
as Wanda Anielak
Kamil Suszczyk
as Delivery Man
Elzbieta Romanowska
as Eliza Tyfus
Ewelina Stepanczenko
as Ewelina Stanek
Olga Kalicka
as Babysitter
Marta Chodorowska
as Secretary
Konrad Skolimowski
as 'Kolo'
Malgorzata Rozniatowska
as 'Gypsy'
Grzegorz Karas
as Passer-by
Magdalena Kacprzak
as Mirka
Magdalena Smalara
as Dana Leszkiewicz
Dariusz Bronowicki
as Taxi Driver
Katarzyna Ankudowicz
as USC clerk
Andrzej Nejman
as Arkadiusz
Rafal Szalajko
as Chief of Hotel
Julia Bodziony
as Anka's Sister
Piotr Gawron-Jedlikowski
as Instructor
Dariusz Siastacz
as Neighbor
Piotr Zgieb
as Taxi Driver
Jan Wieczorkowski
as Robert
Monika Figura
as Ticket Inspector
Aleksandra Wierzba
as Script
Robert Brzezinski Jr.
as Szymon Korcz's double man
Marek Klimaszewski
as Policeman
Krzysztof Kiersznowski
as Manager of Christmas market
Mateusz Lisiecki
as Cold store driver
Maciej Damiecki
as Husband
Maciej Zacharzewski
as Man in marina
Zbigniew Stryj
as Producer
Malgorzata Kozlowska
as Martyna
Mariusz Sikorski
as Sushi Man
Mateusz Dobies
as Wedding Guest
Radoslaw Krzyzowski
as Father of Bartek
Jacek Lenartowicz
as Businessman
Jakub Wesolowski
as Adam Wierzbicki
Jan Dravnel
as Bartek's friend
Tomasz Ciachorowski
as Globetrotter
Kamila Janik
as Costume designer
Katarzyna Mlynarczyk
as Violetka
Izabela Kuna
as Mother of Bartek
Slawomir Holland
as Korcza
Anna Mrozowska
as Employee at the check-in desk
Agnieszka Mrozinska
as Actress
Maciej Wierzbicki
as Surgeon
Maciej Wilewski
as Taxi Driver
Paulina Suska
as Hot Brunette
Ewelina Serafin
as Director of 'Cyrkowcy'
Aneta Kuchta-Filip
as Costume designer
Anna Sitarska
as Older Woman
Bartlomiej Gola
as Courier
Stanislaw Biczysko
as Security Guard in store
Damian Babol Sas
as Journalist
Grzegorz Wons
as Professor
Mateusz Nedza
as Damian Korkuc
Daniel Guzdek
as Second Director
Paulina Komenda
as Aldona Zacierska
Mariusz Urbaniec
as Zbyszek
Andrzej Popiel
as Agent of Miss Gabi
Agnieszka Mandat
as Sabina
Charlotta Zielinska
as Wedding Guest
Michal Bielinski
as Chemistry teacher
Hubert Paszkiewicz
as Pizza Boy
Filip Gurlacz
as Policeman Pastuszka
Aleksandra Justa
as Krysia
Katarzyna Misiewicz
as Mania's mother
Piotr Nerlewski
as Bartek Sokól
Michal Koterski
as Szymon's Fan
Justyna Zielska
as Woman's daughter
Jakub Kamienski
as Mariusz Liput
Corinne Jankowska
as Makeup artist
Anna Krotoska
as Sister Krystyna
Marcel Szymanski
as Wedding DJ
Pamela Adamik
as Justyna Dziekan
Weronika Warchol
as Agnieszka
Maja Bohosiewicz
as Zosia Morawiec
Kamil Bloch
as Waiter 'Zorro'
Adrianna Drozd
as Girl at the restaurant
Malgorzata Zajaczkowska
as Head of allotment gardens
Bartlomiej Kwiatkowski
as Male Nurse
Mariusz Bonaszewski
as Antoni Wolanski
Przemyslaw Sadowski
as Priest Andrzej
Piotr Sedkowski
as Courier
Hanna Skarga
as Bridesmaid
Bartosz Jakubowski
as Chauffeur
Delfina Wilkonska
as Patient
Mikolaj Chroboczek
as Bodyguard
Franek Boberek
as Director of TV commercial
Michal Breitenwald
as Passenger
Natalia Sierzputowska
as Girl
Monika Kwaskiewicz
as Journalist
Marcela Stanko
as Brunette
Kamil Kula
as Actor Szymon Korcz
Mariusz Chalat
as Antique shop customer
Marta Konarzewska
as Vintage Girl
Oliwia Graczkowska
as Mania Losiewska
Maja Pitera
as Girl with Niuniek
Magdalena Lamparska
as 'Telma'
Anna Karczmarczyk
as Anka Wolanska
Aleksander Mackiewicz
as Jurij's agent
Barbara Kaluzna
as Bartek's Boss/Lady
Stefan Rzymowski
as Bodyguard
Jacek Schmidt
as Extras in doc
Karina Kunkiewicz
as Dagmara Dziekan
Marta Wardynska
as Rescuer
Rafal Zawierucha
as Painter on the command
Adam Hadi
as Man at the restaurant
Damian Jankowski
as Transport company employee
Krzysztof Chudzicki
as Policeman
Elzbieta Okupska
as Wandzia
Julia Wieniawa-Narkiewicz
as Vloger
Barbara Kurzaj
as School's Manager
Katarzyna Figura
as Eliza Drawicz
Paulina Chrusciel
as Actress Inga Malik
Krystyna Grzesikowska
as Florist
Lena Karas
as Girl at the fair
Dariusz Toczek
as Bar's Owner
Krystian Kukulka
as Receptionist at the plastic surgery clinic
Stanislawa Hilarska
as Policewoman
Paulina Lasota
as Helena Kowalska
Aniceta Raczek-Ochnicka
as Woman in Bus
Pawel Ciolkosz
as Daniel Jakubczyk
Arkadiusz Brykalski
as Jacek Górski
Mateusz Lapka
as Handsome Wedding Guest
Anna Mozolanka
as Pensioner
Wojciech Slupinski
as Kowalski
Anna Moskal
as Hospital's Manager
Beata Ziejka
as Anka's Mother
Paulina Janczak
as Costume designer
Malgorzata Paprocka
as Client
Anna Terpilowska
as Doc director
Marcin Perchuc
as Szczepan Bielski
Marek Slosarski
as Sapper commander
Piotr Piksa
as Photographer
Katarzyna Skarzanka
as Fan's Mother
Przemyslaw Glapinski
as Shop owner
Martyna Bazychowska
as Young Actress
Przemyslaw Strojkowski
as Filip
Sebastian Stankiewicz
as Worker of Bicycle Storage
Hubert Wiatrowski
as Rafal Jurys
Aneta Todorczuk-Perchuc
as Dr. Marta Górska
Konrad Jalowiec
as Instructor in the gym
Magdalena Karel
as Marzenka
Arkadiusz Golebiowski
as Doctor
Agnieszka Pilaszewska
as Bus's Driver
Grazyna Kopec
as Director Laura Banach
Grzegorz Ciagardlak
as Bodygaurd
Katarzyna Glogowska
as Bank Employee
Aleksandar Milicevic
as Bank's Worker
Dominika Gwit
as Paulina Pyzal 'Pyza'
Maciej Nawrocki
as Escape Room's Manager
Piotr Szrajber
as Porter in the TVP building
Marcin Sztendel
as Boy in the gym
Mateusz Szymkowiak
as TVP Presenter
Zbigniew Dziduch
as Taxi Driver
Mieczyslaw Hryniewicz
as Uncle Czeslaw
Krzysztof Tyminski
as Boy at the fair
Aleksander Sosinski
as Cyprian
Malgorzata Jasionowska
as Shop assistant
Jacek Rozenek
as 'Tulipan'
Zofia Zborowska
as Manager of 'TopVisage'
Kamil Ruszecki
as Mr. Czeslaw
Krzysztof Czeczot
as Bully
Alina Chechelska
as Aunt Halina
Stanislaw Jaskulka
as Mr. Marian
Adam Bobik
as 'Suicideman'
Dawid Sciupidro
as Bartek's friend
Justyna Suwala
as Sister Beata
Krzysztof Wach
as Manager of Cafe
Slawomir Wierzbicki
as Editor
Agnieszka Wosinska
as 'Ruda'
Krzysztof Rzesniowiecki
as TV Presenter
Aleksandra Hamkalo
as Gypsy's client
Katarzyna Swierzbinska
as Woman on the Pier
Malgorzata Lalowska
as Tutoress
Seasons & Episodes