Demand Insights
> Last 7 days
Demand Rank
Worldwide
WW
#
October 28, 2021
WW
Daily Demand (Last 7 days)
Travelability
Global Travelability indicates how well a title performs internationally relative to its home market
You're The Worst's
home country is:

United States
Demand Score
Worldwide
WW
Average Demand for You're The Worst is 0.0 times the demand for the average show in Worldwide in the Last 7 days.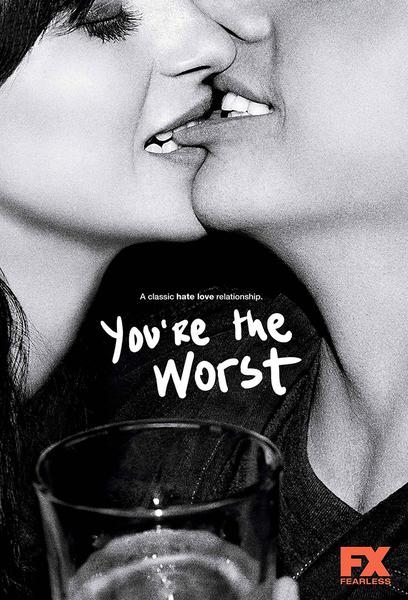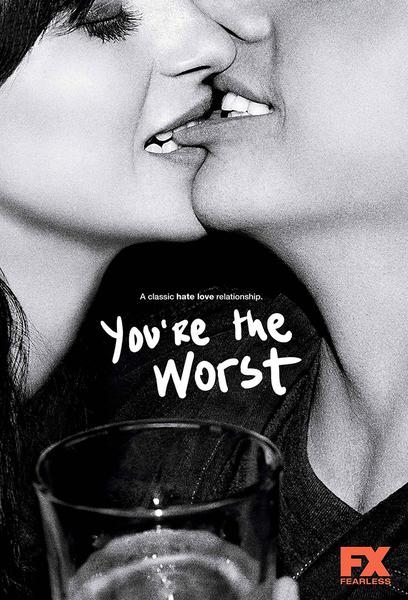 Trend
Worldwide
WW
You're The Worst has a neutral trend. It has grown in demand by 0x in Worldwide in the Last 7 days.
In Genre Performance
Worldwide
WW
You're The Worst ranks at the 0.00th percentile in the genre. This means You're The Worst has higher demand than all other titles in Worldwide
About this title
Storyline
"You're the Worst" isn't a typical romantic comedy. Narcissist Jimmy Shive-Overly thinks all relationships are doomed from the start, while stubborn cynic Gretchen Cutler is certain that amorous bonds aren't her thing. When the two meet at a wedding, though, there's a sea change: They go home together and find they're beginning to fall for each other. Jimmy and Gretchen navigate fear, heartbreak, ardor and other feelings, while their situation seems to establish that nontraditionalists sometimes make great partners.
Plot Keywords
depression
infidelity
romantic comedy
romance
Company Credits
Production Co: Hooptie Entertainment, FX Productions
Cast
Ryan Windish
as Baseball Fan
Rich Young Lee
as Grown-Up
Todd Robert Anderson
as Vernon Barbara/Vernon
Brandon Mychal Smith
as Sam Dresden/Sam
Andrea Helene
as Friend #2
Krishna Nagulapally
as Restaurant Patron
Danny Rico Soto
as Young Son
Allen Maldonado
as Honey Nutz
Janet Varney
as Becca Barbara/Becca
Venessa Verdugo
as Middle Aged Wife
Kate Comer
as Debbie/Ripped Jeans
Chris Sanders
as Brunch Hipster
Cornelius Jones Jr.
as Cooking Husband
Echo Kellum
as Tall Nathan
Sandra Bernhard
as Sandra Bernhard
Bryan Sapphire
as Juggling Reporter
Gabriela Fresquez
as Nourished Earth Employee #1
Jennifer Kathreen Larson
as Video girl
Jason Wayne Christian
as Audience Member
Cody Renee Cameron
as Tawny Lawns
Chayce Lee
as Massage Therapist
Bruce M. Stockert
as Man at Party
Andrew Connolly
as Freddie
Floyd Van Buskirk
as Veteran
Esteban Andres Cruz
as Film Nerd 1
Tara Bianco
as Pepper Fondant
Joyce Greenleaf
as Old Lady
Giovonnie Samuels
as Brianna
Tony Jacobsen
as Audience Member
Nicholas Alexander
as Raul
Winston James Francis
as Giant Pig
Tara-Nicole Azarian
as Cosplayer
Zachary James Rukavina
as Jerry
Shannon Hillary
as Female Torturer
Kristen O'Meara
as Venue Coordinator
LynNita Ellis
as Airport Traveler
Roy Jenkins
as Group Leader
Patrick Birkett
as Old Man
Juliet Tondowski
as Film Nerd 2
Mary Grill
as Female Executive
Trey Goodman Carter
as Pecs
Brad Hunt
as Tow Truck Driver
Patrick Thomas Cragin
as Crunchy Guy
Philip Harville
as Hipster Press
Gabriel Burrafato
as Dan Parnell
Steve Agee
as Dutch/Pizza Delivery Guy
Lou Diamond Phillips
as Lou Diamond Phillips
Anthony A. Kung
as Karaoke Singer
Scotty Kyle
as Zoiddle Maps Driver
Shane Nickerson
as Cell Phone Salesman
Natalia Abelleyra
as Waitress
Jason Diamond
as Park Hipster
Noelle E Parker
as Sweet Little Girl
Collette Wolfe
as Dorothy Durwood
Kathleen Rose Perkins
as Priscilla
Kaia Cowart
as Young Becca
Christopher Jefferson
as Turnball
Allan McLeod
as Paul Jillian/Paul
Doby Daenger
as East Hollywood Pedestrian/Nightclub Patron
Rob Flowers
as Studio Tech
Monica Parks
as Business Woman
Jenny Tran
as Fringe Jacket
Doug Benson
as Doug Benson
Assaf Cohen
as Male Executive
KylieRae Condon
as Lil Gretch
Veronica Parks
as Gretchen's Friend
Olivia Cannizzo
as Gymnast
Callard Harris
as Skinny Vet Tommy/Tommy Boden
Juan Alfonso
as Police Officer
Matty Cardarople
as Engineer
Heather Brooker
as School Teacher
Emory Ogletree II
as Bouncer
Kelvin O'Bryant
as Male Student
Paul F. Tompkins
as Paul F. Tompkins
Jon Marsch
as Leg Cast Patient
Brandon Black
as Honey Nutz 2
Chris Geere
as Jimmy Shive-Overly
Trent Walker
as British Guy
Emily Heller
as Emily Heller
Christina Wildes
as Hot Fangirl
Americus Abesamis
as Curling Member
Giannina Esquivel
as Khaleesi Cosplay
Julie White
as Dr. Tabitha Higgins
Christopher Rolontz
as James
Janell Winkler
as Saleswoman
Jaeden Bettencourt
as Kid #2
Seli M. Rose
as Cooking Wife
James Pumphrey
as Buffalo Bob
Rebecca Tilney
as Vanessa Cutler
James Urbaniak
as Army Priest
Nadia Tumanova
as Party Guest
Kelli Dawn Hancock
as Waitress
April Bowlby
as Bernadette
Roger Bart
as Jonathan R. Strasburg
Samuel Baca
as Restaurant Patron
Jill Johnson
as Audience Member
Rob Locke
as Food Columnist
Marie Paolantonio
as Curling Woman
Celeste McMillian
as Hipster Ingenue
John Byers
as Vernon's Friend
Evan Boymel
as Reporter #1
Adwin Brown
as Improv Student
John A. McKenna
as Old Man
Anissa Borrego
as Cool Bangs
Stephen Schneider
as Ty Wyland
Chantelle Tibbs
as Hostess
Henry Rollins
as Henry Rollins
Tyrone Emanuel
as Garth Murmur
Richard Burch
as Yet Another Homeless Man
Time Winters
as Mr. Collins
Katie Couch
as Midriff Girl
Ariana Marchesini
as Phone Girl
David Vereen Wright
as Biggie Impersonator
Emily Hinkler
as Female PA
Nikita Chaudhry
as Woman #2
Jackie Michele Johnson
as Girl
Lindsay Coryne
as Bartender/Hotel Bartender
Phil Miler
as Professor Soufflot
Friday Chamberlain
as Side Shave
Tessa Ferrer
as Nina Keune
Adam Zastrow
as Homeless Man
Jennifer Neala Page
as Woman #1
Ginger Gonzaga
as Megan Thomas
Lucy Montgomery
as Katherine
Xochitl Gomez
as Eclipse Kid
Brianni Walker
as Kid in Library
Frank Cappello
as Banker Guy
Max Purget
as Boy on Slide
Benjamin Patterson
as Kenji
Brittini London
as Another Girl
Devyn Rush
as Scream Singer/Speakeasy Singer
Kether Donohue
as Lindsay Jillian
Mageina Tovah
as Amy Cadingle
Allyson Ryan
as Gretchen's Sister-in-Law
Angela Oh
as Wedding Coordinator
Lynn Adrianna Freedman
as Audience Member/Belinda Maplethorpe/Woman in Theater
Luis Fernandez-Gil
as Preacher
Edward James Gage
as Another Homeless Man
Jessica DeShaw
as Old Timey Cute Woman
Laura Barrett Larkins
as Woman With Stroller
Megan Stier
as Crunchy Girl
Megan Harmon
as Caliber Employee/Convention Attendee
Aya Cash
as Gretchen Cutler
Michelle Glavan
as Yoga Instructor
Robin Riker
as Faye Cottumaccio
Josh Alexander
as Employee
Ben Seaward
as Student Director
Camille Bright
as Comedy Girl
Caitlin Kimball
as Sloppy Sweatshirt Girl
Stephen Mendel
as Fred Cutler/Gretchen's Dad
Trey Gerrald
as Darren Kaplan
Robert Holik
as Meeting Attendee
Esther Marie Hill
as Bonnie-Waitress
Demetrius Stear
as Veteran
Heidi Jo Eigenberger
as Desk Clerk
Danielle McRae Spisso
as Improv Student
Elaine Barnard
as Old Lady
Jeff Doucette
as Leonard Gilmartin
Marc Evan Jackson
as Therapist
Kiff VandenHeuvel
as Heathstead
Ellen D. Williams
as Casting Associate
Ronnie Clark
as Heathcliff Rothchild III
Remington Hoffman
as Waiter
Declan Churchill Carter
as Boy
Ruben Dario
as Male Customer
Cat Ce
as Video vixen girl
Lou Taylor Pucci
as Nock Nock
Vanessa Ragland
as Female Student
Vincent Duvall
as City Councilman Jim Burton
Leandro Dottavio
as Shane Hardy
Stephen Holland
as Expo Worker
Desmin Borges
as Edgar Quintero
Brian Posehn
as Brian Posehn
Lucas Rodarte
as Dancer Guest
Mariah Quintana
as Petting Zoo Kid
Jeff Johnson
as Curling Man
Patrick Daniel
as Bartender
Ambrit Millhouse
as Rhonda
Samira Wiley
as Justina Jordan/Justina
Steve Myung
as Karaoke Singer #2
Bernadette Falk
as Bernadette
Ryan Caldwell
as Delivery Guy
Natalie Amenula
as Wolf Tattoo
Bamm Ericsen
as Some Other Homeless Man
Kimberlee Kidd
as Hot Drunk Chick
Chasty Ballesteros
as Female Interviewer
Samantha Klein
as Female Guest
Valeria Sweet
as Tommy's Girl
Americo Galli
as Bar Flirt
Jordyn Chang
as Prostitute
Milli Moto
as Artists' Agent
Stephanie Courtney
as Bookstore Manager
Brandon J. Sornberger
as Bartender
Arriane Alexander
as Reporter #2
Shane Francis Smith
as Killian Mounce/Killian
Charmel Catrell
as Waitress
Alexander Neher
as Hot Guy #2
Jenna Osterlund
as Maid of Honor's Friend
Joseph Buttler
as Paul's Lawyer
Jessy Hodges
as Female Jogger
Stephen Falk
as Ron Stitches
Nicole DuBois
as Princess Di
Harry Yi
as Another Customer
Francis Lloyd Corby
as Aiden
Mario Perez
as Nourished Earth Employee #2
Joshua Hoover
as Tour Guide
Mary Elise Hayden
as Celebrity
Tina D'Marco
as Edgar's Abuelita
Alexi Stavrou
as Handsome Man
Andrew Patrick Ralston
as Man
Carlos E. Campos
as Randall
Pablo Ramos
as Hot Dog Vendor/Soda Vendor
Lee John Gilligan
as Camera Man
Corey Brill
as Mysterious Man
Michael J. Sielaff
as Tall Man
Chevonne Hughes
as Crying Girl
Soledad St. Hilaire
as Nanny
Jacob Timothy Manown
as Ornette
Andy Buckley
as Russell Fleischer
Matt Miller
as Briefcase Man
Adam Blau
as Colin/Vigil Musician
Mike DeMille
as Urgent Man
Sugar Lyn Beard
as Justine
Darrell Britt-Gibson
as Shitstain
Joan Blair
as Female Author
Jessica Stroup
as Young Faye
Thomas Middleditch
as Hipster Ringleader/Ringleader
Jongman Kim
as Photographer
Margo Gignac
as Screaming Girl in Wheelchair
Frank Velasco
as Bar Patron
Sonny Valicenti
as Bartender
Caitlyn Baidas
as Rude Customer
Erin Alexis
as Wedding Planner
Alec Manley Wilson
as Gretchen's Brother
Georgie Guinane
as Beatrix
Phil Abrams
as Steeb Corniglia
Celia Finkelstein
as Protester
Seasons & Episodes
Season 1
2014 | 10 Episodes
Season 2
2015 | 13 Episodes
Season 3
2016 | 13 Episodes
Season 4
2017 | 13 Episodes
Season 5
2019 | 13 Episodes
Awards
Critics Choice Television Awards 2015
Nominee
Critics Choice Television Awards
Best Comedy Series
IGN Summer Movie Awards 2015
Nominee
IGN Summer Movie Awards
Best Comedy Series
Nominee
IGN Summer Movie Awards
Best TV Actress