Demand Insights
> Last 7 days
Demand Rank
Worldwide
WW
#
January 17, 2022
WW
Daily Demand (Last 7 days)
Travelability
Global Travelability indicates how well a title performs internationally relative to its home market
Undercover's
home country is:

Bulgaria
Demand Score
Worldwide
WW
Average Demand for Undercover is 0.0 times the demand for the average show in Worldwide in the Last 7 days.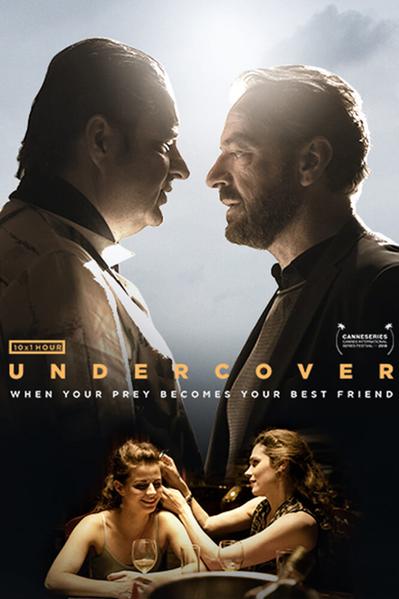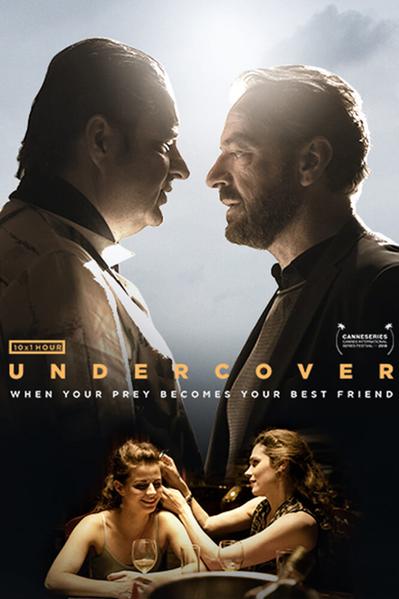 Trend
Worldwide
WW
Undercover has a neutral trend. It has grown in demand by 0x in Worldwide in the Last 7 days.
In Genre Performance
Worldwide
WW
Undercover ranks at the 0.00th percentile in the genre. This means Undercover has higher demand than all other titles in Worldwide
About this title
Storyline
The specially trained agent Martin has been appointed to the most dangerous mission in Bulgaria - to go undercover in the gang of the mafia boss Dzharo. On his way he has to encounter a lot of challenges in order to completely become part of the criminal world. His task becomes more complicated when he meets the big boss's girl Sunny. While undercover he gets a promotion in the mafia hierarchy and becomes part of the world - full of crime, violence and corruption. "Undercover" is a modern crime series which realistically depicts the reality of the underground world in Bulgaria. It is a fictional series and is not related to any real persons. However the plot contains a number of real events happening in the modern life that cover the pages of newspapers and magazines-gangster wars, drug market redistribution, forgery, gun shots in the city center, corruption schemes, bank robberies etc.
Country: Bulgaria
Type: scripted
Status: Ended
Language: Bulgarian
Release Date: April 17, 2011
Also Known As: Undercover, Pod prikritie |  See more »
Parents Guide: Germany (16)
Plot Keywords
narcotics
police
street race
fight
Company Credits
Production Co: Bulgarian National Television
Cast
Lyobomir Gedzev
as Sodiya slobodni boeve
Ognyan Vatev
as Mutar/Mutra na Ivo
Plamen Sirakov
as Custom officer 1/Customs
Stefan Spassov
as Kolega na Dorotea
Atanas Panchev
as Civilen policai v noscen klub
Rositsa Litova
as Sofyorka
Tanya Kacarova
as Tanciorka 2/Tanciorka v zalata
Yasen Rusev
as Martin (14g.)
Rositza Alexandrova
as Mariyana
Dimitar Radev
as Biznesmen - Samuilov
George Zlatarev
as Bizuter
Teodor Elmazov
as Filip delovoditel
Boris Lazarov
as Sin na delovoditela
Valeri Segmenski
as Boris Zelev/Boris Zelev (politik)
Lilia Kostova
as Bartender female 1/Barmanka 1/Barmanka 2/Bartender female 2/Barmanka/Bartender female
Alexandra Shindova
as Olga - sopruga na Mironov
Mariano Ekuitsi
as Translator
Lyudmil Porvanov
as Inspektor/Policai pred banka 2
Tzvetomir Tzvetamov
as Bodigard 2/Bodigard na Ivo
Diyan Rusev
as Magistralen policai 1
Dayana Valcheva
as Prostitute/Prostitutka
Yavor Mihailov
as Aikidoka
Little Bobby
as Victor Hristov
Vladimir Kolev
as Stanislav Valcanov
Teodora Peeva
as Servityorka
Dimitar Nikolov
as Basca na Stefka
Stefan Borisov
as Prekupvac
Daniela Filipova
as Simona
Ivo Krastev
as Sluzitel na NAP 1
Dimiter Doichinov
as Lamyata
Viktoria Kuzmanova
as Momice slobodni boeve
Irinei Konstantinov
as Advokat Marcev
Nikolay Hristanov
as Mladenov
Neno Koynarski
as Drug Dealer
Radoslav Ignatov
as Narkoman
Violeta Nikolova
as Zena s Ivo
Stoyan Shivarov
as Akcioner 2
Stanislav Yanevski
as Angel Yakimov - Geleto
Kamen Kolarov
as Priyatel na Zdravko
Emil Emilov
as Children gluing posters/Dete lepyast posteri
Stefan Cirkov
as Turcin Bos
Kiril Efremov
as Tihomir Gardev - Tiso Bliznaka/Tisho The Twin/Tisho
Lyubomir Sirakov
as Prestupnik
Hristo Dimitrov
as Laborant/Stefan Cerniya
Ivailo Dimitrov
as Dobri - kradec/Narkobos 4
Darin Angelov
as Vladimir Dimitriev - Vaflata/Vlado Dimitriev - Vaflata/Vlado Vaflata
Tsvetelin Pavlov
as Lekar/Patoanatom
Boris Mihailov
as Sofyor na Dzaro
Ventsislav Yankov
as Nikolay Rashev - Niki Bliznaka
Nadezhda Ponorska
as Zurnalist 1
Georgi Raikov
as Mutra v kolata
Spas Spasov
as Puten policai 2
Rumen Boikov
as Ciganski Bos - Maikl
Blagoy Hristov
as Assen Iliev's bodyguard/Ohrana na Asen Aliev 1
Hristo Hristov
as Sakiliynik na Dzaro/Zurnalist
Blagoi Dimitrov
as Avtokradec
Robert Yanakiev
as Krastan Grigorov/Grigorov/Kristian Grigorov
Dimitar Dimitrov
as Policai/Sava - kola inkaso
Kire Gorevski
as Filip (asistent)/Filip - asistent
Nikola Parashkevov
as Sava
Asen Dobrev
as Operativen rabotnik
Alexandar Peychev
as Guest
Rosen Hadzhiev
as Mutra v kolata
Benoit Vandehaghen
as Lektor v akademijata
Iliya Yordanov
as Top official
Marian Marinov
as Policai Radilov
Veselina Delcheva
as Priyatelkata na Damyanov
Svetoslav Kangalov
as Dublor na Mironov/Yanko - puseka narkodilar/Yanko The Smoke - dealer
Diana Handzhieva
as Momice pred ulisceto
Zhuli Koeva
as Prodavacka na sladoled 1
Aneta Stamatova
as Prostitute/Prostitutka
Biser Marinov
as Ico - diler
Boyko Stamenov
as Custom officer 2
Stefania Kocheva
as Journalist/Zurnalistka
Zlateto Keremedchieva
as Sekretarka na Zelev
Evgeni Budinov
as Yavor/Yavor - kola inkaso
Anatoli Bozhinov
as Sanitar v morga
Milen Yanchev
as Kosyo - sin na biznesmen
Elena Zaykova
as Prostitute/Female worker
Valeria Stefanova
as Lili od stoitelno ministerstvo/Lili ot Stroitelno ministerstvo
Ivan Blagoev
as Spasitel 1
Teodor Karastoyanov
as Mario Metlata
Yoanna Boukovska
as Ana Nedelceva/Ana - deputatka
Abdel Nasur
as Naemen ubiec
Antonio Patorozliev
as Stanimir Kehaiov
Ivan Zapraynov
as Mutar (1992g.)
Atanas Panayotov
as Civilan policai
Kaloyan Paterkov
as Plasior 1
Kristina Nedelcheva
as PR/PR-ka
Georgi Horozov
as Priatel na Margarita
Tsvetelina Voinova
as Bartender female 2/Barmanka 1/Bartender female 1/Barmanka 2
Aleksandar Makarenko
as Nadziratel 2
Stanislav Pishtalov
as Cilingirov/Georgi - politik
Kristine Larsen Hustad
as Tanciorka 3/Tanciorka v zalata
Petar Kalchev
as Dobromir Angelov/Doznatel
Mariya Lyubenova
as Chick 1
Ivaylo Zahariev
as Martin Hristov
Rumen Krastanov
as Policai
Assen Assenov The Master
as Pimp
Lyubomir Petkov
as Italians bodyguard 1/Ohrana na Italianci 1/Ohrana na italianci 1
Snejana Makaveeva
as Zornica Popova/Zornica
Nikolay Penchev
as Praseto
Ivan Radev
as Sin na Kukata/Dete na Kukata/Lyaco (5. - sin na Rosen)/Lyaco - sin na Kukata/Sin Na Kukata
Kaloian Vodenicharov
as Trenyor
Rosen Kovachev
as Stefan - covek na Baicev
Jack Koen
as Customer in restaurant
Vladimir Vishanski
as Krum
Ilian Ilkov
as Patrulen policai 1
Velizar Peev
as Ceco/Sofyor na Dzaro
Stanislav Doinov
as Priyatel na Kosyo
Stanimir Stamatov
as Vanko
Alex Aalashi
as Arabic translator/Prevodac ot arabski
Tanya Miteva
as Recepcionistka v motel
Yarub Hamid
as Dzelal Faruk
Panaiot Conev
as Asen Kacarov
Yana Georgieva
as Sluzitel na tel 112
Valo Neshev
as Ekspert fotorobot
Grozdan Daskalov
as Taksimetrov sofyor
Losi Ilarionov
as Producent
Vanessa Dimitrova
as Rayna
Goran Djudov
as Bodyguard at airport
Stoyan Tsvetkov
as Venci Venata
Valentin Burski
as Georgiev - civilen policai/Korumpirai policai
Kiril Milovski
as Urednik - ekspert
Alexander Doynov
as Ubice 1/Ubiec 1
Konstantina Zhivova
as Darina
Angel Velikov
as Asen Aliev/Assen Iliev
Hristo Mutafchiev
as Aleksandar Mironov
Denica Simeonova
as Zurnalist
Alexander Kirov
as Vodesc modno sobitie
Stoyka Stefanova
as Recepcionistka 2
Boyko Krastanov
as Erol Metin
Georgi Krastanov
as Nadziratel/Prison guard
Kalin Dikov
as Andrei/Arhitekt
Emilia Kopceva
as Maikata na Stefka
Mattia Sbragia
as Italianski bos/Italian boss
Stoyanov Vencislav
as Serbin
Hristo Uzunov
as Civilen policai 1/Policai ot MVR
Velin Velichkov
as Ekspert na Dzaro
Todor Dotsev
as Peso - kradec
Nadya Poliakova
as Medicinska sestra
Elena Serova
as Sluzitelka v parlamenta
Irena Miliankova
as Silvia Veleva - Sunny
Emil Kamelov
as Ivo's Bodyguard 1
Vasil Ivanov
as Rado - kola inkaso
Ivaylo Mihailov
as Mutar (1992g.)
Desislava Kasabova
as Mila
Boyka Velkova
as Dorotea/Doroteya
Dimitar Petkov
as Glaven sekretar na MVR/Glaven sekretar
Stefan Iliev
as Gen.Penev/Gen. Penev
Vladimir Zombori
as Inspector
Georgi Stoyanov
as Police Agent
Valeri Stoyanov
as Nadziratel
Anton Antonov
as Ivo's bodyguard 2
Zdravko Lumbev
as Naematel
Zhelyazkov Alexander
as Policeman 2
Blagovesta Miteva
as Tanciorka 1
Georgi Varshokov
as Reporter/TV reporter
Clive Sawyer
as Maikl Launds
Ivan Ivanov
as Sobstvenik na serviz
Blagoy Georgiev
as Zurnalist
Stanislav Peev
as Prison guard/Nadziratel
Nikolai Nikolov
as Nikola Nedelcev
Desislava Katerinova
as Italian translator/Prevodac ot italianski
Gabriela Ivanova
as Styoardesa
Vassil Zahariev
as Faruk's driver/Sofyor na Faruk
Miroslav Pashov
as Nedko Boicev
Lyuben Chatalov
as Prokuror
Kristiyan Pavlov
as Dzovani
Petar Toskov
as Georgi Drazhev
Zan Koen
as Klient v zavedenie
Bogdan Kazandjiev
as Diler na Meto
Zeni Deleva
as Zenata na Dzelal
Ognyan Simeonov
as Petkov - sledovatel
Kamen Rusev
as Martin (11 g.)
Nikolay Stoyanov Ilchev
as Tonev
Vesislava Lefterova
as Rada Nedelceva
Radina Biberova
as Pretty woman
Zahari Tanev
as Civilen policai
Pavlin Petrunov
as Female worker's son
Zachary Baharov
as Ivo Andonov/Ivo
Daniel Stoykov
as Croupiers in casino/Krupieta v kazino
Viktor Sotirov
as Ivan Turcina
Nikolay Panayotov
as Servityor 2/Waiter 2
Lyoboslav Georgiev
as Ohranitel na Cavdar
Rumen Atanassov
as Children gluing posters/Dete lepyast posteri
Dobrinka Getsova
as Erol's/Snezana
Nickolai Lukanov
as Posrednik
Evgeniy Vodenicharov
as Deputat 1
Viktor Stoyanov
as Ivo's bodyguard
Eleni Dekidis
as Lidiya - priyatelka na Miso
Radoslav Razpopov
as Civilen policai 2
Mario Nikolov
as Nikolov (banker)
Kalin Belyov
as Marin Metodiev
Georgi Dimitrov
as Montyor
Georgi Gotsin
as Kradec/Kradec-plemennik na Boyana
Damyan Tenev
as Diler 1/Todor Malinov/Uri/Yuri
Emil Kamenov
as Ohrana na Ivo 1/Ivo's bodyguard 1/Ivo's bodyguard
Dian Hristov
as Narkobos 3
Ivan Pershanliev
as Ohranitel strelbiste/Shooting-range guard
Simeon Velkov
as Zurnalist
Konstantin Noshkov
as Akcioner 1
Marco Lukiari
as Designer/Dizainer
Dobrina Cheshmedzhieva
as Vodesca na predavane
Philipp Roth
as David Saron
Svezhen Mladenov
as Inspektor 1/Policai 1
Lorenzo Semerdzhiev
as Haker/Hakera Yani/Kradec 1
Lyubomir Popov
as Simeon Delev - Himik
Ivaylo Asparuhov
as Klient za droga
Momchil Mihaylov
as Sef na pazacite
Atanas Naidenov
as Vodesc slobodni boeve
Kameliya Vladimirova
as Prostitutka
Nadia Terjumanova
as Susedka
Emil Penyashki
as Bai Slave
Yavor Ralinov
as Biznesmen - Kerezov
Leonid Yovchev
as Zurnalist
Ayhan Shakir
as Translator
Georgi Petrov
as Mechanic 2
Anna Maria Yavorova
as Ema
Silvia Petkova
as Yana Taneva/Yana
Pavel Chernev
as Meto/Meto - narkobos/Meto Scengata
Alexander Sano
as Zdravko Kiselov - Kosuma
Valentin Balabanov
as Sudiya 1
Yordan Danchev
as Dimo Venata
Antonio Dimitrievski
as Bombadziya
Georgi Todorov
as Ohranitel na pecatnica
Deyan Donkov
as Vasil Nikolov
Boris Kasikov
as Vlado - prestupnik/Vlado Prestupnik
Nikolai Ilchev
as Daniel Tonev/Tonev
Mihail Petrov
as Ivan Capev/Kradec - priatel na Martin
Yordan Dimitrov
as TV Reporter
Stoyko Peev
as Prokuror Nikolov
George Karlukovski
as Mutra
Lily Sucheva
as Tanciorka 2
Gerasim Gergov
as Gustera/The Lizard/Zmea
Mattia Sbradja
as Italian boss
Stoyan Radev
as Evgeni Dacev (diler)
Dimitar Todorov
as Ohrana na Asen Aliev 2
Nikolai Denov
as Vazrasten ohranitel
Yulian Svilyanov
as Sofyor na avtobus
Veselin Vasilev
as Bankov ohranitel
Ivo Tonchev
as Stefan Zuglev
Boris Abadjiev
as Buss driver
Yoanna Temelkova
as Nia Tudzarova/Niya Tudjarova
Petar Popyordanov
as Momchil Neshev
Atanas Mihaylov
as Advokat na Ivo
Olyana Nikolova
as Kirov's wife
Georgi Georgiev
as Scetovoditel na dzaro/Sekundant
Ivo Nikodimov
as News reporter/Zurnalist 1
Lora Pehlivanova
as Prostitute/Prostitutka
Ivan Panev
as Georgiev - Trasolog
Albena Stavreva
as Zena na delovoditela
Assen Kukushev
as Sluzitel na letisceto
Ivaylo Hristov
as Kiril Hristov/Covek Na Birhan/Covek na Birhan
Nadezhda Sekalova
as Sluzitelka v Unicredit Bulbank
Anastasia Panayotova
as Medicinska sestra
Aleksandr Aleksandrov
as Krasi Miladinov
Kristian Kolin
as Zarezdac 1
Slavi Stoynov
as Ohranitel na Cavdar
Nikola Marik
as Kriminalen tip
Mihail Lazarov
as Aleksandar Nedelcev
Asen Djermanski
as Policai 2
Dimitar Banenkin
as Aleksandar Sandov/Alexander Sandov
Ilia Atanasov
as Todor Malinov/Torod Malinov
Yulian Balahurov
as Politician/Politik
Tzvetan Dimitrov
as Svetlyo Pilata
Alexander Hegedush
as Sef na serviza
Vladimir Tsvetkov
as Policai GDBOP 1
Mihail Milchev
as Benisev/Benishev
Krasimir Kutzoparov
as Inspektor Trifonov
Slavi Slavov
as Boiac slobodni boeve/Covek na Gustera
Vasil Yordanov
as Ohrana na vhod 1
Georgi Hristozov
as Hristo
Filipa Baldeva
as Priyatelka na Margarita
Radoslav Karashev
as Trosackata
Viktor Hristov
as Bobi Malkia/Little Bobby
Valentin Kashamov
as Krasi
Trendafil Apostolov
as Diler 1
Nikolay Nachev
as Stoyanov
Usakova Aleksandra
as Aleksandra/Aleks
Veselin Vulkov
as Otec Ignat
Georgi Staykov
as Anton Damyanov
Ognyan Mitsev
as Direktor na zavod/Plant director
Georgi Spasov
as Direktor na bolnica/Lekar/Medical
Yavor Gigov
as Mitniceski policai/Worker
Danica Dencheva
as Prodavacka v sladkarnica
Vladimir Stoev The Shaman
as Rumen-drug dealer
Ivan Mihaylov
as Basta na Mila
Kaloyan Vandov
as Sin na dilera
Oncho Aleksanyan
as Servityor 1
Velizara Stoyanova
as Dead girl
Tzvetana Maneva
as Cveta Andonova
Zoran Petrovski
as Turkish Mafia
Diyana Yakubovska
as Actress/Aktrisa/Priyatelka na Ivo(Aktrisa)
Oncho Alexanyan
as Waiter 1
Sara Versano
as Secretary/Sekretarka v GDBOP
Georgi Novakov
as Prosecutor/Prokuror/Prokuror Vasev
Ivaylo Grancharov
as Advokat na Saso
Mira Varbanova
as Delovoditelka
Andi Raichev
as Rikardko Mendes/Rikardo Mendes
Kiril Mihaylov
as Klient 2
Michael Sabella
as Agent Dea
Teodora Duhovnikova
as Elica Vladeva/Elica Vladeva - zurnalist/Momice sa cavdar
Martin Gradev
as Mechanic 1
Daniela Doychinova
as Medicinska sestra/Nurse
Leart Dokle
as Kevin Anderson/Kevin. Anderson
Vladimir Penev
as Emil Popov/Popov
Milen Vangelov
as Policai 1/Top police officer/Viss policai
Krassimir Gospodinov
as Mitniceski policai
Lyubomir Bachvarov
as Aleksandar Savov/Alexander Savov/Savov
Nikolay Stanchev
as Ministar Tomov/Minister Tomov/Prokuror Minev
Nelly Markova
as 4 scantily dressed chicks/Oskudno oblecena macka
Viktor Piskuliyski
as Todor
Chavdar Monov
as Policai Nikolov
Metodi Valchev
as Sobstvenik na zavedenie 2
Dimitar Terziev
as Probacionen rabotnik
Vladimir Borisov
as Nadziratel
Alexandar Doichev
as Ubiec
Denitza Stefanova
as Reporterka
Detelin Candev
as Nadziratel 1
Ralica Todorova
as Priyatelka na Niki
Ivan Preshenliev
as Ohranitel strelbiste
Vasil Manolov
as Agent na DANS
Stela Stoyanova
as 4 scantily dressed chicks/Oskudno oblecena macka
Ognyan Chalykov
as Tehniceski ekspert
Veselin Krastanov
as Lolinec 2/Lyolinec 2
Nikolay Kovachev
as Bizona
Stanislav Dimitrov
as Mutar (1992g.)
Georgi Karkelanov
as Evreina
Mihail Mihailov
as Nasko servityora
Dimitar Elenov
as Suleiman
Marian Valev
as Rosen Gatzov - Kukata/Rosen Gatsev- Kukata/Rosen Gatzev - Kukata
Mariano Equizzi
as Prevodac ot italianski
Petya Angelova
as Momice slobodni boeve
Milena Nikolova
as Adriana
Yordan Zahariev
as Masinist
Velizar Binev
as Prokuror/Prokuror - mason
Rumen Garabedyan
as Zlatar
Vladimir Stoev
as Covek na Rendeto/Rumen - krivia narkodilar
Simeon Ivanov
as Customer/Klient
Lyubomir Mladenov
as Biser Scerev
Kitodar Todorov
as Ganco mitnicarya
Anna Simova
as Momice pred ulisceto
Iroslav Petkov
as Miso - priyatel na Dzaro
Irina Ostrovska
as Prostitute/Prostitutka
Madona Ilieva
as Little girl/Malo momice
Merilin Lyubenova
as Chick 1
Atanass Atanassov
as Policai Nenov
Tzvetan Angelov
as Ciganski Bos- Hristofor/Ciganski Bos - Hristofor
Cvetomir Angelov
as Policai pred banka 1
Maya Dimitrova
as Bremenna v kola
Aylin Salieva
as 4 scantily dressed chicks/Oskudno oblecena macka
Srebrina Kostadinova
as 4 scantily dressed chicks/Oskudno oblecena macka
Danail Dimitrov
as Bos 1/Boss 1
Georgi Rainov
as Ciganin 2
Sabin Rankov
as Sofyor na taksi
Yolian Rachev
as Damyan - hakert/Damyan - hakerat/Kradec 3
Mihail Bilalov
as Petar Tudzarov - Dzaro
Georgi Ivanov Kakalov
as Kasparyanov
Bogomila Nikolova
as Bankova sluzitelka
Lyachezar Stanchev
as Kurier
Kiril Georgiev
as Lolinec 1/Lyolinec 1
Milen Hristov
as Ohrana na Rom
Hristo Petkov
as Roni/Ronnie/Tafo
Antonio Angelov
as Deteto na Trenev
Martin Smochevski
as Rafael/Priyatel na Kosyo
Yulian Gurov
as Puten policai 1
Petar Petrov
as Presledvac
Alexander Bachvarov
as Yasen - Sofyor na Sunny
Lubo Chatalov
as Bogdan Gitev
Sava Piperov
as Oleg Kraev
Boian Tzonev
as Patrulen policai 2
Yulian Dimitrov
as Popov's prison guard
Lyuben Kanev
as Todor Todorov
Lyobomir Palahanov
as Boksyora
Ginka Kostadinova
as Vozrastna zena
Krsto Krastev
as Advokat na ubiec 1
Lyoben Nikolov
as Deputat 2
Lilia Marvilya
as Margarita Popova
Dimitar Russev
as Croupiers in casino/Krupieta v kazino
Vladimir Stoyanov
as Wheelman
Ivan Madzharov
as Sofyor na Mironov
Neli Atanasova
as Nevena - zena na Kukata/Nevena/Nevena (supruga na Rosen)/Nevena - sopruga na Kukata/Supruga na Kukata
Martin Radilov
as Scetovoditel
Ivan Russev
as Bos 2/Boss 2
Stanislav Nedkov
as Boiac slobodni boeve
Hristo Balabanov
as Sobstvenik na publ. dom
Nadya Spasova
as Gadze na Rendeto
Tsvetelina Martinova
as Maika na Mila
Yoliyan Dimitrov
as Nadziratel na Popov
Krassimir Atanassov
as Bos 3/Boss 3
Nikolay Kimchev
as Basca na Kosyo
Deyan Rusev-Burd
as Operator
Slavan Zhelyazgov
as Policai GDBOP 2
Todor Tanchev
as Valeri Trenev
Malin Krastev
as Madhouse director
Desislava Bakleva
as Woman in massage
Brekkan Spens
as Vasko dilera
Lyobomir Petrashkev
as Vitomirov
Borislav Zahariev
as Colev
Ina Atanasova
as Maykata na Ema
Strahil Todorov
as Palni zapalki
Polina Hristova
as Chick 2/Zurnalist 2
Georgi Markov
as Bodigard 1
Nayden Naydenov
as Nadziratel 2/Prison guard 2
Mariy Rosen
as Lyudmil (poligrafist)/Poligrafist
Lina Bo
as Prostitutke - Lara
Yana Marinova
as Yanica Zeleva
Elzhinio Lokately
as Italians bodyguard 2/Ohrana na Italianci 2/Ohrana na italianci 2
Svetozar Kokalanov
as Nadziratel - otrovitel
Radina Chervenova
as Vodesca na novini
Valentin Gaisbeli
as Strahil
Vladimir Tsvetanov
as Policeman 1
Aleksey Hristov
as Ekspert
Silvia Koteva
as Momice slobodni boeve
Atanas Ganev
as Kaloyan Mincev
Plamen Donchev
as Rado Kamaza
Aleksandar Dimov
as Dostavcik
Daniel Rashev
as Stanimir Meltev
Stefaniya Koleva
as Supruga na politik
Emiliya Tsvetkova
as Momice s Kukata
Nikolay Valentinov Lukanov
as Vodesc na targa
Nikolay Stoimenov
as Doktor nevrolog/Doktor-nevrolog
Nikolay Ishkov
as Silvio Baicev
Boyan Zhivkov
as Gangster 1
Bozhidar Kunchev
as Ciganski Bos - Angel
Ruben Garabadian
as Zlatar
Lubomir Kovatchev
as Andrey
Angel Angelov
as Ivo's bodyguard
Iskren Slavkov
as Lyodmil Zelev
Alexander Georgiev
as Italian partner/Italianski partnyor/Dublor na sofyor na Faruk/Faruk's driver 2/Lyacezar Brezov/Svodnik Na Mona/Svodnik na Mona
Georgi Karajekov
as Magistralen policai 2
Bedo Munikian
as Ministar na Kulturata
Donka Avramova
as Priyatelka na Margarita
Plamen Slavov
as Civilan policai
Seasons & Episodes
Awards
Bulgarian Film Academy Awards 2012
Nominee
Bulgarian Film Academy Awards
Best Leading Actor (Nai-Dobra Glavna Muzhka Rolya)
Nominee
Bulgarian Film Academy Awards
Best Supporting Actress (Nai-Dobra Poudurzhashta Zhenskya Rolya)
Nominee
Bulgarian Film Academy Awards
Best Supporting Actress (Nai-Dobra Poudurzhashta Zhenskya Rolya)
Nominee
Bulgarian Film Academy Awards
Best Cinematography (Nai-Dobur Operatorsko Maistorstvo)
Monte-Carlo TV Festival 2012
Nominee
Monte-Carlo TV Festival
Outstanding Actress in a Drama Series
Nominee
Monte-Carlo TV Festival
Outstanding Actor in a Drama Series
Nominee
Monte-Carlo TV Festival
Outstanding Actor in a Drama Series
Nominee
Monte-Carlo TV Festival
Outstanding European Producer (Drama Series)
Nominee
Monte-Carlo TV Festival
Outstanding International Producer (Drama Series)