Demand Insights
> Last 7 days
Demand Rank
Worldwide
WW
#
October 27, 2021
WW
Daily Demand (Last 7 days)
Travelability
Global Travelability indicates how well a title performs internationally relative to its home market
The Loud House's
home country is:

United States
Demand Score
Worldwide
WW
Average Demand for The Loud House is 0.0 times the demand for the average show in Worldwide in the Last 7 days.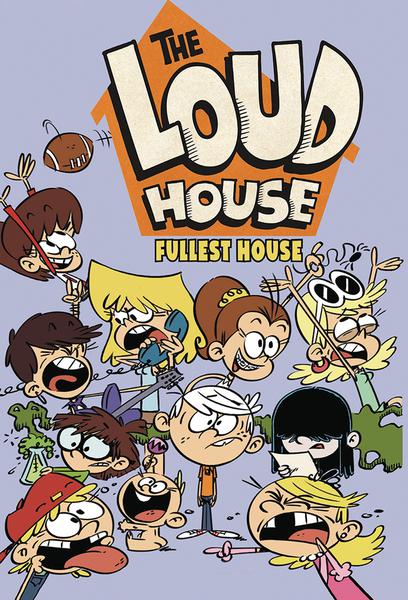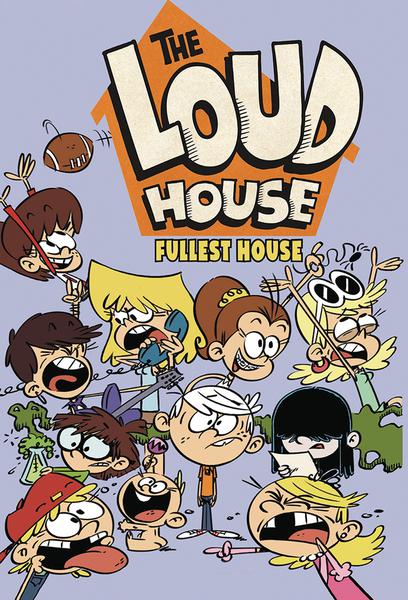 Trend
Worldwide
WW
The Loud House has a neutral trend. It has grown in demand by 0x in Worldwide in the Last 7 days.
In Genre Performance
Worldwide
WW
The Loud House ranks at the 0.00th percentile in the genre. This means The Loud House has higher demand than all other titles in Worldwide
About this title
Storyline
Things are crowded in the Loud household, with 11 children -- 10 girls and one boy -- causing craziness in the house. As the only boy, 11-year-old Lincoln is in the middle of all of the chaos. Whether his sisters are giving him unwanted makeovers or he's racing them to the couch to gain control of the TV, Lincoln is often getting involved in antics with his siblings. Lincoln's best friend Clyde, who happens to be an only child, is jealous of Lincoln's large family and is always willing to play his part in the schemes. Clyde has a crush on Lori, Lincoln's oldest sister and self-proclaimed boss, who is dating Bobby, who holds many jobs -- including lifeguard and mall security guard -- even though he's not very smart.
Country: United States
Type: Scripted
Status: Returning Series
Language: English
Release Date: May 2, 2016
Also Known As: ザ・ラウド・ハウス, The Loud House |  See more »
Company Credits
Production Co: Nickelodeon Animation Studios, Radio Televisión Española (RTVE)
Cast
Charlie Schlatter
as Commercial Announcer/DJ/Dad #1/Dr. Feinstein/Senior Male Gift Wrap Customer/Smellwood Brosin/Spooky TV Announcer/Tween #2
Kimberly Brooks
as Assistant/Kids/Tween #1
Brec Bassinger
as Margo/Burpin' Burger Customer
Ruben Garfias
as Hector/Male Couple/TV Announcer/Villain
Dee Bradley Baker
as Charles/Cliff/Airport Security/Cleopawtra/Dog Show Judge/Male Vocalist/Nepurrtiti/Olmec/Schmitty/Semi Truck Cat/Steve/The Kitty/Victorie/Walt
David Chen
as Father/Male Mercado Customer #2
Alex Cazares
as Carl/Delivery Girl/Dona/Female Samples Employee/Hipster Woman/Kid in Audience/La Galina Malvada/Old Woman
Lauren Tom
as Cici/Burpin' Burger Mom/Ms. Pham
Dino Andrade
as Audience Member/Busker/Passerby #2
Mindy Sterling
as Dr. Shuttleworth/Brunette Woman/Female Mountie/Officer Schoffner
Janet Varney
as Automated Voice/Dr. Linnaeus
Ursula Taherian
as Katie Crest
Chrissy Cannone
as Bethany/Brie/Diane
Blake Bertrand
as Flat Tire
Lara Jill Miller
as Lisa/Liam/Persephone/Lisa Loud/Becky/Margo/Nurse Patti/Beatrice/Billy/Blanch/Boy/Dana/Daughter in Car/Female Customer/Female Teen/Friend #4/Ghost Lisa/Hattie/Judge #1/Kid #2/Kindergartener/Levi/Lisa lookalike/Little Kid/Middle School Boy #2/Nun/Patient/Paula's Mom/Penny/Poetry Student 2/Staffer/Stevie/Teacher/Teddy Bear Voice/Teen Girl/Teen Girl #2/The Robot/Tie Guy's Wife/Twin Sister #2/Viking Woman/Woman/Zombie Girl
Wyatt Griswold
as Rusty Spokes/Rusty/Party Boy
Kamali Minter
as Amy/Lyberti
Stephen Tobolowsky
as Principal Huggins/Florist
Carolina Ravassa
as Ana Ronalda
Juliocesar Chavez
as Classmate #1
Nic Nagel
as Teenage Boyfriend
Megan Cavanagh
as Hockey Fan/Stern Fern
Ashleigh Crystal Hairston
as Nadia
Caleel Harris
as Clyde/Clyde McBride/Clyde McBride (segment "Teacher's Union")/Danny
A.J. LoCascio
as Sully/Male Cheerleader/Room Service Attendant
Kelly Jean Badgley
as Jean Jun Player/Maya
Kari Wahlgren
as Ms. Carmichael/Automated Voice/Captain/Cashier/Director/Disembowler/Edna/Gabby/Girl #1/Golf Cart Girl/Kids/Maggie/Shopper #1/The Disemboweler/Unknown Mom/Woman
Hiromi Dames
as Jackie/Sebastian
Ari Castleton
as Boy #1/Game Booth Attendant
Maddie Taylor
as Dana/Dana Dufresne/Donnie/Emcee/Spa Customer
Asher Bishop
as Lincoln/Ghost Lincoln/Linc the White Haired/Lincoln Loud/Lincoln as Myrtle/Simon/Triton
Curtis Armstrong
as Mr. Gurdle
Chandni Parekh
as Alice/Lacey
Sumalee Montano
as Maria/La Tormenta/Luchadora/Mrs. Santiago
Brian Stepanek
as Dad/Hunter Spector/TV Announcer/Announcer/Young Dad/Game Voice/Hockey Player/Jay Rock/Professor/Waiter/Alien/Aloha Comrade Host/Angry Driver/Annoyed Customer/Armchair/Biker #2/Biker Man #2/Black Mirror/Boy #1/Boy Party Goer/Canadian Student 2/Delivery Man/Doctor/Dream Boat Announcer/Dream Boat TV Announcer/Farm Stand Customer/Friend #1/Garbage Man/Guard/Hot Air Balloon Operator/Hot Dog Customer/Indecisive Man/Jolly Jim/Lab Scientist/Little Old Man/Lull-A-Bot/Mailman/Male Senior Citizen/Male Shopper/Male Teen #1/Man/Manager/Mango Guy/Middle Aged Man/Moving Truck Driver/Mummy Kid/Niblick's Caddy/Pet Store Employee/Pizza Guy/Police Officer/Pool Manager #2/Referee/Reporter/Robot Todd/Small Man/Student/Stuntman/TV Announcer #1/Time Machine/Todd/Todd Robot/Translator/Vampire TV Announcer/Vendor/Video Game Voice/Worm/Zombie
Debi Derryberry
as Miss Allegra/Auntie Pam/Classmate
Angela Malhotra
as Ms. Shrinivas
Jay Gragnani
as Classmate #2
Krizia Bajos
as Margarita/Female Mercado Customer
Liliana Mumy
as Leni/Leni Loud/Blair/Brenda/Club Kids/Crying Baby/Kids/Leni's Double/Preschooler #2/Twin Sister #1/Young Leni
Aimée Castle
as Ms. Borutski
Shondalia White
as Georgia
Doug Rockwell
as Border Guard/Doug
Veronica Cartwright
as Sue
Ben Giroux
as Commercial Announcer/Giovanni Changs Host/Jack in the Box/Male Counselor/Mechanical Voice/Small Boy/Teen Boy/Trevor
Grey Griffin
as Lola/Lana/Lily/Scoots/Cheryl/Meryl/Mrs. Bernardo/Mrs. Gurdle/Lana Loud/Lily Loud/Lola Loud/Coach Keck/Announcer/Secretary/Shannon/Aunt Ruth/Baby/Baby on Bus/Bernadette/Beulah/Billy Jolt/Bonnie/Buttery Voiced Narrator/Charles/Cookie Assistant/DeLola/Dog Show Judge/Electronic/Employee/Female Senior/Female Vocalist/Fox Kid #1/Gabby's Mom/Girl/Goat Wrangler Kid/Graziana/Hassan/Heavenly Chorus/Jessica/Karate Girl/Kid #1/Kindergartener/Lana Beast Head/Lana's Double/Leif/Leon/Lexx/Lily Beast Head/Lola Beast Head/Lola's Double/Maggie's Mom/Middle School Boy #1/Mrs. Jelinski/Pam/Photography Girl/Poetry Student 1/Ribbon/Rock Climbing Instructor/Stage Manager/Stroller Mom/Taylor/Teen Girl/Townsperson/Trench Coat Woman/White-Haired Mom/Woman
Yvette Nicole Brown
as Mayor Davis
Wilber Zaldivar
as Big Kid #1/Hawk
Tarreyn Van Slyke
as Tarreyn
April Stewart
as Bratty Kid's Mom/Scout Leader
Alani Ilongwe
as Tippy the Cow/Animal Handler/Animatronic/Elliot/Oliver
Tex Hammond
as Lincoln/Lance/Lincoln (segment "Game Boys")
Fred Tatasciore
as Bernie/Big Biker/Biker Man #1/Bingo Caller/Colonel Crackers/Dad in the Van/Exterminator/Farmer/Game Announcer/Manager/Navy Seal#1/Poetry Student 3/Police Officer/Pool Manager #1/Security Guard/Senior/Sergei/T-Bone
Georgie Kidder
as Haiku/Club Kids/Polly Pain/Third Grade Girl #2
Marisol Nichols
as Principal Ramirez
Dylan Boyack
as Male Customer #3/Town Member
Bruce Locke
as Mr. Nakamura/Joke Guy/Male Chef
Haley Tju
as Stella/New Girl/Yodel Boy
Lauri Fraser
as Mrs. Kernicky/La Tigresa
Marc Summers
as Marc Summers
Stephanie Sheh
as Beatrix/Beau/Belle/Stella's Mom
Keith Ferguson
as Dunk Tank Attendant/High Roller Attendant/Narrator
Lea Moreno
as Belinda/Birdie
Thomas Robie
as Classmate #2
Mateus Ward
as Big Kid #2/Hank
Michael McDonald
as Howard/TV Announcer/Antonio/Appraiser/Boy #2/Howard McBride
Ashton Arbab
as Kid on Bus
Kay Bess
as Dog Show Emcee
Jan Johns
as Corinne/Narrator/Third Grade Boy/Third Grade Girl
Gary Anthony Williams
as The Manager
Phil LaMarr
as Kotaro/Bus Driver/Mr. Scully/Orderly/Principal/Reg/Steve/Tie Sales Clerk
Anjali Bhimani
as Jesse Hiller/Woman
Tristan Chase
as Classmate #5
Altara Michelle
as Bianca/Brooke
Sean Giambrone
as Benny/Mrs. Appleblossom
Ashlyn Madden
as Carol/Carol Pingrey
Jennifer Coolidge
as Myrtle
Rob Paulsen
as Seymour/Food Delivery App/Lane Loud/Male Nurse/Mrs. Coconuts/Pop-Pop's Suit/Senior/TV Announcer/Valet
Eugenio Derbez
as Dr. Santiago
Maile Flanagan
as Byron/Amy/Eighth Grader/Morgan
Jamie Kaler
as Announcer/Beaverton Police Officer/Softball Coach
Mark Daugherty
as Kaito/Tween #1
Barry Williams
as Bumper Sr.
Kyle Clifford
as Rowdy McQuads
Ian James Corlett
as Jeffrey/Lincoln's Double/Miguel Puga/Quizmaster/Record Store Owner
Calvin Zwicker
as Bratty Kid/Zombie Boy
Maureen McCormick
as Jancey
Sabrina Fest
as First Grade Teacher/Meli Ramos
Breanna Yde
as Ronnie Anne
Ben Pronsky
as Principal Marshall
Kath Soucie
as Club Manager/Mrs. Vaporciyan
Sunil Malhotra
as Par/Dance Instructor/Juice Clerk/Laser Maze Employee/Male Hi 'N' Buy Customer/Male Mercado Customer #1/Man
Jim Meskimen
as Announcer/Junkyard Guy/Manager/Ted
Grant Palmer
as Lincoln Loud/Grant/Burpin' Burger Employee/Employee/Sports Player
Cooper Barnes
as Stan Stankco
Karsyn Elledge
as Bobbie Fletcher
Catherine Taber
as Lori/Girl Jordan/Katherine Mulligan/Lori Loud/Jordan/Reporter/Art Teacher/Ballerina/Betty/Beverly/Biker Girls/Canadian Student 1/Cheerleaders/Cherry Dot Voice/Classmate's Mom/Club Kids/Computer Voice/Con Announcer/Customer 5/Daughter/Diner #1/Dry Cleaning Employee/Electronic Voice/Female Customer #2/Female Director/GPS/Game Voice/Gym class girl/Interviewer/Kid in the Van #2/Lee/Lori Beast Head/Lori's Double/Mermaid Lori/Mom in Car/News Reporter/Pam/Pam Fox/Pregnant Goth Mom/Preschooler #1/Rival Coxswain/Sadie/Student 5/Terrifying Zombie/Whitney Wetta/Young Lori
Bert Kreischer
as Rip Hardcore
Bria Danielle Singleton
as Camille
Richard Steven Horvitz
as Morpheus/Chaz/Bus Driver/David/Joey/Mr. Spokes/Flash Card/Male Teen/Pablo/Rodney/Rusty's Dad/Skippy/Swim Team Boy #2/Teen Boy
Morgan Gingerich
as Classmate #3
Daran Norris
as Coach Niblick/Baseball Announcer/Bert/Cafeteria Student/Golf Announcer/Host/Kurt/Little Miss Cutie Pie Pageant Judge/Man/TV Announcer
Kana Koinuma
as Superintendent Chen/Female Senior Citizen
Luke Youngblood
as Theo/Tween #2/Tween #4
Jadon Sand
as Classmate #4
Carlos PenaVega
as Bobby/Boyz Will Be Boyz/Jock/Laundromat Manager/Self - Host/Tall Burly Man
Audrey Wasilewski
as Geo/Girl Duck/Mourning Dove
Mela Lee
as Principal Rivers
Ethan Michael Mora
as Rocky
Ogie Banks
as Spencer/Comedy Lounge Manager/Leo/Swim Team Boy #1
Jacob Dixon
as Classmate #3
Leah Zhang
as TV Announcer
Mason Vaughan
as Papa Wheelie
Wade Williams
as Coach/Public Address Announcer
Lily Mae Silverstein
as Renee
Owen Rivera-Babbey
as Rusty
Christopher Swindle
as Pop-Pop
Evangeline Lomelino
as Emma
Melissa Joan Hart
as Mrs. Chang
Christian J. Simon
as Casey
Nika Futterman
as Luna/Boris/Luna Loud/Mrs. Salter/Student/Woman/Alexis/Barbara/Bodhi/Chad/Countdown Voice/Crowd Member 1/Elderly Woman/Female Customer #1/Female Staff Member/Front Desk Clerk/Girl #2/Golf Student/Goon #2/Guessing Booth Attendant/Hostess/Jean Juan Host/Joannie/Kid in the Van #1/Kindergarten Boy/Luna's Double/Middle School Student/Mrs. Reynolds/Nigel/Park Kid/Poetry Teacher/Pool Manager #3/Rock God/Shuttle App/Student 1/Student 4/TV Commercial Announcer/Video Game Announcer/Woman in Car/Zombie
Daniel Ross
as Man in Car/Truck Driver
Jace Norman
as Steak Stankco
Susanne Blakeslee
as Mrs. Johnson/Mrs. Jelinkski/Mrs. Jelinski/Photographer
Cristina Pucelli
as Luan/Mr. Coconuts/Dante/Luan Loud/Girl #1/Mrs. Parker/Baby in Class/Bebe/Bippa/Bratty Kid's Mom/Coffee House Manager/Crowd Member 2/Election Announcer/Employee/Female Dorm Mate/Hammer Booth Attendant/Kids/Kindergarten Girl/Large Nose Girl/Librarian/Male Teen #2/Miranda/Mobile Babysitting App/Motel Manager/Scarecrow/Server/TV Show Announcer/Teddy/Teen Girl/Teen Girl #1/Tippy/Toy Phone Voice/Umpire
Carlos Alazraqui
as Sergio/Carlos/Vito/Waiter/Ad Voice/Band Leader/Bus Driver/Conductor/Customer/El Falcon/Goivanni/GravyBot/Jerry Kling/Male Golf Student/TV Announcer
Blair Dinucci
as Bernice/Bertha
Jorge R. Gutiérrez
as Lucha Libre Commentator
James Sie
as Senior Male Hat Customer/Waiter
Shane Selloria
as Little Boy
Michelle C. Bonilla
as Mrs. Flores
Tara Strong
as Maddie/Coaster Rider/Kai/Rink Owner/TV Announcer
Andre Robinson
as Clyde/Clyde McBride/Clyde McBride (segment "Head Poet's Anxiety")/Clyde as Nana Gayle/Ghost Clyde/Ka-Lyde/One-Eyed Jack
Izabella Alvarez
as Ronnie Anne/Young Ronnie Anne
Michelle Lewis
as Michelle
Jess Harnell
as Bass Player/Billy's Dad/Pucker/Pucker Uppenheimer/Sean
Juliet Donenfeld
as Claire
Wayne Brady
as Harold/Harold McBride
Sirena Irwin
as Dr. J/Mrs. DiMartino
Roxana Ortega
as Frida/Carlitos/Boy #1/Old Woman/Passerby #1/Postwoman/Princesa Valentina/Young Hector
Joshua Rush
as Classmate #1/Quarterback
Collin Dean
as Lincoln/Lincoln Loud/Ace Savvy/Kids/Lincoln (segment "House of Lies")/Linka Loud/Mr. Coconuts/Warren
Nazneen Contractor
as Ruby
Mollie Freilich
as Concierge
Madstone Theater
as The Little Froggy
Bill Mumy
as Timothy McCole
Daniel DiVenere
as Chandler/Jock
Jill Talley
as Mom/Dinky/Griselda/Punk Girl/Abigail/Biker Woman/Brita/Bus Student/Cashier/Claudette/Club Kids/Employee/Female Bus Driver/Female Caddy/Female Director/Fenton/Film Assistant/Fourth Grade Girl/Friend #2/Gardening Grandma/Girl #2/Hot Dog Kid/Kelly/Little Girl/Mall Announcer/Midge/Mom's Double/Mrs. Johnson's Mom/Mustache Guy/Old Woman/Robot/Robot Arms/Sam/Sample Lady/Severed Head/Spunk E. Pigeon/Student/Teammate #1/Teenage Girl Customer/Wedgie Student/Woman/Woman on Scanner/Workout Coach/Young Mom
Alexa PenaVega
as Carlota/Carlota Casagrande/Chinah/Spa Attendant
Jeff Bennett
as Coach Pacowski/Mick Swagger/Norm/Announcer/Automated Lie Detector/Bill Bucky/DareBot/Darebot/Delivery Man/Game Announcer/Goon #1/Interviewer/Lincoln's dentures/Mall Cop Captain/Man/Mitchy/Mr. Rinsler/Narrator/Park Ranger/Racecar/Racetrack Announcer/Ticket Seller/Tie Guy
Tucker Chandler
as Little Boy
Betsy Sodaro
as Female Judge
Loretta Devine
as Nana Gayle
Philece Sampler
as Mildred Scalise
Vanessa Marshall
as Tina/Waitress
Matthew Willig
as Prisoner
Lisa Schaffer
as Beth/Brandy
Jessica DiCicco
as Lynn/Lucy/Lucy Loud/Lynn Loud/Zach/Crowd Member/Karate Girl/Alistair/Audience Kid/Bailey/Bella/Benny/Boy Lynn/Cheerleader #2/Classmate/Clown/Club Kids/Creepy Little Girl Voice/Dog Show Judge/Dominic Dunkster/Friend #3/Ghost Lucy/Jackie/Jared/Lars/Lindsey Sweetwater/Little Girl/Lucy's Double/Lynn Beast Head/Ryker/Stilts Student/Student/Teri/Toddler/Tricksy/Young Woman
Annie Sertich
as Librarian Wetta/Carly
David Jacks
as The Amazing Brailster
Trevor Devall
as Carnival Manager/Carnival Worker/Driver/Mr. Budden/News Crew Member/Obnoxious Guy/Prisoner/Referee/Teen Carny/Waiter
Cree Summer
as Paula/Animatronic/Boy/Cheerleader #1/Megan/Soccer Coach/Teammate #2/Tiger Mascot
John DiMaggio
as Flip/Mr. Grouse/Chunk/Edwin/Neighbor/Patchy Drizzle/Pep/Trashy/Young Flip/Ace Savvy/Announcer/Baker/Bandmate/Banger and Mosh Host/Bates/Biker #1/Blarney/Bryant/Buff Guy/Burpin' Burger Dad/Colonel Austin/Cyclist/Darin McGowan/Doctor/Driver/Fireman/Flip Monster/Football Announcer/Game TV Announcer/Game Voice/Gary/Goat/Grouse Wizard/Gruff Bouncer/Guard/Jeff/Kiosk Cashier/Kirby/Male Customer #1/Male Dog Walker/Male Staff Member/Man/Mover/Narrator/News Anchor/Percy/Police Officer/Port-a-Potty Occupant/Radio DJ/Salesman/Scalper/Security Guard/Sloppy's Worker Man/TV Announcer #2/Touchdown Bot/Tough Guy/Tyler/Umpire/Wedgie Student #2/Yoga Instructor
Miles Elliot
as Classmate #2
Jonathan Hylander
as Additional Voices/Leon Cavaratti
James Arnold Taylor
as Mr. Bolhofner/Anderson/Bertrand/Burpin' Burger Man/Burpin' Burger Teen/Canadian Boy/Chef Pat/Concession Worker/Fritz/Guy Grazer/Home Decor Employee/Kyle Marshall/Middle Schooler/Mr. Potty Bot/School Cook/Snack Truck Driver/Truth or Dare Teen/Upperclassman
Zoe Pessin
as Classmate 1/Kindergartener/Penelope
Eric Bauza
as Bruno/Cory/Rex/Boy #2/Card Shark/Hipster Man/Kitty's Trainer/Male Checkout Employee/Male Couple/Male Judge/Male Mercado Customer/Mr. Reynolds/TV Announcer/Wild Card Willy Cosplayer
Diedrich Bader
as Muscle Fish
Seasons & Episodes
Season 1
2016 | 26 Episodes
Season 2
2016 | 26 Episodes
Season 3
2018 | 26 Episodes
Season 4
2019 | 26 Episodes
Season 5
2020 | 20 Episodes
Awards
Behind the Voice Actors Awards 2017
Winner
Behind the Voice Actors Awards
Best Vocal Ensemble in a New Television Series
Nominee
Behind the Voice Actors Awards
Best Male Lead Vocal Performance in a Television Series
Nominee
Behind the Voice Actors Awards
Best Female Lead Vocal Performance in a Television Series
Nominee
Behind the Voice Actors Awards
Best Male Vocal Performance in a Television Series in a Guest Role
GLAAD Media Awards 2017
Nominee
GLAAD Media Awards
Outstanding Individual Episode (in a series without a regular LGBT character)