Demand Insights
> Last 7 days
Demand Rank
Worldwide
WW
#
October 24, 2021
WW
Daily Demand (Last 7 days)
Travelability
Global Travelability indicates how well a title performs internationally relative to its home market
Regular Show's
home country is:

United States
Demand Score
Worldwide
WW
Average Demand for Regular Show is 0.0 times the demand for the average show in Worldwide in the Last 7 days.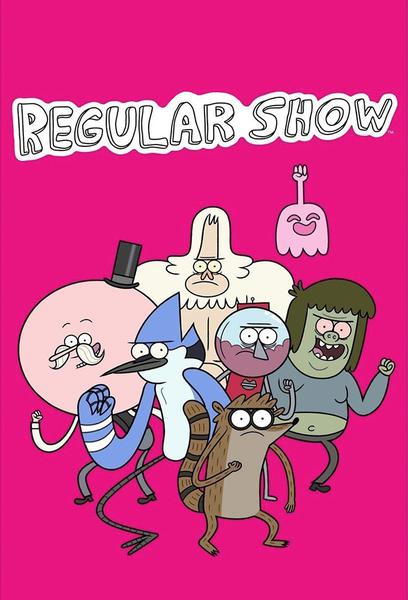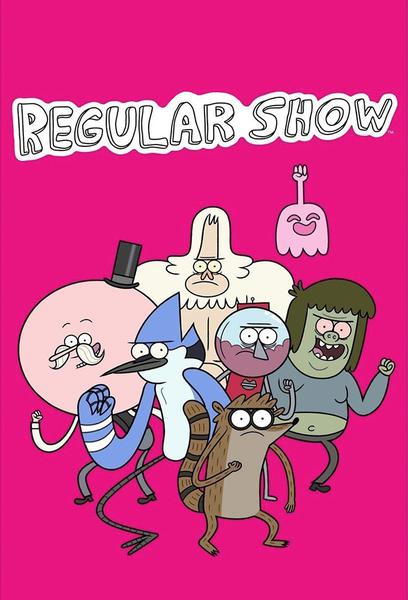 Trend
Worldwide
WW
Regular Show has a neutral trend. It has grown in demand by 0x in Worldwide in the Last 7 days.
In Genre Performance
Worldwide
WW
Regular Show ranks at the 0.00th percentile in the genre. This means Regular Show has higher demand than all other titles in Worldwide
About this title
Storyline
Mordecai, a blue jay, and raccoon Rigby are groundskeepers at a park. But these best friends are lazy and don't let their jobs interfere with their ability to have fun. While Mordecai tries to be responsible and do a good job, he's frequently led astray by his immature pal, who is totally without fear or shame, and has no boundaries at all. The friends often end up having to pay for their irresponsible actions as they usually get into more trouble than they anticipated. Their slacking off at work causes much chagrin for their hot-tempered gumball machine boss, Benson.
Plot Keywords
time travel
racoon
slacker
anthropomorphism
Company Credits
Production Co: Cartoon Network Studios, Cartoon Network
Cast
Dee Bradley Baker
as Eggum-Kranus/Employee #1/Frivola-Kranus/Glomb/Greeter
Michael Ann Young
as Donut Girl
Roger Rose
as Informercial VO
Paul F. Tompkins
as Cricket #5/Guy #2/Lotto Cop 2/Lotto Cop 3/Lotto Worker/Matt/Nice Friend/Skunk/Video Narrator/Voice on Record
Paul Scheer
as Cat Masterson
William Salyers
as Rigby/Guy/Man/Announcer/Guy 1/Kid 2/Waiter/Worker/Baby Duck 2/Cashier/Charlie/Clerk/Dude/Guard 1/Guard 2/Guy 2/Kid 1/Punk/Random Guy/Reporter/Scottie/String and Cans/70s Guy #1/Alligator Guy/Ampex Quadroplex/Animal Control Soldier #1/Announcer 1/Armand/Army Guy/Art/Astronaut/Attendant/Audience Guy/Baby/Bailiff/Bamboo Guy 2/Bass Player/Bellhop/Big Guy/Big Voice/Biker 1/Blonde #2/Bouncer #2 (Harvey)/Boyfriend/Braeden/Brobot 1/Brother Jeff/Buddy 1/Buff Employee/Buff Limo Driver/Bum 3/Bus Boy/Business Man/Cadet/Camera Man/Canadian 2/Carlock #3/Cerberus Mom 3/Chad/Chef Mantis/Choir/Clarence the Clarifier/Club Manager #1/College Student 2/Colonial/Cook/Cool Cop #2/Cowboy/Cricket #3/Crotchety Ol' Elmer/Crowd Guy/Cyrus/DJ/DJ Donny G/Dad/Dale/Delivery Guy/Demon Mom/Desdemona's Dad/Detective #2/Dirty Businessan/Doctor/Dog Catcher #2/Dominic/Donut President/Drama Nerd/Drone/Duck #2/Dudette/Dwarf/East Pines Guy 2/Employee #2/Evil Millionaire/Exec/FBI Chief/Fake Skips/Falling Guy/Fancy Thug #2/Fred/Freddy/Future Guy/Game Voice/Garage Customer/Garbage Creature/Gate Keeper/George/Ghost Referee/Glass Guy 1/Glups Henchman/Golden Mullet Guy/Goon/Grocery Clerk/Grump Ear/Guard/Guard 3/Guy #1/Guy #2/Helicopter/Henchman 2/Hissy Fit/Hot Dog Guy/Human Shield 1/Illogically Patriotic Guy/Jedediah Townhouse/Jimbo/Jockey/Joe/John/John Dog/Jury #3/Kid/Killurgen/Kirk/Koekei/Larry Ranger/Lawyer/Loading Bay Guy/Lost Boyfriend/Lotto Cop 1/Lucy/Ludlow/Mail Announcement/Maintenance Worker/Man #3/Man 1/Marketing/Matchmaker McIntyre/Medic #2/Mickey/Moe/Movie Gangster/Mr. Chamberlain/Music Fan/Narrator/News Reporter/Newscaster 1/Old Guy/Old Man/Old Man #1/Paramedic 2/Park Ranger #1/Park Ranger #2/Patron/Percy/Pie Master/Pierce Fesner/Pilot/Pizza Guy/Pizza Man/Police Chief/Police Officer #1/Ponyboy/Postman/Receptionist/Ref/Refugee/Repair Guy/Reporter 1/Rich Guy/Rigby as Dude/Rigby's Dad/Robber/Romanoff/Russian Testimonial Actor/Russian Video Host/Sabertooth Wolf/Sandwich/Scientist 4/Scientist Assistant/Scott D./Screaming Teen 1/Screen Announcer/Sea Monkey Alien/Security Guard/Selfie Kid/Ship Computer/Singer/Ski Employee 1/Steven/Stranger #1/Student #2/Sun/Sven #1/TV Announcer/Tax Man/The Party's Over Guy 2/Tommy/Tongue Depressor Intern/Truck Dude/Trucker 1/Tv Announcer 2/Underling/Vampire 2/Villain/Vlad/Waiter #2/Waiter 3/Wallace Marco/Wayne/Weird Mushroom Guy/Wes/Ygbir/Zingo 1
Courtenay Taylor
as Starla/Audrey/Girl/Benson's Mom/Benson's Sister/Peggy/Rigby's Mom/Waitress/Woman/Abe/Alien Ant/Angry Lady/Annoyed Lady/Beatnik Girl/Cake Worker/Cashier/Chrissie/Contestant 1/Court Worker/Diane/Evil Girl/Female Member/Francine/Gallery Owner/Girl #4/Girl Fan/Hostess/Jackie/KILIT DJ 3000/Kid/Lacey/Manager's Wife/Meredith/Mermaid/Mom/Monica Ellingson/Muscle Baby (Tina)/Mystery Prize/Office Manager/Old Waitress/Park Manager 2/Party Zoe/Pauline/Phone/Puppy Woman/Raspy Lady/Rose/Scabatha/Screaming Teen 2/Starla's Sister (Ana)/Stenographer/Teenage Girls/Teller/Temp Worker/Trash/Wench/Window Girl/Witch/Woman 1
Jason Mantzoukas
as Sad Sax Guy/Scabby Grossman
S. Scott Bullock
as Coffee Bean/Dude/Fist Pump/Unicorn #2 - Alex/Unicorn #4
Yuri Lowenthal
as Adam/Guy/Guy 1/Kid
Steve Little
as Spacey McSpaceTree
Mark Hamill
as Skips/Man/Wizard/Benson's Dad/Destroyer of Worlds/Guy 1/Jones/Manager/Monster/Translator/Walks/Actor/Agent #1/Announcer/Armando/Auricle/Baby Duck 4/Boss/Boss #1/Bouncer/British Taxi/Bucktooth Bob/Bus Driver/Captain/Carlock #5/Carlock King/Clown/Colonel/Commander Davis/Commissioner Davis/Concierge/Cool Cop #1/Cop/Cricket #2/Dave/Detective/Dog Catcher/Donut/Dr. Sheldon Weatherberry/Duck #4/Dude 2/El Diablo/Employee 2/Fake Techmo/Flunky #2/Gunnar Von Strauss/Guy/Guy #1/Guy #2/Guy 3/Guy on Stilts/Hi Five Ghost's Dad/Hot Dog #1/Howard Fightington/Informercial Boss/Jack Farley/Janitor/Jared Polaski/Jerk/Kid #1/Killer Scarecrow/Louie/Man #2/Man 2/Manetti/Margaret's Boss/Mega Blonde/Officer/Officer 2/Old Guy/Old Man/PA/Paramedic/Party Rob/Photographer/President/Rep 2/Ronnie/Rowdy Millionaire/Sam/Scientist 1/Thanksgiving Reenactor/Topsy/Tower Guy 1/Unicorn #3/Wind
Scott MacDonald
as Major Williams
Neil deGrasse Tyson
as Self
Katey Sagal
as Mordecai's Mom/Aunt Maxine
Gillian Jacobs
as Blu-Ray/Computer V.O.
D.C. Douglas
as Colonel Rawls/Anti-Pops #1/Anti-Pops Guard #1/Bruce/Canadian 1/Chess TV Announcer/College Student 1/Ear/Fist Pump Guy/Guard #2/Guard 1/Hans/Jamaican Guy/Judge Ear/Jury/Professor Prankenstein/Tom
Laura Bailey
as Natalia/Purse Woman/Secretary Clifton
Brad Culver
as Jimmy the Taco Truck Vendor/Velvet Overkill
Elizabeth Pan
as Girl 1/Vivian
Kate Higgins
as Computer/Fi/Icai/Mary Stone/Natalie Williams
Rich Fulcher
as Answering Machine/Smoke Signal
Amber Hood
as Huggstable #1/Huggstable #2/Huggstable #3
Awkwafina
as Apple/Waitress 1
Natasha Leggero
as Girl in Line/LaDonna
Richard Doyle
as Old Guy 1
Ali Hillis
as Pam/Mom/Rigby's Mom/Secretary/Woman/Alien/Amy Blitz Powers/Basketball Player/Bat Guy/Becca/Bee/Bird Walla/Cashier/Casting Director/Computer/Crystal/Customer Service Lady/Fake Audrey/Fake Hi Five Ghost/Female Reporter/Flight Attendant/Game Voice/Girl/Hipster Female/Jayla/Judge/Kid 2/Lady Visitor/Little Girl/Machine/Maria/Mary Lee/Mechanic/Morales/Nurse/Orphan Woman/Playco Tester/Prom Girl/RIgby's Mom/Samantha/Scientist 3/Stewardess/Stuart 2.0/TV Cook/Ticket Counter Lady/Tina/Tracy/Troupe Leader/VO/Victoria/Voice Over Lady/Zoey Salazar
LeToya Luckett-Walker
as Jennifer
Amy Sedaris
as Jayla/Mrs. Kessler
Rhomeyn Johnson
as General
Minty Lewis
as Eileen/Kim/Angel/Bounty Hunter/Cerberus Mom 2/Computer V.O./Diana/Ear Dog Walker/Emma/Ethel/Frog/German Kid/Girl #2/Girl 3/Jean/Joanne Hanatronic/Juror #1/Kid/Kid #1/Lunch Lady/Makeover Mainess/Mom/Neighbor Lady/Reporter 2/Sunshine/The Lady of the Tiger/Young Girl/Zebra
Lee Reherman
as Forearmageddon/The Fire Marshall
Wallace Shawn
as The Evil Brain
J.G. Quintel
as Mordecai/Hi Five Ghost/High Five Ghost/Oswald/Computer Voice/Guard/Guy #1/Super Duck/Animal Control Soldier #1/Anti-Pops Guard #2/Astronaut/Aussie/Bad Guy/Baker/Bird/Bug/Bum 4/Bunch of Baby Ducks/CPR Intern/Car/Carlock #4/Choir/Clerk/Commercial Robot Voice/Computer/Cop/Cricket #6/Dad/Detective #1/Dorky Kid/Double Trouble/Driver/Duck/Duck #1/Duck Man/Dude/Ear Dog/East Pines Guy 1/Echoey Whispers/Eeny/Fake Pops/Fancy Goon/Five Ghost/Flying Disk Freestyler/Food Court Waiter Robot/Garbage Can Guy/George/Greedy Employee/Guard 3/Guard 5/Gurney Intern/Guy/Guy 1/Guy 2/Guy 3/Henchman 3/Hi-Five Ghost/Hillbilly/Hot Dog #2/Huggstable #4/Iacedrom/Jackie/Jim/Kid/Killer/Lawn Mower/Les/Llama Guy/Long Hair Guy/Mascot/Meeny/Milk Creature/Minotaur/Mountain Climber/Movie Guy/Music Robot/Old Man/Operator/Pajama Sister/Past Mordecai/Paul Bunyan/Pig Robot/Pilot/Pizza Guy/Popcorn Guy/Producer/Promise Pie/Rabbit/Randal/Reporter 3/Rex/Rich Buckner/Robot Phone/Sad Man/Security Guard/Ski Employee 2/Smarten Karten/Snowman/Soldier/Spa Worker 2/Strong Johns/Student/Takeshi/Toga/Tommy/Trucker 2/Unicorn #2/Unicorn #5/Video Game/Video Game Guy/Waiter 2/Weston/Witness 3/Zombie
Chelsea Kane
as Bathing Suit Party Horse/Cheezers Lady/Chrissy/Gum Girl/Mom Party Horse
Debra Wilson
as Blonde Girl/Council Woman/Thunder Girl 1
Christine Baranski
as Guardian
Rich Sommer
as Del Hanlon/Doctor in Video/Jerry/Lips Mickelson/Manager Guy/Ski Employee 3/Station Manger/Tuber2/Vince
Andres Salaff
as Dog/Fake Mordecai/Fake Muscle Man/Heckler/Hector/Jensen/Man 2/Timmy/Ventriloquist
Grey Griffin
as Culette/Desdemona/Desdemona's Mom/Glasses Girl/Hellen/Judy/Kimiko/Overalls Girl/School Girl Villain/Sheena/Tamara
Chord Overstreet
as Dusty B
Feodor Chin
as Earl/Game/Joel
Yvette Nicole Brown
as The Seer
Carl Weathers
as Basketball King/God of Basketball
Gwendoline Yeo
as Girl 2/Mary/Waitress 2
David Kaye
as Reginald/Head Baby/Beta Max/Announcer/Baby #2/Bavin/Big Dude/Big Guy/Body Guard 2/Chaz Melter/Cop/Dr. Rolard Baumengartner/Eniac/Giant Baby/Goon 2/Guy/Guy 2/Keith/Kid #1/Latin Teacher/Man #1/Microfiche/Monster/Paramedic 1/Random Minion/Reginald - Head Baby/Russel/Sensei Student/Stress Machine/TV Ad/TV Announcer/VHS Guy/Waiter
Trent Baker
as Food/Kid 1/Maximum Glove
Adam Pally
as Party Horse/Kid 1/Leprechaun Party Horse/Reverse Psychology Party Horse
B.J. Ward
as Dr. Asinovskovich/Lady/Woman
Jon Daly
as Oren/Stock Broke Guy/Teddy
Fred Tatasciore
as Muscle Dad/Farmer Jimmy/Goose/Gruff Bounty Hunter/Reptilian Bounty Hunter/70s Guy #3/Aisa Goon 2/Animals/Announcer/Anti-Pops Guard/Apollo/Barista/Bear/Big Angry Clerk/Black and White/Bogan/Bro 1/Chef/Chip Ear/Computer Guy/Craig/Dante/East Pines Worker/Frederico/Gang Leader/Goose 1/Goose Monster/Guard/Guard 2/Jamaican Domer/Karpov/Krampus/Lab Cart Guy/Luke/Microwave/Monster Plant/Moose/Narrator/Old Bat/Operator/Playco 1/President Davis/Prosecut-Ear/Regular Guy/Security Guard/Space Santa/Space Tree Guard #1/TV Announcer/Tapistry-Kranus/Ted Nelson/Turkey/Vampire/Vampire 2/Waiter 1/Weird Guy/Werewolf/White Elephant
Linda Cardellini
as C.J./Automated Voice System/Cerberus Mom 1/Daphne/Girl 2/Mrs. Chamberlain/School Girl/Thunder Girl 2
Edward Asner
as Santa Claus
Ben Diskin
as Aiden/Steffen/Milton
Steven Weber
as Jumpin' Jim
James Adomian
as Harry/Rikki
Tim Russ
as Helicopter Pilot/Sergeant
Roger Craig Smith
as Thomas/Announcer/Briggs/Low Five Ghost/Clerk/Frank Smith/Chad/Doctor/Jimmy/Mr. Sengley/TV Announcer/Tony/Billy/Cheezers Guy/Dr. Dome/Frank/Guy/Guy 1/John/Paramedic/Park Manager 1/Prosecutor/Rocker/Salesman/Simon/The Urge/Uncle Steve/70s Guy #2/AJ Maldonaldo/Ace/Agent #2/Aggressive Rapper/Alfie/Amadeus Martinez/Anchor/Andy/Angelo/Announcer 2/Axelrod/Baby/Baby Duck 3/Bad Cop/Bamboo #1/Bamboo #3/Beatnik/Biggs/Biker 3/Blonde #1/Blonde #3/Blonde Dude/Bobby/Body Bag Guy 1/Bored Music Fan/Brick Lefever/Bro Bot Leader/Brobot 3/Brother Willis/Bruce Rock/Bus Driver/Business Man/Calvin/Camera Man/Carlock #1/Carlock #2/Ches/Children/Chopper Captain/Chuck/Clive/Cody/Commercial/Commercial C/Cubicle Man/Customer/Customer Steve/Dad/Dante/Darrel/Darrell/Dave/Delivery Guy/Demo Guy/Detective/Diego Montez/Dom Denunzio/Donut Clerk/Doug/Dude 1/Duke/Emcee/Employee/Fake Rigby/Fan #1/Flannery Shedlawn/Flunky #1/Food Truck Announcer/Food Truck Driver/Francois/French Actor/Freshman/Funkie Wunky/Garbage Man/Garrett Bobby Ferguson Jr./Gary/Ghost Lawyer/Gil/Glass Guy 2/Goat Thomas/Goon/Guard #1/Guy #1/Guy 2/Guy 3/Guy 4/Hedgehog/Henchman #1/Hole/Hurl/Infomercial/Internet/Jablonski/Jahni Rmp RR/Jeep Driver/Jeff/Jeremy/Jesse/John Moore/John Silverman/Justin Brink/Keith/Kid/Kid #2/Kid 1/Kid A/Kid Judge/Kid Krunchy 2/Kiosk Attendant/Knight Ace/Koko/LaFayette/Lake Monster/Lion/Lotto Cop 4/Loud Speaker/MC/MacCreedy/Mailman/Main Fighter/Maitre D/Man 1/Man 2/Maximum Glove Kid/Medic #1/Mikey/Morelli/Mud Pigeon 1/Murray/Museum Voice/Mystery Guy/Negative Rigby/Nerd/News Guy/News Reporter/Newscaster/Newscaster 4/Nick/Night Owl/Oggy Oggstrom/Operator/Park Ranger #1/Pilot/Pizza Guy/Police Officer/Possum/Prankster/Protestor/Pu/Randy/Ranger/Ref/Referee/Rep 1/Ricky Grant/Robot/Rocket Scientist/Rorschach/Salad King/Scientist 2/Sean-Ben Pimento/Security Guy/Shannon Acidbutt/Shelter Guy/Show Computer/Simon Lamprey/Snow Monsters/Snow Munchkins/Squire/Store Keeper/Street Man/Student #1/Student Guy/TV Host/TV VO/Tagger/Tantsco President/Telegram Guy/The Party's Over Guy 1/Timmy/Tobias/Tower Guy 2/Tuck/Universal Remote/VG/VO Guy/Victim/Video Game Commercial/Video Store Dave/Vince/Waiter/Waiter 1/Warranty Guy/Wes/Wing Kingdom Guy/Wyatt
Matthew Yang King
as Merle/Surfer 2/Yuji
Janie Haddad Tompkins
as Margaret/Girl/Allison/Computer/Mama Duck/Aerobics/Cashier/Cheerleader/Club Manager #3/College Announcer/Daughter/GPS/Girl #1/Girl #3/Girl 1/Girl 2/Janet/Margaret's Sweater/Mercy/Old Turtle/Patsy/Phone/Photographer/Rachel/TSA Female/Vicki/Weather Woman/Witness 1/Woman
John Cygan
as Main Bear/Archie the Archivist/Cop/Principal Party Horse/Roger/Steffen/8 Track/Agent Costello/Andrew Aaronson/Barber/Beach Bum/Bob/Bob Karpett/Bring Em Back Jack/Bum 1/Contest Judge/Convict/Cygore/Death Kwon Do Doctor/Ear Cop #1/FBI Soldier/Fireman/Frank Jones/Gimelli/Guy 3/Horse Knight/Inspector/Interviewer/Lazy Dave/Lenny Prize/Lobster Party Horse/MC/Mr. Goldstein/Narrator/Officer Hank/Operator/Owner/Park Manager 2/Rental Guy/S&P/Silver Dude/Spa Worker 1/Steven/Student #3/Tape Hunter/Toilet Keeper/Turtle/Tux Party Horse/Wavy Train Guy
James Hong
as Keith/Luggage Handler/Manager/Mr. Zhang/Warlock
Christopher McDonald
as Carl Putter
Armin Shimerman
as Dr. Henry/Buttonwillow McButtonwillow/Gopher Person/Guy/Guy 1/Mr. Murphy/Nightmare Alien/Waiter/Zingo 3
Kurtwood Smith
as Gene/Gene the Vending Machine
Jonathan Oldham
as Delivery Guy/Hillbilly/Male Model/Outback Joey/Prime Minister/Weber
Richard McGonagle
as Reel to Reel/Floppy/Bear Dog/Carrey O'Key/Herb/Nunchuck Bro/Old Man Horseshoes/Peeps/Peeps Phone Operator/Rent A Cop 1/Super Density
Jeff Bennett
as Knight/Doctor/Party Pete/Ace Balthazar/Apple Sauce/Axe Guy 1/Axyl/Basketball/Body Builder/Bust Keeper/Centaur #1/Chaz McAllister/Chief Executive/Clown/Commercial VO/Cowboy/Deliver Guy/Easton/Eggscellent Knight/Garage Door Salesman/Giant/Good Cop/Guard/Guy #3/Hero Dude/Hi Five Ghost/Jerry/Jimmy/Jingle/Jockey/Judge/Kid/Larry/Magician/Manager/Maury Moto/Officer 1/Partygoer/Peter/Petition Guy/Pony/Randall/Rasta the Wishmaker/Repairman/Sarge/Snow Monster/Son/Swat Guy/TV Voice/Tennis Guy/Ticket Guy/Trip/Witness 2
Robert Englund
as Anti-Pops/Mystery Man/Stagman
Bobcat Goldthwait
as Johnny Crasher
Steve Agee
as Corny/Cowboy/Zaxon
Danny Cooksey
as Officer Glenn/Reggie/Stan/Yoga Instructor
David Ogden Stiers
as Mr. Maellard
Julian Holloway
as Death/Duck Man/Archie/Dad/Grandpa Hanatronic/Henchman #1/Henchman #3/Man 3/Old Man #2
Wayne Knight
as God of Street Performing/Guardian of the Friend Zone
Matthew Mercer
as Chance Sureshot/Recap Robot/Leader Bounty Hunter/Tanner/Announcer/Defend-Ear/Dr. Sweet Dreams/Dr. Whiskers/Duty Free Clerk/Gilfoyle/Lars/Maintenance Guy/Mantis Guard/Mantis King/Narrator/Philippe/Quadravi-Kranus/Vampire 1
Vanessa Marshall
as Toothpick Sally/Droid Bounty Hunter/Blue Alien/Computer/Dome Computer/Jessica/Jolene/Kid/Lady Ear/Mantis Princess/Martyka/News Reporter/Nurse Ear/Old Lady/Penny/Ship Computer/Space Bush Computer/Spider/Victorian Alien/Waiter Mantis
Roger Jackson
as Evil Voice/Baby #1
Eamon Pirruccello
as Kid #1
Thomas Haden Church
as Quillgin
Zosia Mamet
as Celia/Bear Kid
Edie McClurg
as Muscle Man's Mom
Andrew Kishino
as Doug McFarlane/Gamemaster Mitsuru Shinehara/Tommy
Dawnn Lewis
as Duck Lady/Fun Fun Zone Employee/JB/Woman 1/Woman 3
Steve Blum
as Carter/Muscle Bro/Techmo/Aisa Goon 1/Announcer/Astronaut/Barry/Bear Cat/Blaine/Cash's Friend/Clerk 2/Clive/Computer/Cop/Cricket #1/Dale/Defendant/Demon Dad/Doom-Ma-Geddon/Driver/Dude #2/Fan #2/Fan Lady/Goose 2/Guard 1/Guy #1/Henchman #2/Henchman #4/Hooligan/Johnny Skydiver/Leon/Monster/Movie Trailer VO/Newscaster/Playco 2/Police Officer/Premier Koshkov/Private/Racki the Wishmaker/Rick/Roger/Serpent Dad/Sven #2/Teen 1/Toll Booth Operator/Trucker Berg/Usher/Valley Guy/Werewolf/Westley
Kyle Kinane
as Doorman/Club Manager #2/Club Manager #5
Sam Marin
as Benson/Muscle Man/Pops/RGB2/Sensei/GBF/Garrett Bobby Ferguson/Guard 2/Guy 1/Reporter/Announcerbot/Beaten Limo Driver/Big Hand/Biker 2/Bum 2/Burke/Centaur #2/Choir/Chong/Clerk #1/Club Manager #4/Coffee Bean/Contestant 2/Cool Cubed/Cop/Crawler/Creature/Cricket #4/DJ/Deli Clerk/Duck #3/Employee/Goth/Gregg the Caveman/Guard/Guard 1/Guy/Guy #1/Headmaster Bennett/Henchman 1/Hopper/Intern/John Murrow/Johnny/Kid #1/Kid 1/Long Limo Driver/Manslaughter/Master Prank Caller #1/Mike/Monkey/Nigel/Police Man/Police Officer #3/Recycling Guy/Rent A Cop 2/Robby/Sandwich Guy/Sombrasses Henchman/Spider/T-Shirt Man/Ticket Salesman/Unicorn #1/Unicorn #1 - Billy/VHS Agent/Waiter/Waiter #3/Warrant Guy #2/Wedgie Ninja/Young Pops/Zingo 2
Trevor Devall
as HD DVD/Stream Box Bot 1
Lex Lang
as Barry/Police Officer #2
Jimmy Tang
as Announcer/Boy/LeBron
Phil LaMarr
as Body Bad Guy 2/Cash Bankis/Dude #1/Judge/Kyle Garrity/Puppy ManPuppy Man
Eddie Pepitone
as Rigby's Dad/Sherm
Tyler the Creator
as Big Trouble/Blitz Comet
Robin Atkin Downes
as Gary/Archibald/Boswald/Angus/Archibald - Baby #3/Big Head/Body Guard 1/Boy/Bro 2/Bus Driver/Cool Judge/Dr. Kimmy/Fitch Munderson/Herold/Hipster Male/Huge Head/Manny/Robber/Robot/Skull Punch/Tailor/Wally
David Koechner
as Principal Dean/Jayden
Travis Willingham
as American Official/Anatoly/General Pat McMurphy/Guard 2/Human Shield 2/Intern/Joe/Rich Steve/Stash
Tim Curry
as Hot Dog Leader/Master Prank Caller #2
Jaleel White
as Cool Shade/Daryl
Terry Crews
as Broc Stettman
Elle Newlands
as Death's Wife
Troy Baker
as Dr. Langer/Griswald/Old Man Pam/Bert Coleman/Bert Coleman as Fat Guy and Old Lady/Burl/David/Fred/Gene Hazard/Guard 2/Guy #2/Guy 2/Guy 3/In Yo Face Clerk/Kid 1/Klorgbane/Klorgbane the Destroyer/Maximum Glove/Park Avenue/Robert/Stealth Co. Guy/Surfer 1/Trent
Donald Glover
as Alpha Dog
Andrew Daly
as Darryl/Kid 2/Politician Dude
Jennifer Hale
as Denise/Jackie Carmichael/Agent Kessler/Female Reporter/Hostess/Mail Woman/Mordecai's Mom/Old Person/Student Gal/Susie/Thomas' Mom/Veronica/Woman 1
Kevin Michael Richardson
as Happy Birthday
Alastair Duncan
as Mordecai's Dad/Pilgrim
John Gemberling
as Steve Mikulski
Seasons & Episodes
Season 1
2010 | 12 Episodes
Season 2
2010 | 28 Episodes
Season 3
2011 | 39 Episodes
Season 4
2012 | 37 Episodes
Season 5
2013 | 37 Episodes
Season 6
2014 | 28 Episodes
Season 7
2015 | 36 Episodes
Season 8
2016 | 27 Episodes
Awards
Annie Awards 2011
Best Animated Television Production for Children
Primetime Emmy Awards 2011
Nominee
Primetime Emmy Awards
Outstanding Short-Format Animated Program