Demand Insights
> Last 7 days
Demand Rank
Worldwide
WW
#
October 23, 2021
WW
Daily Demand (Last 7 days)
Travelability
Global Travelability indicates how well a title performs internationally relative to its home market
Private Eyes's
home country is:

Canada
Demand Score
Worldwide
WW
Average Demand for Private Eyes is 0.0 times the demand for the average show in Worldwide in the Last 7 days.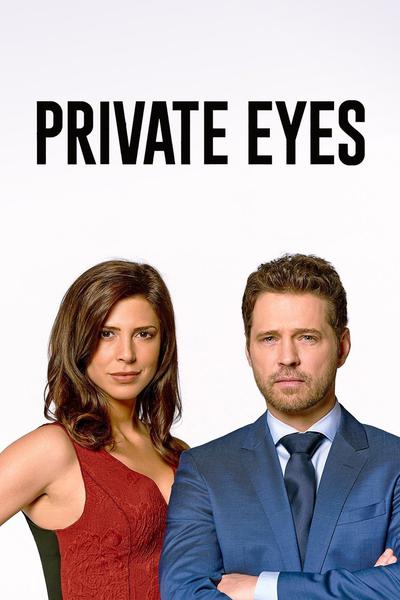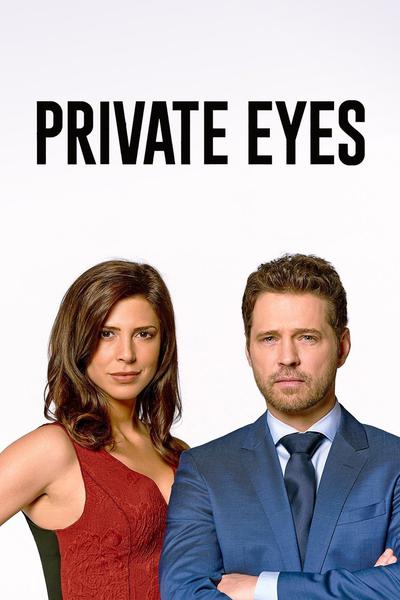 Trend
Worldwide
WW
Private Eyes has a neutral trend. It has grown in demand by 0x in Worldwide in the Last 7 days.
In Genre Performance
Worldwide
WW
Private Eyes ranks at the 0.00th percentile in the genre. This means Private Eyes has higher demand than all other titles in Worldwide
About this title
Storyline
The original crime-solving series Private Eyes is a 10-episode procedural drama that follows ex-pro hockey player Matt Shade (Jason Priestley) who irrevocably changes his life when he decides to team up with fierce P.I. Angie Everett (Cindy Sampson) to form an unlikely investigative powerhouse. Through their new partnership, Shade is forced to examine who he has become and who he wants to be. Ongoing episodes find Shade and Angie investigating high-stakes crimes in the worlds of horse racing, fine dining, Toronto's vibrant hip-hop scene, scandalous literature, magic clubs, and more.
Country: Canada
Type: Scripted
Status: Canceled
Language: English
Release Date: May 26, 2016
Also Known As: Éber szemek, Détectives privés |  See more »
Parents Guide: Australia (13+), Canada (G) |  See more »
Cast
Bola Olubowale
as Beth's Trainer
Alex Woods
as Brody Diamond
Bryce Arden Poe
as Lysander
Paskal Vaklev
as Kenny Rakowski
Cooper Stanley
as Burly Student
Peter MacNeill
as Murray Clavin
Orphée Ladouceur-Nguyen
as Hitwoman
Milton Barnes
as Guy Brant
Earl 'Bubba' McLean Jr.
as Dale
Nick Baillie
as Carl Jenkins
Thomas Mitchell
as Sgt. Cook
Karen Robinson
as Councillor Samantha Bowman
David Ferry
as Wendel Sylvie
Morgan Lever
as Mateo Navarro
Evangeline Liao
as May Chen
Shanice Johnson
as Ruby McHenry
Sean Jones
as Basketball Player
AnnaMaria Demara
as Phoebe
Chantria Tram
as Funeral Director #1
David Petrie
as Funeral Director #2
Shailene Garnett
as Eve Harding
Cosette Derome
as Tanya Poponov
Michael Sercerchi
as Auction Bidder
Tara Yelland
as Clarissa Bateman
Taylor Hanson Whittaker
as Randall Strong
Paul Sun-Hyung Lee
as Chef Andre
Daiva Johnston
as Nancy Blunton
Mandi Maxwell
as Drunk Student
Daniel Negreanu
as Daniel Negreanu
Juan Carlos Velis
as Miguel Quintana
Sebastian MacLean
as Ronnie Caine
Andy Marshall
as Jeremy Macneil
Patrick Kwok-Choon
as Donnie Chow
Vijay Mehta
as Dr. Rohit Haldar
Jefferson Brown
as Bryan Pratt
Ray Galletti
as Randy Pawlachuck
Ashley Bryant
as Carly King
Stephanie Belding
as Amy Pantalone
Herschel Andoh
as Sheldon MacNamara
Ennis Esmer
as Kurtis Mazhari
Naomi Gaskin
as Dr. Palmer
Chemika Bennett-Heath
as Laney Coyle
Annie Briggs
as Stephanie May
Dion Johnstone
as Mark 'Lytnin'' Lyte
Peter Cockett
as Fred Gusev
John Tokatlidis
as Enrique Villanova
Jamie Robinson
as Floor Director
Reid Janisse
as Jimmy Orlando
Darryl Flatman
as Aaron Brisbane
Ryan Parker
as Ring Announcer
Howard Hoover
as William Hadley
Chris Violette
as Lance Masters
Donna Goodhand
as Georgina Wilkes
Cindy Sampson
as Angie Everett
Jonas Chernick
as Chris Henley
Patrick McManus
as Elliot Powers
Sam Earle
as Corey Rollins
Milda Gecaite
as Tonya Gilbourne
Jenny Raven
as Kristy Greene-Garvey
Shauna Black
as Janet Van Horn
Lanette Ware
as Mrs. Green
Gregory Ambrose Calderone
as Galen Baxter
Robert Bellissimo
as Man at Car Show
Caroline Lesley
as Police Technician
Brad Everett
as Colin Whysner
Suzanne Hawkins
as Renee Houser
Allie MacDonald
as The Demonic Donatella
Christian Lloyd
as Graham Barker
Geoffrey Pounsett
as Patrick Stockwell
Connor David Cooke
as Union Ville townsfolk
Soma Chhaya
as Priya Joshi
Allana Harkin
as Linda Sinclair
Ricardo Betancourt
as Security Guard
Sharon Forrester
as Jury Foreman
Lindsay Owen Pierre
as Hector
Sangita Patel
as Reporter/Reporter Sangita Patel
Tristan Mathews
as Marty Austin
Stephen McHattie
as Leland Harrington
Ted Atherton
as Percy Voss
Al Sapienza
as Max Zangrilli
Darrin Baker
as Bryce Wormsely
Naomi Snieckus
as Dee Dee Fryers
John Cleland
as Harvey Stanwell
Marty Adams
as Cheating Husband
Carson Gale
as Security Guard
Liisa Repo-Martell
as Deanne
Kardinal Offishall
as Apollo
Stefan Brogren
as Dean Carl Robinson
Adrian Walters
as Dexter Grant
Noam Jenkins
as Martin Belanger
Sima Sepehri
as Denise Perez
Kandyse McClure
as Jada Berry
Sugith Varughese
as Michael Lukins
Clive Mclean
as Josh's Dad
Sandy Kerr
as Arresting Officer
Jonathan Shatzky
as Wallace Mallone
Jake Goldsbie
as Baggage Handler
Jonathan Watton
as Adam Renfro
Jack Mosshammer
as Security Guard
Rose Napoli
as Jane Clanton
Nicky Lawrence
as Attendant
Mark Ghanimé
as Dr. Ken Graham
Amanda Backal
as Hailey Henley
Gordon Hecht
as Jason Burke
Jefferson Guzman
as Mycroft
Jean Paul Najm
as Security Guard #1
Shanice Banton
as Laura Gaynor
Josh Cruddas
as The Amazing Dwight
Aaron Willis
as Dave/Security Guard
Amy Wright
as Choreographer
Alexandra Castillo
as Maxine DeMuzio
Brock Johnson
as Crematorium Operator
Laara Sadiq
as Krishna the Magnificent
Matthew Bennett
as Tyler Pryce
Fiona Highet
as Joan Powers
Brian Frank
as Thomas Redfield
Jennifer Foster
as Concierge Jennifer
Amara Solan
as Anika Pandey
Noorin Gulamgaus
as Private Jessie Page
Rachael Crawford
as Emila Mantella
David Reale
as Ivan Zickel
Laura Miyata
as Grace Winter
Tara Mason
as Beautiful Woman
Alex Paxton-Beesley
as Robyn Westing
Nicole de Boer
as Becca D'Orsay
Shakura Dickson
as Sherri Stipes
Daren A. Herbert
as Mark Steinman
Aldrin Bundoc
as Private Tom Wallace
Nathaniel McParland
as Young Boy
Brett Houghton
as Cory Sinclair
Sierra Wooldridge
as Housekeeper
Andrea Runge
as Erika Michaels
Jordyn Negri
as Jules Shade
Pascal Langdale
as Wil Schmit
Joanne Boland
as Eliza Garrison
Stephne Halliburn
as Mrs. Pandey
William Shatner
as Norm Glinski
Duane Murray
as Joel Hagerty
Dylan Trowbridge
as Jon White
Horace Abel
as Corp Security #1
Anton Gillis-Adelman
as Tyler Hill
Shainu Bala
as Sunny Joshi
Lizz Alexander
as Madison Swenson
Daniela Vlaskalic
as Ketura
Amanda Lisman
as Megan Harrington
Fuad Musayev
as Male Student #2
Kylee Evans
as Emily Buckman
Aaron Poole
as Jackson Van Horn
Linda Kash
as Inspector Carlson
Jeff Kassel
as Kenneth Mayweather
Justin Paul Kelly
as 7 Year Old Miles
Michael Boisvert
as Security Guard
Jesse Nerenberg
as Technician
Anthony Lemke
as Jack Sugar
Matias Garrido
as David Marks
Angela Asher
as Maggie Melroy
Amanda Martínez
as Rosa/Teresa Ramirez
Michael Crawford
as Attendant
Trevor Pease
as Federal Agent
Maria Herrera
as Commander Rosemary
Barry Flatman
as Don Shade
Jillian Rees-Brown
as Esta Stewart
Laura Vandervoort
as Dana Edson
Emma Lahana
as Holly Brown
Konstantina Pirkas
as Nudist
David Guthrie
as Garrett Grossman
Stephen Bogaert
as Gordie Sawchuck
Corey Sevier
as Jared Brenner
Massimo Cannistraro
as Big Guy
Krystal Kiran
as Farah Javadian
Chris Young
as Dennis Farrow
Elyse Levesque
as Willow Maitland
Colin Mochrie
as Ralph Duncan
Victoria Baldesarra
as Carly
Rob Ramsay
as Bob Sterling/King Lucien
Renee Percy
as Selena Louise
Emily Rose
as Cassie Lewis
Patrick Haye
as Sherman Green
Peter Millard
as Martin Belaustro
Nicola Correia-Damude
as Sgt. Pamela Blake
Zoie Palmer
as Nicola Hawthorne
Shannon Taylor
as Madeline
Jake Epstein
as Harrison Kent
Genevieve Kang
as Sadie Tufts
Jennifer Gibson
as Dr. Edie Conroy
Kelsey Flower
as Sami Chapman
Gurbir Bal Gogo
as Uma Haldar
Tommie-Amber Pirie
as Street Musician
Wade Bogert-O'Brien
as Server
Steven Yaffee
as Danny Gibson
Robin Archer
as Security Guard #1
Adam Kenneth Wilson
as Mike
Carlos Albornoz
as Recovering Stalker
Nicholas Campbell
as Frank Garrison
Khalid Karim
as Omar Javadian
Chris Gleason
as Riley's Club Biker
James Patrick Pettitt
as Masked Man #1
Ayesha Mansur Gonsalves
as Dr. Morris
Jason Weinberg
as Taxi Driver
Paula Boudreau
as Grace Caplan
Kelly Van der Burg
as Crystal
Scott Ryan Yamamura
as Steve Sato
Cheryl Hickey
as Mrs. Dubowski
Samuel Dowler
as 4 Year Old Dylan
Matt Haffner
as Frat Guy #1
Jess Brown
as Beth McMillan
Amalia Williamson
as Hannah Whysner
Romaine Waite
as Jerry Macklehearn
Lucas Bryant
as Sergeant Ellis
David Bronfman
as Logan Benson
Clé Bennett
as Derek Nolan
Jessica Greco
as Christine/Wanda Fadden
Scott Farley
as Corporal Ralph Craig
Mickey Milan
as Steve MacGruder
Brian Paul
as Harold Powell
Allison Brennan
as Dr. Lillian Lee
Michelle Monteith
as Hanna Kalfas
Colin Ferguson
as Dominik Chambers
Dale Yim
as Dr. Lloyd Zhang
Stacey McGunnigle
as Sandra
Alex Poch-Goldin
as Kevin Avery
A.J. Simmons
as Jordan Pallister
Bree Williamson
as Melanie Parker
Barbara Johnston
as Tabitha
Lee Michael Jones
as Dawson's Son
Sheila McCarthy
as Shirl Glinski
Enrico Colantoni
as Chief Cutler
Katherine Barrell
as Whitney Malone
Jesse Griffiths
as Forensic Police Technician
Alexandre Duong
as Boy Toy/Sound Man
Robin Dunne
as Josh Carbon
Ayinde Blake
as Geoff Fitzgilbert
Imogen Haworth
as Wealthy Woman
Kris Lemche
as Deputy Eddie Conroy
Lisa Merchant
as Megan Connor
Drew Zeran
as Gary McHenry
Barbara Gordon
as Betty Love
Tenika Davis
as Cynthia 'Cyn' Flores
Daniel DeSanto
as Edward Faria
David Alexander Miller
as Rick Hill
Jocelin Haas
as Antoine Tremblay
Donna Garner
as Gary's Wife
Jasmine Renée Thomas
as Cher
Marika Warner
as Girl Bartender
Matia Jackett
as Maya Buckman
Tal Gottfried
as Young Woman
Edward Ruttle
as Larry - Sir Larry
Carlisle J. Williams
as Security Guard #1
Madison Cheeatow
as Jenna Bowen
Nicolas Grimes
as Really Big Guy
Gavin Fox
as Doug Boonstra
Aislinn Paul
as Brie Houser
Marc Hickox
as Trash Williams
Aury Barnett
as Seamus Conor
Krystle Ferdinand
as Sorority Girl
Guifre Bantjes-Rafols
as Fernando
Mercedes de la Zerda
as Lisbeth
Rakhee Morzaria
as Meera Love
Ache Hernandez
as Alfonso/Miguel
Trenna Keating
as Taylor Larson
Darryl Hinds
as Jeffrey Sanders
Kurtis Bayford
as Animal trainer
Mark Wiebe
as Simon Tyrell
Matt Cassidy
as Cheating Husband
Heather Sanderson
as Waitress
Steve Lund
as Miles Mallone
Chad Camilleri
as Earle Capshaw
Aaron Ashmore
as Larry Bateman
Albert Chung
as Security Guard #2
Zarrin Darnell-Martin
as Katie White
Fred Kennedy
as Fight Commentator
Emma Sereny
as Masked Man #2
Janine Theriault
as Simone
Diana Leblanc
as Martha Caspary
Jordan Andonov
as Rob the Janitor
Ted Whittall
as Donovan Crane
Maria Ricossa
as Eleanor Brown
Craig Burnatowski
as Conrad/Henchman
Torquil Colbo
as George the Hotel Super
Justin Kelly
as Dylan Mallone
Bill Turnbull
as Trent Shakeley
Amos Crawley
as Cliff Buckman
David Hewlett
as Earl Baer
Yanna McIntosh
as Dr. Thomas
Carlos Pinder
as Dr. Nydoo
Gordon Pinsent
as Nevin Ainslie
Chapelle Jaffe
as Mitzi Morrison
Morgan David Jones
as Stuart Poponov
Supinder Wraich
as Kate Bashwa
Tim Progosh
as Dave O'Brien
Gianpaolo Venuta
as Pietro Valero
Kevin McGarry
as Ken Barnes
Nabeel El Khafif
as Dr. Wilson
Laura Cilevitz
as Sarah Marsonet
Michael Faliero
as Hockey Player #9
Jess Salgueiro
as Charmaine
Cliff Saunders
as Greenskeeper
Sergio Di Zio
as Evan Mallone
Glen Michael Grant
as Brian Stevens
Alexander Nunez
as East-West Employee
Gabriel Darku
as Eric Mantella
Jason Gosbee
as Chad - Sir Toby
Stefano DiMatteo
as Tommy Walker
Kaleb Horn
as Toothless Pirate
Ivan Wanis-Ruiz
as Juan Carlos Alba
Jeffrey Wetsch
as Cooper Houser
Benz Antoine
as Maverick Mims
Mary Ashton
as Bridget Cutler
Kimberly Huie
as Celine Porter
Nadia Litz
as Janet Lonnigan
Marvin Ishmael
as Mr. Bashwa
David Emanuel Faria
as Squire
Sam Kantor
as Brendan Hagerty
Natalie Brown
as Veronique
Jeananne Goossen
as Vivian Novak
Ramona Milano
as Marcy Dodd
Brittany Bristow
as Sherry Gibbs
Alison Smiley
as Attendant
Indy Saluja
as Coroner/Racetrack Patron
Benjamin Ayres
as Professor Dan Bryan
Jason Priestley
as Matt Shade
John Ralston
as Joel Coleman
Russell Yuen
as Dr. Gary Turner
Erica Durance
as Lauren Campbell
Savannah Basley
as Suzanne
Steven McCarthy
as Paul Delfino
Stephen Eric McIntyre
as Darin Ledford
Andrew Chapman
as Swag Buyer
Ruth Goodwin
as Danica Powers
Karen LeBlanc
as Kelsey Brower
Nicolette Pearse
as Beth Jacobs
Viviana Zarrillo
as Maddie
Lisa Berry
as Mayor Nichelle
Alexander Conti
as Sam Lycette
Monica Dottor
as Audience Member
Stephen Sparks
as Tail Coat
Von Flores
as Irving Guzman
Reagan Pasternak
as Wendy Meisner
Christopher Seivright
as Edgar Brava
Hrant Alianak
as Omar Torkia
Jamie Maczko
as Wade Kestin
Shannon T. Bentley
as Motorcycle Rider (BG)
Lawrence Cotton
as Mr. Dubowski
Richard Fitzpatrick
as Reginald Dunne
Dan Warry-Smith
as Larry Fleishman
Kathryn Greenwood
as Charmaine
Jewelle Blackman
as Dr. Lisa
Helen Taylor
as Housekeeper
Richard Zeppieri
as Alessandro Kostopoulos
Mimi Kuzyk
as Nora Everett
Nykeem Provo
as Gary Barrett
Jayne Eastwood
as Animal Rescue Woman
Genelle Williams
as Mary Sinclair
Rishma Malik
as Mrs. Joshi
Taborah Johnson
as Estelle Dorset
Andrew Zachar
as Male Bartender
Nancy Palk
as Sergeant Lydia Sullivan
Dave Reachill
as Matt Shade Photodouble/Thief
Sebastien Roberts
as Riley Larson
Jordan Van Dyck
as Dan Varden
Christopher Russell
as Wade Briggs
Benjamin Blais
as Max LaGrande
Andrea Carter
as Reporter #2
Chris Mark
as Bike Courier
Martin Roach
as Julian Barrington
Rebecca Amare
as Receptionist
Marianna Phung
as Whitney Wu
Sagine Sémajuste
as Laila Maxton
David Ingram
as Grant Bridgeman
Steve Belford
as Gabe Moffat
Mike Dara
as Tiff Security
Dan Darin-Zanco
as Health Inspector
Christopher Jacot
as Gabe Harrington
Stewart Arnott
as Simon Murphy
Jacob MacInnis
as Writer #1
Natasha T. Khan
as Naked Woman
Dalton Derek
as Bouncer #1
Sara Mitich
as Maureen Ferlo
Michelle Alexander
as Lola Melloncamp
James Collins
as Tiny/Zane Dunham
Samantha Cole
as Anastasia
Nadine Whiteman Roden
as Rita
Mike Nadajewski
as Rafael Harris
Lina Roessler
as Sonia Valero
Adolyn H. Dar
as Devan Pandey
Jennifer Dale
as Veronica Valor
Eric Peterson
as Jasper Dazzle
Jennifer Podemski
as Colonel
Arisa Cox
as Stefani Tadson
Aniela Kurylo
as Female Bartender
Conrad Coates
as Hank Falcone
Jonathan Tan
as Greg Holger
J. Adam Brown
as Café Owner
Charles Vandervaart
as Josh Remar
Leanne Poirier Greenfield
as Petra Waters
Louise Nicol
as Harriette Olsen
Jon McLaren
as Peter Caplan
Julien Hyacinthe
as The Barber
Rachel Wilson
as Jacinta Kalfas
Kristin Booth
as Pam Bridgeland
Dwight Forde
as Uniform Cop
Deborah Tennant
as Principal Ann Frame
Kenny Robinson
as Art Kempler
Rayisa Kondracki
as Natalie Parnell
Raoul Bhaneja
as Dr. Jed Arthur
Shanda Bezic
as Jacqueline
Kevin Jubinville
as Bob Mercer
Ari Cohen
as Russell Timms
Caroline Palmer
as Camille Benson
Kyle Gatehouse
as Luke Lancaster
Pamela Archer
as Victoria Campos
Gina Phillips
as Golf Marshall
Alexa Rose Steele
as Brynn Vaughan
Alicia Richardson
as Shanice Davis
Chandra Galasso
as Mrs. Dawson
Corinne Conley
as Nancy Colgate
Madison Cipparone
as Celeste
Brandon Ludwig
as Receptionist
Hazel Gorin
as Peter's Nanna
Natalie Lisinska
as Jamie Linfoot
Chris Anton
as Paramedic #1
Farah Merani
as Najma Hammoud
Penelope Corrin
as Helen Voss
Michael Therriault
as Nigel Sweeney
Paulino Nunes
as Commissionaire
Brett Ryan
as Robert Garvey
Dylan Taylor
as Ernest Coleman
Edie Inksetter
as Elizabeth Moore
Julia Baldwin
as Assistant
Bahia Watson
as Darcy Amiri
Tara Nicodemo
as Dr. Emma Sandoval
Katie Boland
as Sabrina Campbell
Elizabeth Saunders
as Georgina Longford
Andrea Drepaul
as Hotel Concierge
Maurie Sherman
as Jason Phillips
Sharon Lewis
as Shona Clement
Samantha Gracie
as Lindsay
Merven Lane
as Cyn's Trainer
Tara Joshi
as Dr. Sila Mazhari
Steffi DiDomenicantonio
as Karaoke Singer
Debra McGrath
as Deena Duncan
Joris Jarsky
as Darryl Fenwick
Eric Woolfe
as Laser Technician
Sonia Dhillon Tully
as Beth Rowatt
Matthew MacFadzean
as Aiden O'Connor
Thom Allison
as Gil Schmit
Aura Carcueva
as Cheryl Tan
Sidney Leeder
as Kylie Larue
Humberly González
as Morgan Ortega
Greg Hovanessian
as Private Joe Howard
Hannah Emily Anderson
as Laura Caspary
Carin Moffat
as Dr. Merlin
Kiran Friesen
as Bonnie Murphy
Huse Madhavji
as Dr. Rohan Love
Seasons & Episodes
Season 1
2018 | 10 Episodes
Season 2
2018 | 18 Episodes
Season 3
2021 | 12 Episodes
Awards
Writers Guild of Canada 2017
Nominee
Writers Guild of Canada
Best Script from a Rookie Series
Canadian Screen Awards, CA 2019
Nominee
Canadian Screen Awards, CA
Best Supporting or Guest Actor, Comedy
Nominee
Canadian Screen Awards, CA
Best Lead Actress, Comedy
Nominee
Canadian Screen Awards, CA
Best Lead Actor, Comedy