Demand Insights
> Last 7 days
Demand Rank
Worldwide
WW
#
October 24, 2021
WW
Daily Demand (Last 7 days)
Travelability
Global Travelability indicates how well a title performs internationally relative to its home market
One Punch Man's
home country is:

Japan
Demand Score
Worldwide
WW
Average Demand for One Punch Man is 0.0 times the demand for the average show in Worldwide in the Last 7 days.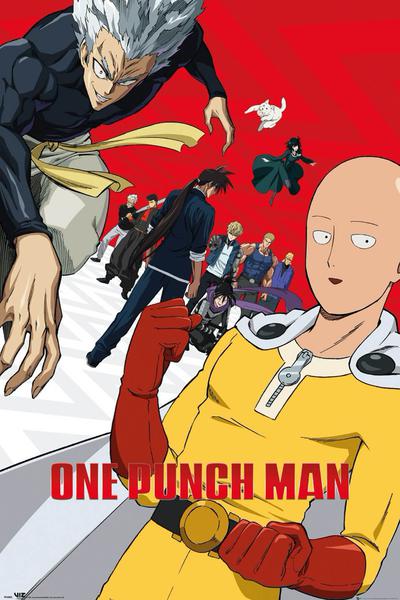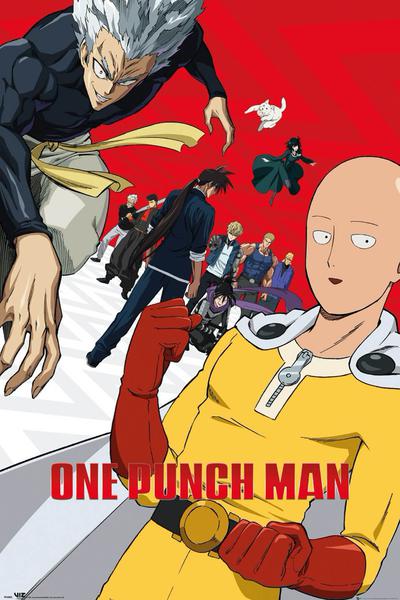 Trend
Worldwide
WW
One Punch Man has a neutral trend. It has grown in demand by 0x in Worldwide in the Last 7 days.
In Genre Performance
Worldwide
WW
One Punch Man ranks at the 0.00th percentile in the genre. This means One Punch Man has higher demand than all other titles in Worldwide
About this title
Storyline
Superheroes often have exciting superpowers that help them defeat the evil villains that they battle, but that's not necessarily the case for Saitama. Although he's a superhuman, his power isn't as exciting as X-ray vision or invincibility -- instead, he has the ability to defeat any opponent with a single punch, and this power has both pros and cons. The biggest advantage is that it makes it easy for him to defeat enemies -- which is essential because he lives in an alternate Japan that is constantly under attack by monsters -- but because it doesn't take long to throw a punch, easily vanquishing his foes leads to constant boredom.
Country: Japan
Type: Scripted
Status: Ended
Language: Japanese
Release Date: October 1, 2015
Also Known As: Un Coup de Poing, Wanpanman |  See more »
Parents Guide: Australia (M, MA15+), Brazil (12) |  See more »
Plot Keywords
martial arts
monster
cyborg
superhero
Company Credits
Production Co: Asatsu, Bandai Namco Arts |  See more »
Cast
Chris Cason
as Hero Association Staff/Butler/Citizen/Hero Association Commissioner/Kafetch/Sea Creatures/Sekingal/Subterranean
Marieve Herington
as Terrible Tornado/Female Student/Tornado/Woman
Satoshi Hino
as Superalloy Blackluster
Wendee Lee
as Monster Princess Super S
James Mcauliffe
as Additional Voices
Tesshô Genda
as Metal Knight/Metaru naito
Kenjirô Tsuda
as Atomic Samurai
Taishi Murata
as Tempest Wind
Yuichiro Umehara
as Black Sperm
Wataru Takagi
as Hanmâheddo
Chris Tergliafera
as Tank-Top Tiger/Jakumen/G4/Heavy Kong/Male Spectators
Doug Erholtz
as Choze/Battery Man/Citizen/Hero Association Staff/TV Announcer/Vampire
Marc Diraison
as Bearded Worker/Pig God/Subterranean 4
Shinnosuke Ogami
as Hamukichi/Zanbai
Ryûsei Nakao
as Wakuchinman
Morgan Berry
as Female Citizens/Waganma
Landon McDonald
as Additional Voices/Citizens/Sky King's Minions
Vic Mignogna
as Melzargard/Child
David W. Collins
as Bearded Worker/Spring Mustachio/Additional Voices/Boltane/Council Members/Male Citizens
Arnie Pantoja
as Watchdog Man/Citizen/Jet Niceguy/Male Citizens/Male Spectators
Tara Sands
as Female Executive/Kombu Infinity/Little Girl/Old Lady/Worker
Tomokazu Seki
as Stinger/Sutingâ
Kôsuke Toriumi
as Flashy Flash
Hazuki Ogino
as Boy A/Boy C
Crystal Padilla
as Additional Voices
Kaede Yuasa
as Child/Hîrô kyôkai Z shibu shinsa iin/Kodomo/On'na no ko/Repôtâ/Shônen
Soshiro Hori
as Martial Gorilla/Butterfly DX
Unshô Ishizuka
as Ashura Kabuto
Robbie Daymond
as Mumen Rider/Magicman/Chain Toad/Citizens/Mosquito Girl Victim/Spectators/Subterranean 2
Atsushi Imaruoka
as Tank-Top Blackhole/Tankutoppu burakku hôru
Bill Rogers
as Allback-man/Citizens/Crew/Dynamite Man/Groribas/Lafreshidon/Male Citizens/Male Spectators/Spectators/Studless/Tongue Stretcher/Villains
Michelle Deco
as Additional Voices/Subordinate
Keisuke Hamaoka
as Wildhorn
Hitomi Sasaki
as Cabaret Girl A
Sam Riegel
as Metal Bat/Crew/Peach Terry/Shoulderpads/Spectators
Yûki Kaji
as Onsoku no sonikku/Sonic
Patrick Seitz
as Tank-Top Master/Electric Catfish Man/Executives/Face-Ripper/Hero Association Commissioner/Narcisstoic/Sea Creatures/Tank-top Master
Billy Kametz
as Additional Voices
Tiffany Oliver
as Additional Voices
Jalen K. Cassell
as Additional Voices
Hiroki Gotô
as Jûji kî/Ancient King/Bari kasutamu yo 649Z mâku II/Geryuganshoop/Hîrô kyôkai shokuin/Hîrô kyôkai tokubetsu shinsa iin/Kafetch/Zenîru
Armen Taylor
as Sourface/Executives
Shin'ichirô Miki
as Snek/Jakô ken no sunekku/Jakô-ken no sunekku
Nicole Gose
as Additional Voices
Sean Finkle
as Additional Voices
Imari Williams
as Wild Monkey/Centisempai
Saori Hayami
as Blizzard/Hellish Blizzard/Jigoku no fubuki
Alex J. Dean
as Additional Voices
Daisuke Namikawa
as Jînasu hakase/Pig God
Itaru Yamamoto
as Sourface
Mayu Sagara
as Female Citizen
Kyle McCarley
as Blue Fire/Citizen/Clerk/Hero Association Staff
Akihisa Wakayama
as Mentai
Shoumaru Zouza
as Male Citizen/Villain
Hiromu Miyazaki
as Tankutoppu tâiga/Tank-Top Tiger
Yûichi Nakamura
as Mumen Rider/Mumen raidâ/Mumen Raidâ
Xander Mobus
as Iairon/Citizens/Hero Associate Staff/Iaian
Chris Smith
as Hero Association Commissioner/Pilot/Reporter
Ayaka Shimizu
as Announcement/Waganma/Woman
Julie Ann Taylor
as Mother/Split-Chinned Kid
Kimlinh Tran
as Female Citizens/Women/Young Garou
Rikiya Koyama
as Shinkai-Ô
Grant George
as Tempest Wind
Tadanori Date
as Hedro-Jellyfish
Yoshihito Sasaki
as Sekingal/Game Voice
Brook Chalmers
as Bomb/Bullfright Frog/Council Members/Pig God/Spectators
Masaya Matsukaze
as Suiryu
Mark Fortier
as Additional Voices
Ayumi Mano
as Young Garo/Female Citizen/Zenko/Ring Girl
Jonah Scott
as Additional Voices/Male Citizens/Male Spectators/Phoenix Man
Shinsuke Sugawara
as Shooter/Shoulderpads
Kaito Ishikawa
as Genos/Jenosu
Kyle Hebert
as Bespectacled Worker/Atomic Samurai/D-pad/Kamakyuri/Male Citizens/Paradiser/Rednose/Villains
Yoshiaki Hasegawa
as Eyelashes/Crew/Hirô kyôkai shokuin/Hîrô kyôkai shokuin/Jetto naisu gai/Kamakyurî/Matsuge/Pilot/Reporter/Shibabawa no tsukibito/Tôgen-dan dan'in
Aoi Yûki
as Terrible Tornado/Senritsu no tatsumaki
Mitchell Saltzman
as Additional Voices
Mariko Toribe
as Cabaret Girl B
James Mcaulliffe
as Additional Voices
Mike McFarland
as Carnage Kabuto
Breaugh Olson
as Additional Voices
Hiromichi Tezuka
as Commentator/Tank-Top Vegetarian/Announcer/Centisenpai/Crew/Denchi man/Destrochloridium/Free Hugger/Hîrô kyôkai shokuin/Hîrô kyôkai tokubetsu shinsa iin/Mohican/Pineapple/Teacher/Tôgen-dan dan'in/Ôru bakkuman
Griffin Puatu
as Additional Voices
Saki Tokuhiro
as Joshi kôsei
Ryô Sugisaki
as Blam-Blam/Referee/Rhino Wrestler/Venus Peopletrap/Zeimeet
Koichi Soma
as Chain Toad/Heavy Tank Loincloth/Amahare/Benpats/Narinki/Penpats/Tank-Topper
Mamoru Miyano
as Amai Mask/Ikemen kamen amai masuku/Ikimen kamen amaimasuku
Ryôta Yano
as Gasumasuku kaubôi/Uchû hikôshi
Wataru Hatano
as Metal Bat
Jason Marnocha
as Orochi/Gyoffery/Hedo-Jellyfish
Ben Lepley
as Amai Mask/Additional Voices/Bozu/Darkness Blade/Gatlin/Villains
Todd Haberkorn
as Charanko/Drive Knight/Crew/Lightning Genji/Male Citizens/Pudgy Guy/Surfer Guy
Jackie Lastra
as Additional Voices/Female Citizens/Zenko
Ezra Weisz
as Zakkos/Squirtgun
Edward Bosco
as Hammerhead/Citizen/Hero Association Staff
Sara Cravens
as Child Emperor/Female Reporter/Hero Association Commissioner/Reporter/Spectators
Reba Buhr
as Announcer/Hostess/Women
Bill Millsap
as Gyoro-Gyoro
Jade Dennis
as Additional Voices
Zachary T. Rice
as Additional Voices
Laura Post
as Blizzard/Cell Phone Voice/Mother
Ben Pronsky
as Lightning Max/Citizen/Hero Association Staff
Kaiji Tang
as Armored Gorilla/Golden Ball/Male Citizens/Subterranean/Suppon/Workers
Michael Sorich
as Crablante
Makoto Yasumura
as Banehige/Spring Mustachio
Minami Takayama
as Child Emperor
Sôichirô Hoshi
as Lightning Max/Inazumakkusu
Reigo Yamaguchi
as Smile Man/Centikohai/Gatling/Mohican/Suppon
Cristina Valenzuela
as Mosquito Girl
Christian La Monte
as Smile Man/Additional Voices/Hatter/Logy/Male Citizens/Nyaan/Workers
Steve Kramer
as Executives/Haragiri/Prisoner
Corina Boettger
as Tornado/Ring Girl
Jarred Kjack
as Death Gatling/Demonic Pugilist
Chris Hackney
as Stinger/Additional Voices/Stringer
Yurika Aizawa
as Female Citizen
Vernon Dew
as Zombieman/Citizen/Hero Associate Staff
Chris Jai Alex
as Lord Boros
Joshua Tomar
as Chentikohai/Hero Association Staff/Male Citizens/Tank-Top Black Hole/Tank-Top Blackhole/Villains
Joe Zieja
as Additional Voices/Butterfly DX/Mentai/Roach Awakening/Saturn Man
Sean Chiplock
as Eyelashes/Artillery Crew/Pineapple/Announcer/Astronaut/Destrochloridum/Hero Association Staff/Hyottoko/Male Citizens/Male Spectators/Spectators
Makoto Furukawa
as Saitama
Fairouz Ai
as Female Citizen
Natsumi Fujiwara
as Tareo/Super S
Xanthe Huynh
as Emergency Broadcast/Girl/Announcer/Female Student/Woman/Worker
Christina McBride
as Additional Voices
Gen Satô
as Lightning Genji
Risa Tsumugi
as Ring-Ring/Girl A/Maiko Plasma
Koki Uchiyama
as Melzargard
Kirk Thornton
as Sitch/Snek/Zeniru
Abby Trott
as Boy/Surfer Girl
Rie Hikisaka
as Female Citizen
Kaito Takeda
as Zakkos/Squirt Gun/Tank-Top Hatter
Kana Motomiya
as Female Citizen
Kenta Sasa
as Buchô/Anaunsâ/Kyasutâ
Tim Friedlander
as Hellfire Flame
Rich Brown
as King/Citizens/Sea Creatures
Taro Kiuchi
as Gyoffrey/Robot God G4
Jeannie Tirado
as Tareo/Additional Voices/Executive/Female Citizens/Women
Lauren Landa
as Additional Voices/Female Citizens/Ganriki/Maiko Plasma/Ring-Ring
Christopher Corey Smith
as Dad/Sky King
Naoya Nosaka
as Roach Awakening/Tongue Stretcher
Dorothy Elias-Fahn
as Child/Clerk
Sôta Arai
as Golden Ball/Kogane bôru
Barbara Goodson
as Boy/Shibabawa
Orion Acaba
as Hero Association Staff
Keith Silverstein
as Deep Sea King
Nobuo Tobita
as Sitch/Shitchi
Robbie Friedman
as Additional Voices
Masaya Onosaka
as Puri-Puri Prisoner/Puripuri purizonâ
Katsuyuki Konishi
as Tank-Top Master
Derek Stephen Prince
as Emcee
Jamieson Price
as Metal Knight/Ancient King/Director/Hero Association Commissioner/Zanbai
Yuya Murakami
as Magicman/Boltane/Face-Ripper
Richard Epcar
as Amahare/Council Members/Rhino-Wrestler/Zeimeet
Toshiyuki Morikawa
as Lord Boros
Kanami Satô
as Hîrô kyôkai shokuin/Announcer/Hirô kyôkai shokuin/Hîrô kyôkai tokubetsu shinsa iin/Kinkyû hôsô/Kynkyû hôsô
Yôji Ueda
as Megane shokuin/Bespectacled Worker/Drive Knight/Chitei-ô/Expert/Shitsuji
Ben Diskin
as Ground Dragon/Paradiser/Super Custom YO649Z Mk. II
Yukitoshi Tokumoto
as Kanirante
Andrew Russell
as Male Spectators
Rena Maeda
as Game Character
Shin'ya Hamazoe
as Wild Monkey/Artillery Crew/Chubby Guy/Groribas/Gurando doragon/Marugori/Mofuku sasupendâ/Operator/Tôgen-dan dan'in
Brian Timothy Anderson
as Attendant
Kento Shiraishi
as Death Gatling
Brock Powell
as Martial Gorilla/Referee/Hamukichi
Yuka Iwahashi
as Female Citizen
Shôta Yamamoto
as Bearded Worker/Hige shokuin/Âmâdo gorira/Anaunsâ/Armored Gorilla/Chitei-jin
Miyuki Sawashiro
as Mosukîto musume
Ray Chase
as Puri Puri Prisoner/Dr. Genus/Puri-Puri Prisoner/Puri-puri Prisoner
Brian Beacock
as Expert/Geryuganshoop
Victor Sgroi
as Additional Voices
Paul St. Peter
as Loincloth/Beast King/Narinki/Subterranean 3
Kazuhiro Yamaji
as Silverfang/Shirubâ fangu
Christopher Sabat
as Vaccine Man
Lex Lang
as Flashy Flash/Citizen/Citizens/Funeral Suspenders
Yasuaki Takumi
as Hellfire Flame
Takahiro Sakurai
as Zombieman
Toshiki Masuda
as Charanko
Erik Scott Kimerer
as Sonic/Speed-O'-Sound Sonic
Zeno Robinson
as Superalloy Blackluster/Bunbun Man/Citizen/Spectators
Takehito Koyasu
as Gyoro-Gyoro
Bryce Papenbrook
as Marugori/Paradiser
Ami Naitô
as Ago no wareta gaki/Boy/Hahaoya/Konbu infiniti/Shônen
Yujiro Kakuda
as Hero Association Worker
Atsushi Ono
as Monster King Orochi
Adin Rudd
as Additional Voices
Hiroki Maeda
as Phoenix Man
Doug Stone
as Dr. Kuseno/Executives/Subterranean 6/Workers
Ken'ichi Ogata
as Dr. Kuseno/Kusêno hakase
Seasons & Episodes
Season 1
2015 | 12 Episodes
Awards
Awards & Nominations
International Online Cinema Awards (INOCA) 2017
Nominee
International Online Cinema Awards (INOCA)
Best Animated Program
Crunchyroll Anime Awards 2020
Nominee
Crunchyroll Anime Awards
Best Protagonist
Nominee
Crunchyroll Anime Awards
Best Antagonist