Demand Insights
> Last 7 days
Demand Rank
Worldwide
WW
#
October 27, 2021
WW
Daily Demand (Last 7 days)
Travelability
Global Travelability indicates how well a title performs internationally relative to its home market
Law & Order's
home country is:

United States
Demand Score
Worldwide
WW
Average Demand for Law & Order is 0.0 times the demand for the average show in Worldwide in the Last 7 days.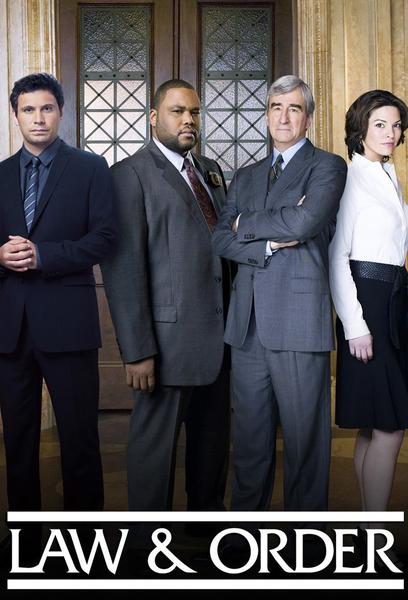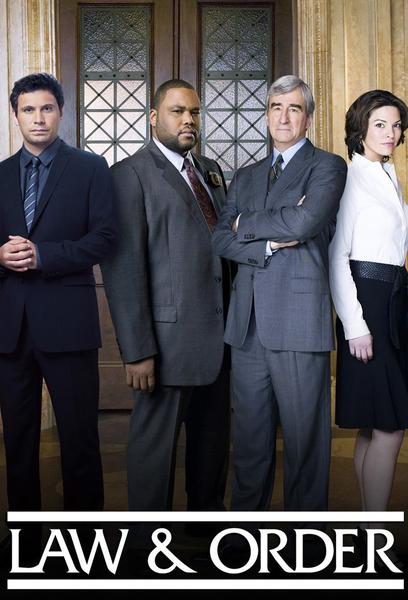 Trend
Worldwide
WW
Law & Order has a neutral trend. It has grown in demand by 0x in Worldwide in the Last 7 days.
In Genre Performance
Worldwide
WW
Law & Order ranks at the 0.00th percentile in the genre. This means Law & Order has higher demand than all other titles in Worldwide
About this title
Storyline
Filmed on location in New York, the drama showcases the sometimes-complex process of determining guilt or innocence, while lives hang in the balance. Often inspired by the latest headlines, the plots highlight legal, ethical or personal dilemmas to which people can relate.
Plot Keywords
new york city
police
law
lawyer
Company Credits
Production Co: Studios USA Television, NBC Universal Television |  See more »
Cast
Kerry Washington
as Allie Lawrence
Lisa LoCicero
as Janeane Darnell
David Brisbin
as Dr. Bennett
Michael Berresse
as Mr. Gardner
Michael Irby
as Boca/Diego Garza/John Acosta
Ritchie Coster
as Jorgan Stern/Kevin Almonte/Mark Bruner
Brenda Denmark
as Beverly Harris/Expediter/Leslie Nelson/Mary Willoughby/Nurse James/Pat Voles/Rosalie Price
Scott Sowers
as Billy Doyle/Hank Di Gravia/Jimmy McGowan/Joe Kirby/Samuel Temple/Stewart Waller
Glenn Taranto
as Manetti/Squad Room Detective
John F. O'Donohue
as David Carlson
Angel Desai
as Assistant M.E. Dr. Judy Waxman/Ellen Harris/Erica/M.E. Judy Waxman
Richard Joseph Paul
as FBI Special Agent/Perry Graham
Chris Beetem
as Mark Tyner
Jesse L. Martin
as Detective Ed Green
Novella Nelson
as Judge Gloria Crutcher/Mrs. Washington
Dean Wareham
as Ken Cramer
Joseph Siravo
as Joey Palmieri/Lou Shore/Man/Stan Kaminsky
Sam Waterston
as E.A.D.A. Jack McCoy/D.A. Jack McCoy
Anthony Anderson
as Detective Kevin Bernard
Lewis J. Stadlen
as Eli Schwab
Joanna Merlin
as Deirdre Powell/Carla Bowman
Michael Cullen
as Borough Chief Commander Dietz/Chief of Detectives Dan Giletti/Dietz/Father Malone/First Uniformed Policeman/James Dietz/Judge Connor Yorith/Roberts
Lauren Graham
as Lisa Lundquist
Dianne Wiest
as Interim D.A. Nora Lewin
Julie Benz
as Dawn Sterling
Erin Dilly
as Emily/Joyce Foley
Sully Boyar
as Arraignment Judge Harvey Sirkin/Swersky
Elisabeth Waterston
as Penny Rollins
Linus Roache
as E.A.D.A. Michael Cutter
Daniel Dae Kim
as Harry Watanabe
Elizabeth Kemp
as Debbie Grimes/Laila Jacobs
Philip Anthony-Rodriguez
as Doorman/Male Juror
Darien Sills-Evans
as Cyrus/Young Male A.D.A.
Alan Zweibel
as Doorman/Dr. Mark Burns
Gina Rodriguez
as Inez Soriano/Yolanda
Catherine Curtin
as Julie Liscomb/Stephanie Hollis
Everett Quinton
as Jeffrey Weiss
John Dossett
as Don Stuart/Father Evans/Frank Wellington/Judge Martin Schnell
Dan Bakkedahl
as Tony Bicks
Tovah Feldshuh
as Defense Attorney Danielle Melnick
Mädchen Amick
as Alissa Goodwyn
Katheryn Winnick
as Sarah Shipley
Carolyn McCormick
as Dr. Elizabeth Olivet
Michelle Hurst
as Ms. Nevins/Pizza Lady/Public Defender/Simone Adams
Amy Stiller
as Alison Thomas/Bartender
Peter Crombie
as Howie Neffer
Marjorie Lovett
as Dr. Gray
Lauren C. Mayhew
as Melissa Gelson
Fajer Al-Kaisi
as Building Super
Maureen Anderman
as Gayle Janaway/Sharon Styger
Werner Klemperer
as William Unger
Allan Miller
as Judge Simon Mikelson/Rabbi Geller
Armand Schultz
as Dr. Kenneth Price/Dr. Morris/Kevin Morse/Marty O'Neal/Ted Devon
Carey Lowell
as A.D.A. Jamie Ross/Defense Attorney Jamie Ross
Olga Merediz
as Arraignment Judge Allard Harper/Elena Calderon/Judge Louise Castillo/Martha Gonzales/Rosaria Mendez
Larry Joshua
as Frank Leahy/McCarter
Robert Hogan
as Trial Judge Hugo Bright/Agent Carlin/Capt. Walder/Judge Albert Scholl/Patrick Monahan/Ted Parker
Clea DuVall
as Amanda Green
Paul Anthony Stewart
as Bobby Gold
Moira Kelly
as Katherine Donovan/Police Officer
Tom Mason
as Matt Wolchesky/Carlton Radford/Ian Maser
Joel Polis
as Dr. Joel Friedman
Gregory Jbara
as Oscar Newton
Raúl Castillo
as Eddy Blanco
Steven Hill
as D.A. Adam Schiff
J. K. Simmons
as Emil Skoda
Samantha Bee
as Vanessa Carville
Robert Prescott
as Coach Aikens/Major Halpern/Warden
Lily Knight
as Penny McNeely/Tori Lasky
Jerry Orbach
as Detective Lennie Briscoe/Defense Attorney Frank Lehrman
Jean Louisa Kelly
as Coral Galvin
Fred Thompson
as D.A. Arthur Branch
Faith Prince
as Miss Farrell/Tracy Stark
Peter Appel
as Baumann/Krakow/Sturges
Jeremy Sisto
as Detective Cyrus Lupo/Clint Glover
Dann Florek
as Captain Donald Cragen/Donald Cragen
Frances Foster
as Mary Tillar
Michael Bloomberg
as Mayor Michael Bloomberg
Michael Imperioli
as Detective Nick Falco/Johnny Stivers/Nick Falco
Elisabeth Röhm
as A.D.A. Serena Southerlyn
Jeremy Bobb
as Aftermath Uni/Plain-Clothes Cop
Brennan Brown
as Attorney Hoyt/Donald Houseman/Forensic Technician
David Margulies
as Dr. Jack Clayburg/Dr. Jordan Delbert/Simpson/Tommy Zanescu
Portia Reiners
as Jill Sorenson
S. Epatha Merkerson
as Lieutenant Anita Van Buren/Mrs. Denise Winters
Rebecca Schull
as Mrs. Whitman
Mary Mara
as Ms. Sharkey/Sally Knight
Lamman Rucker
as Reggie Uggams
January Jones
as Kim Brody
John Heffernan
as Marvin Warner/Welch
Zabryna Guevara
as Lucita/Salma
Madison Arnold
as Bridges/Leonard Jensen/Mr. Pelham/Patrick Clarke/Reimer/Saul Lasky
Robert Funaro
as Detective Gibbon/Quintana/Richie Lupo/Sergeant Corvell/Uni
William Prince
as Dwight Corcoran
Alana De La Garza
as A.D.A. Connie Rubirosa
Paul Sorvino
as Sergeant Phil Cerreta/Phil Cerreta
George Morfogen
as Dwight Anderson/Mr. Reyes
Wayne Duvall
as Trial Judge Norman Barclay/Ronnie Gibbons
Felecia M. Bell
as Dr. Maggie Havens
Michael Higgins
as Darryl Grady/Thad Messimer
René Ifrah
as Alex Chambers/Sid Maxwell
Elizabeth Marvel
as Attorney Grubman
Michael Hyatt
as Clerk/Defense Attorney Julia Shinnear/Elan Holt/Rachel Willis
Angel Caban
as Geraldo/Ralph Marra/Saman/Store Owner
Jill Hennessy
as A.D.A. Claire Kincaid
Madeline Zima
as Samantha Silver
Michael Countryman
as Bob/Dr. Charles Price/Dr. Joseph Stern/Howard Grant
Leonardo Cimino
as Costello/Tommy Balducci
David Alan Basche
as Attorney Tepper/Jack McKinney/Kevin Franklin
Carol Eve Rossen
as Judge Gelfant
Kent Broadhurst
as Dr. Creighton/Harry Kingston/Harry Stokley/Mansfield
Annie Parisse
as A.D.A. Alexandra Borgia/Jasmine Blake
James Colby
as Bobby Campbell/Corrections Officer Atwood/Donahue/Holzgang/Kiley/New Jersey Police Officer
Milena Govich
as Detective Nina Cassady/Geneva
Francis Guinan
as Jed Coles
Shari Albert
as Marisa James
Jennifer Estlin
as Cathy Briscoe
André De Shields
as Dr. Elvin Simmonds/Mr. Miller
Wrenn Schmidt
as Jill Cariglia
Laurence Luckinbill
as Cyrus Weaver
Cara Buono
as Alice Simonelli/Attorney Shannon/Shelly Taggert
Addison Powell
as Roger Auclair
Sophie Nyweide
as Agatha Archer
Peter Frechette
as Jim Wheeler/John 'Jack' R. Curry/Peter Nicodos
Vanessa Aspillaga
as Detective Carla Sanchez/Irene - Librarian/Miss Guzman/Mrs. Ramos
Alana de la Garza
as Connie Rubirosa
George Dzundza
as Sergeant Max Greevey
Enid Graham
as Carla Howell/Mrs. Drucker
Dennis Farina
as Detective Joe Fontana
Christine Estabrook
as Hensley's Attorney
Michael Moriarty
as E.A.D.A. Ben Stone
George Murdock
as Trial Judge Eric Bertram
Susan Blackwell
as Erica Castle/Gabrielle Ruffino/Judge Agnes Reisman/Lydia Fernands
Patrick Stump
as Marty Dressler
Estelle Harris
as Mrs. Rachlin
Maryann Plunkett
as Joanne Ellis/Lois Sutter/Mrs. Weldon
Richard Brooks
as A.D.A. Paul Robinette/Defense Attorney Paul Robinette
Angelina Fiordellisi
as Zoe Stivers
Michael Mantell
as Edward Kay/Morris Hoffman/Ray Garth
Chip Zien
as Attorney Steven Cromwell/Cromwell/Homeless Man/Mr. Green
Leslie Hendrix
as Dr. Elizabeth Rodgers
Sean Astin
as Pastor Hensley
Jennifer Esposito
as Gina Tucci/Justine Bailey
Nadia Dajani
as Ellie Harper
Gareth Williams
as CSU Technician/George Siddell/Technician/Ted Quinlan
Susan Heyward
as Alicia Rodriguez
Brian Howe
as Detective Harry Sorkin/Duffy/John Mack
Selenis Leyva
as Detective Mariluz Rivera/DeeDee Salazar/Louisa/Nita Cabrera/Rona Henderson
Jace Alexander
as Larry Philbert
Chris Noth
as Detective Mike Logan
Dan Frazer
as Hon. J. McLellan/Judge Barry McLellan
Blanche Baker
as Lucy Neven
Ato Essandoh
as Andre Blair/Jason Hendri
Steve Schirripa
as Frederico 'Books' Libretti
Patrick Breen
as Kevin Hobart/Andrew Gellis
Tom Lipinski
as Derek Fanning
Michael Harney
as Lieutenant Stu Miller/Aaron Packard/Detective Gullikson
Matt Walton
as Trooper Thomas Volchek
Alice Playten
as Dog Walker
Thomas Calabro
as Ned Loomis
Tammy Blanchard
as Dana Silva
Benjamin Bratt
as Detective Rey Curtis/Rey Curtis
Suzanne Shepherd
as Arraignment Judge Victoria Sawyer
Fritz Weaver
as Larry Weber/Nathan Fogg/Philip Woodleigh
Gina Torres
as Charlene/Laura Elkin
Pablo Schreiber
as Kevin Boatman/Sean Hauser
Ben Hammer
as Judge Herman Mooney/Judge Frank Markman/Judge Mooney
Tony Darrow
as Bobby 'Bobby Vig' Vignerelli/Joey Giabone/Mario Forcelli
Carla Gallo
as Janet Tuckman
Nora Dunn
as Rosalie Schaffner
Peter Marx
as Paul Garfield/Wheeler
Murphy Guyer
as Cass Holliman/Defense Attorney Leslie Stanton/Gallagher/Jeffrey Brandt/Mr. Weber
Susan Kelechi Watson
as Tanya Ware/Thea Curry
Laila Robins
as Diana Hawthorne/Liann Crosby
Glenn Fleshler
as Don Hamilton/Jimmy Curren/Rick Kawalchuck
Angie Harmon
as A.D.A. Abbie Carmichael
Peter Maloney
as Father Paul/Lab Technician
Lauren Ambrose
as Jessica/Maureen McKinnon/Valerie Maxwell
David Vadim
as Johnny Zona/Robert Kelly
Amy Ryan
as Amy/Valerie Messick
Seasons & Episodes
Season 1
1990 | 22 Episodes
Season 2
1991 | 22 Episodes
Season 3
1992 | 22 Episodes
Season 4
1993 | 22 Episodes
Season 5
1994 | 23 Episodes
Season 6
1995 | 23 Episodes
Season 7
1996 | 23 Episodes
Season 8
1997 | 24 Episodes
Season 9
1998 | 24 Episodes
Season 10
1999 | 24 Episodes
Season 11
2000 | 24 Episodes
Season 12
2001 | 24 Episodes
Season 13
2002 | 24 Episodes
Season 14
2003 | 24 Episodes
Season 15
2004 | 24 Episodes
Season 16
2005 | 21 Episodes
Season 17
2006 | 22 Episodes
Season 18
2008 | 18 Episodes
Season 19
2008 | 22 Episodes
Season 20
2009 | 23 Episodes
Awards
1991
Best Casting for TV, Dramatic Episodic
Outstanding Lead Actor in a Drama Series
Outstanding Achievement in Drama
Best Actor in a Quality Drama Series
Best Writing in a Quality Drama Series
Best Quality Drama Series
1992
Best Television Series - Drama
Best Casting for TV, Dramatic Episodic
Outstanding Individual Achievement in Editing for a Series - Single Camera Production
Outstanding Individual Achievement in Sound Editing for a Series
Outstanding Lead Actor in a Drama Series
Outstanding Lead Actress in a Drama Series
Outstanding Supporting Actress in a Drama Series
Outstanding Achievement in Drama
Best Actor in a Quality Drama Series
Best Quality Drama Series