Demand Insights
> Last 7 days
Demand Rank
Worldwide
WW
#
October 23, 2021
WW
Daily Demand (Last 7 days)
Travelability
Global Travelability indicates how well a title performs internationally relative to its home market
Killjoys's
home country is:

Canada
Demand Score
Worldwide
WW
Average Demand for Killjoys is 0.0 times the demand for the average show in Worldwide in the Last 7 days.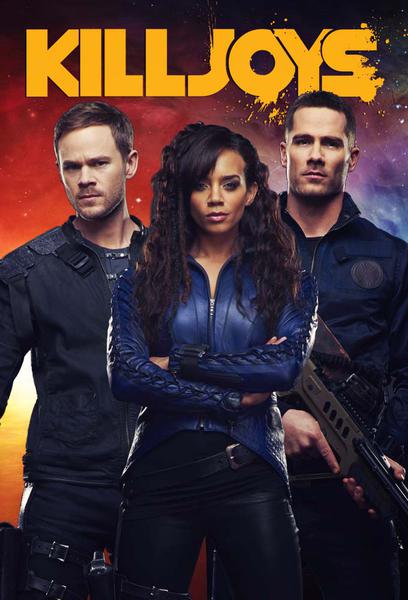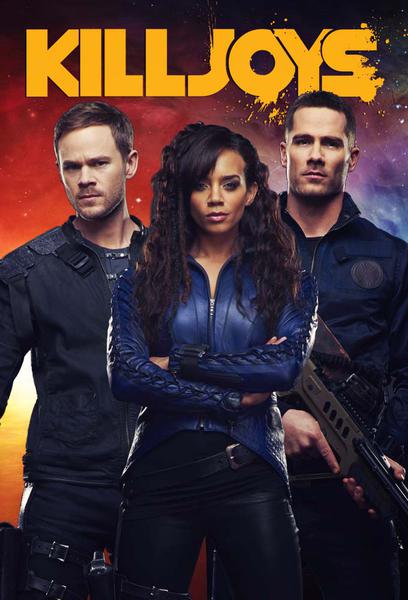 Trend
Worldwide
WW
Killjoys has a neutral trend. It has grown in demand by 0x in Worldwide in the Last 7 days.
In Genre Performance
Worldwide
WW
Killjoys ranks at the 0.00th percentile in the genre. This means Killjoys has higher demand than all other titles in Worldwide
About this title
Storyline
Killjoys is a fast-paced space adventure about a trio of hard-living, party-loving bounty hunters working for the R.A.C., (Reclamation Apprehension Coalition), an Independent interplanetary organization of assassins and retrieval experts who are known across the J cluster as Killjoys. The show centers on their lives and activities in the Quad--a heavily populated planetary system--ruled by a tyrannical class-based corporation known as the company. With the whole system verging on revolutionary war and their own bloody pasts finally catching up with them, the three struggle daily to maintain their R.A.C neutrality by focusing on the only law a Killjoy won't break "The Warrant is all".
Plot Keywords
bounty hunter
space travel
family secrets
corporate greed
Company Credits
Production Co: Mendacity Pictures, Bell Media |  See more »
Cast
Morgan Kelly
as Alvis Akari
Grayson Stephen
as Docking Guard
John MacDonald
as Burly Guard
Jameson Kraemer
as Carl/Intake Officer
Lisa Rose Snow
as San-Bot #1
Tara Spencer-Nairn
as Kitaan
Clare McConnell
as Evi Robbel
Brianna Goldie
as Not-Dutch Woman
Ucal Shillingford
as Talking Hullen
Keon Alexander
as Sam Romwell
John Campbell
as Singing Royal Patron 4
Maxime Savaria
as Ruby's Sex Partner
Devlin Anderson
as Spectator
Brad Austin
as Captain Fahruk
Derek Herd
as Nomad/Sacrifice
Julian Richings
as Ancient Scarback
Rodney Alexandre
as Attacker
David Crowe
as Black Root Guard
Billy MacLellan
as Juno Clay
Christian Bako
as Red Coat
Mike Tyrell
as Intake Officer
Alisha Phillips
as Surrogate
Neil Davison
as Homeless Man
Emily Dickinson
as Prisoner
Nicolas Grimes
as Quarterstave Guard 2
Danijel Mandic
as Machete Scavenger
Ana Shepherd
as Hung Hullen
Sheldon Davis
as Derelict Man
Dewshane Williams
as Hector Feraanz
Wolf Saga
as Royale Musician
Prince Amponsah
as Havigan
Sarain Boylan
as Dr. Bliss
Juan Carlos Velis
as Drunk Customer
Sebastian MacLean
as Cart Guy
Maria Nash
as Luvaya/Luvayan
Rogue Johnston
as Big Shady Westerlyn/Remy Skeever
Tamsen McDonough
as Lucy/Nucy
Chris Hoffman
as Creepy Interrogator
Michael Giel
as Old Towner
Ophilia Davis
as Convulsing Hullen
Aaron Ashmore
as Johnny Jaqobis/John Jaqobis
Alexis Harrison
as Woman at Club
Nicolas Van Burek
as Scree
Carson Durven
as Broken Man
Joseph Cochrane
as Singing Royal Patron 1
Blaine McKenzie
as Prisoner
Damon E. White
as Drunk Patron
Frank Moore
as Hills Oonan/Hills/Hillary Oonan
Craig Burnatowski
as Reiner
Alden Adair
as Innis Kotler
Kunal Jaggi
as Sick Worker
Yanna McIntosh
as Zia Seyah Traclus
Drake Nadeau
as Old Town Child
Austin Ball
as Hatchling Guard
Mark O'Brien
as Grayson Hicks
Olaf Sham
as Psycho Halo Inmate
James Hawksley
as Repo Man
Mike Chow
as Mustache Doctor
Steve Rizzo
as Wasteland Guard #3
Savannah Burton
as Itchy Woman
Rodrigo Fernandez-Stoll
as Jr. Techie
Michael Rhoades
as Overseer
Elena Khan
as Westerly Townsperson/Head of Nine Burgandy
Jamillah Ross
as Delle Seyah House Guard/Delle Seyah's Guard/Guard #1
Luke Marty
as Screaming Patient
Rachael Ancheril
as The Warden
Peter Deiwick
as Black Root Commander
Tony Marra
as Screaming Man
Tony Nappo
as Joseph Siano/Big Joe
Jason Gosbee
as Commander/Westhole Guard
Stefano DiMatteo
as Vincent Sh'ao
Dmitry Chepovetsky
as Coren Jeers
Maria Syrgiannis
as Vitalis Technician
Jsin Sasha
as Singing Royal Patron 3
Sharon Forrester
as Captain Duhane
Malcom Ross
as Boy (6 Yrs Old)
Dru Viergever
as Kal Csoort
Finny McConnell
as Male Tavern Singer
Delphine Roussel
as Melek Seyah Rinn
Sarah Stunt
as Torture Victim #1
Jayne Lewis
as Adaline Simms/Seyah Simms
Jason Jazrawy
as Rolly Desh
Karen LeBlanc
as Banyon Grey/Banyon
Ryan Allen
as Company Guard
Olunike Adeliyi
as Artura Senbek
Maxwell McCabe-Lokos
as Spider Drakos
Amber-Kelly Mackereth
as Singing Royal Patron 2
Amanda Tapping
as Dr. Jaeger
Kimberly-Sue Murray
as Louella Simms
Mayko Nguyen
as Delle Seyah Kendry
Richard Chevolleau
as Tattoo-Face Guy
Andrew Gillies
as Weymer Simms
Sarah Power
as Pawter Simms
Katherine East
as Black Root Guard
Terrence Balazo
as Entitled Fan
Von Flores
as Suspicious Man
Jane Johanson
as Malta Chambers
Nicky Lawrence
as Sweet Jane
Daniel Falk
as Dr. Jaegar's Assistant
Peter Schoelier
as Old Monk
Phillip Samuel
as Dreadnaught Armada Guard
Lamont James
as Black Root Officer
George Tchortov
as Martell
Dan Warry-Smith
as Beefy Son
Amy Keating
as Strapping Granddaughter
Simon Northwood
as Staked Prisoner
Stephanie Leonidas
as Clara/Clara - Alice
Sandy McMaster
as Man in Tea House
Gregory Dasilva
as RAC Hullen Guard
Emma Pedersen
as Singing Tavern Girl
Meagan Tuck
as Hacksaw Server
Mark Sparks
as Black Root Lieutenant/71st Floor Guard
Miguel Anthony
as Mammoth Man
Lily Gail Reid
as The Little Lady/Girl
Shaun Benson
as The Hunter
Martin Roach
as Captain Pike
Nora McLellan
as Bellus Haardy
Ian Tracey
as Lucas Kotler
Marc-Antoine Robertson
as Royale Musician
Luke Macfarlane
as D'avin Jaqobis
Tony Hart
as Monastery Scarback
Yahsmin Daviault
as Angry Woman
Roland Rothchild
as Dock Worker
Jennifer Vallance
as Lacey
Jaeden Noel
as Jaq/Boy (16 Yrs Old)/Ozzman Kin Rit
Sarah Demers
as Bar Jumper
Rick Howland
as Dej Serafan Archive Keeper
Leslie Adlam
as Guard #1/Supermax Intake Guard
Troy Blundell
as Black Root Commander/Black Roots Commander
Shamier Anderson
as Arune Hyponia
Michael Orr
as BFSD Driver
Sierra Wooldridge
as San-Bot #2
Natalie Charles
as Shopkeeper
John Tench
as Mole Foreman
Michael Brown
as Black Root Lieutenant
Andrea Davis
as Qreshi Woman
Nick Alachiotis
as Psycho-Eyes
Jill Frappier
as Seyah Nenodall
Stephne Halliburn
as Weathered Woman
Kiriana Stanton
as Jelco's Gang Member
Pamela MacDonald
as Old Woman
Natalie Sebastien
as Bleeding Dancer
Adrian Nguyen
as Torture Victim #2
Julian Doucet
as Bodie/Julian Spring Hill Computer/Kravn
Killian Gray
as Company Guard #1
Conrad Coates
as Seyon Faresh
Lori Nancy Kalamanski
as Hologram Woman
Hannah John-Kamen
as Dutch/Aneela/Aneela Kin Rit/Yalena Yardeen
Ava Laferriere
as Yalena/Young Yala
Sascha Cole
as RAC Official
Anthony Lake
as Body Modifier
Sherry Nelson
as Inhabitant/Prisoner/Surrogate
Danka Scepanovic
as Carleen
Michael Potter
as Havigan's Enforcer
Kjartan Hewitt
as Sylas Robbel
Lara Jean Chorostecki
as Charlie Volford
Brooker Muir
as Prison Guard
Charlie Ebbs
as Old Town Man
Christine Horne
as Dr. Lyra Grange
Izaak Smith
as Quarterstave Guard 1
Peter Bailey
as Refugee Killjoy
Sean Fowler
as Hacksaw Cutter
John Bourgeois
as Kalla Seyon Trus
J. Cameron Barnett
as Nurse
Alex Spencer
as Security Guard
Natasha Bromfield
as Big Borna/Borna
Patrick Kerton
as Hoolian Ducat
Louis Paquette
as Mercenary
Anastasia Phillips
as Calvert
Caeden Lawrence
as RAC Agent
Giuseppe Chessari
as Runaway Jumper
Kato Alexander
as Armada Guard
Michael Therriault
as Simon Muraayn
Paulino Nunes
as Dr. Beren
Jeremy Raymond
as Drone Pilot
Will Conlon
as X Wing Guard #2
Matthew G. Taylor
as Behemoth
Ryan Turner
as Sexer's Trick
Matthew Gonzales
as Red 17 Door Guard
Ron Lea
as Marris/Marris Jaqobis
Caroline Puzinas
as Sister Terese
Amy Rutherford
as Company Sergeant
Jordana Blake
as Young Aneela/Little Yala/Yala
Tommie-Amber Pirie
as Oleana/Olli/Ollie
Noah Dalton Danby
as Rat King
Robert Clarke
as Sr. Techie
Adam Kenneth Wilson
as Bartender
Anthony Jhade
as Red 9 Black Root Guard/Red 9 Guard
Allan James Cooke
as Patron
Adrian G. Griffiths
as Prison Guard #1
Ese Beaudoin-Borha
as Black Root Hullen Guard
Khalid Karim
as Well Dressed Man
Atticus Mitchell
as Pippin Foster
Gord Rand
as Captain Cardiff
Lorna Wilson
as Garther's Mom
Joan Massiah
as Drugged Grandma
Allen Keng
as Lemy Skeever
Dennis Andres
as Harvost Mueller
Christopher Kelk
as Dying Old Waiter
Paloma Nuñez
as Female Westerlyn
Matthew MacFadzean
as Doula
Alec Stockwell
as Older Worker
Rosie Simon
as Lieut. Miller
Brandy Dawley
as Female Sexer
Karen Glave
as Marlene/Maylene/Yalena/Yalena Yardeen
Hannah Emily Anderson
as Shyla
Jennifer Wigmore
as Great Mother
Seasons & Episodes
Season 1
2015 | 10 Episodes
Season 2
2016 | 10 Episodes
Season 3
2017 | 10 Episodes
Season 4
2018 | 10 Episodes
Season 5
2019 | 10 Episodes
Awards
IGN Summer Movie Awards 2015
Nominee
IGN Summer Movie Awards
Best TV Sci-Fi Series
Canadian Screen Awards, CA 2016
Nominee
Canadian Screen Awards, CA
Best Visual Effects
Nominee
Canadian Screen Awards, CA
Best Achievement in Makeup