Demand Insights
> Last 7 days
Demand Rank
Worldwide
WW
#
October 22, 2021
WW
Daily Demand (Last 7 days)
Travelability
Global Travelability indicates how well a title performs internationally relative to its home market
Hunter X Hunter's
home country is:

Japan
Demand Score
Worldwide
WW
Average Demand for Hunter X Hunter is 0.0 times the demand for the average show in Worldwide in the Last 7 days.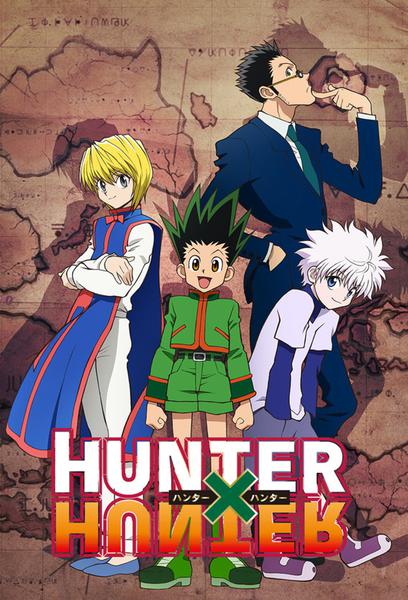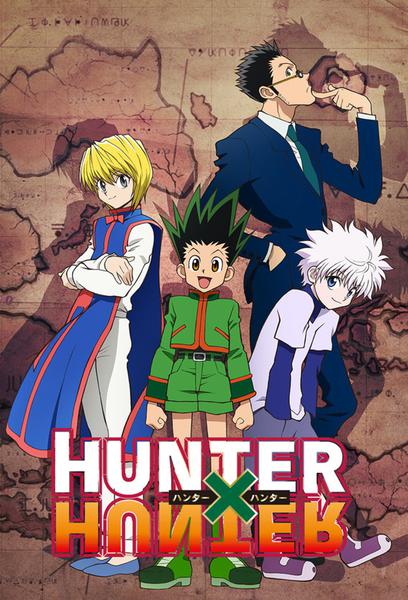 Trend
Worldwide
WW
Hunter X Hunter has a neutral trend. It has grown in demand by 0x in Worldwide in the Last 7 days.
In Genre Performance
Worldwide
WW
Hunter X Hunter ranks at the 0.00th percentile in the genre. This means Hunter X Hunter has higher demand than all other titles in Worldwide
About this title
Storyline
Gon Freecss is a young boy living on Whale Island. He learns from "Hunter" Kite, that his father, who he was told was dead, is still alive somewhere as a top "Hunter," risking his life to seek unknown items, such as hidden treasures, curiosa, exotic living creatures, etc. Gon decides to become a professional Hunter and leaves the island. To become a Hunter, he must pass the Hunter Examination, where he meets and befriends three other applicants: Kurapika, Leorio and Killua. Can Gon pass this formidable hurdle, the Hunter Examination, to become "the Best Hunter in the World" and eventually meet his father?
Country: Japan
Type: Scripted
Status: Ended
Language: Japanese
Release Date: April 16, 2011
Also Known As: ハンター×ハンター, Hunter X Hunter |  See more »
Parents Guide: Australia (M, MA15+), Brazil (14) |  See more »
Plot Keywords
friendship
martial arts
bounty hunter
virtual reality
Company Credits
Production Co: Madhouse, Nippon Television Network (NTV) |  See more »
Cast
Marieve Herington
as Leroute
Hisako Kyôda
as Great-Grandmother/Great-grandmother
Harumi Murakami
as Haruna/Female Proprietor/Nen Exorcist
Chisa Yokoyama
as Biscuit Krueger
Uki Satake
as Podungo Lapoy/Little Kite
Akio Ôtsuka
as Uvogin/Mizaistom Nana
Hiroshi Ôtake
as Zeno Zoldyck
Dave Mallow
as Gotoh/Kung Fu Man/Referee 3
Wataru Takagi
as Knuckle Bine
David Vincent
as Phinks/Rabid Dog/Pirate/Zetsk Bellam
Shinji Kawada
as Kiriko Son
Chris Tergliafera
as Silva Zoldyck/Ruffian
Ryôko Kinomiya
as Old Lady/Old Woman
Tetsuya Motomura
as Rabid Dog/Gangster A/Security Guard
Doug Erholtz
as Citizens/Masador Diego
Megumi Matsumoto
as Spinner Clow/Spin
Marc Diraison
as Ging Freecss/Turtle Ant/Octopus Ant/Sabazushi/Small Fry
Hannah Alcorn
as Additional voices/Female Receptionist
Motoki Takagi
as Sedokan/Cheetu
Frank Todaro
as Gun-toting Ant/Hollow
Mark Allen Jr.
as Nicolas/Additional voices
Deborah Gatton
as Kiriko Daughter/Shopkeeper B
D.C. Douglas
as Shoot McMahon
Jonathan Fahn
as Bihorn/Baro/Pig Ant
David W. Collins
as Additional voices/Audience/Mysterious Commentator (Baka Ki El Dogra)
Rie Murakawa
as Reina/Shidore
Nobuaki Kanemitsu
as Geretta/Monta Yuras/Bounty Hunter Boss
Tara Sands
as Biscuit Krueger/Biscuit
Noriko Hidaka
as Shalnark/PC Voice
Mîna Tominaga
as Melody/Senritsu
Robbie Daymond
as Chrollo Lucilfer/Montreux
Amanda Céline Miller
as Menchi
Mari Devon
as Women at Agency
Bill Rogers
as Meleoron/Crazy Slots/Majitani/Monta Yuras/Citizens/Frog/Goran Subordinate/Gyro's Bully
Faye Mata
as Neon Nostrade
Fumihiko Tachiki
as Menthuthuyoupi
Takuma Suzuki
as Squala/Saccho/Katzo/Dwun/Mysterious Commentator (Baka Ki El Dogra)/Referee 2/Togari
Jalen K. Cassell
as Abengane
Hiroki Takahashi
as Pariston Hill
Armen Taylor
as Mizaistom Nana/Teradein
Shonosuke Horikoshi
as Imori/Amori
Yurika Kubo
as Elevator Girl
Imari Williams
as Mizuken/Audience
Brad Venable
as Referee/Referee A
Keiji Fujiwara
as Leorio Paladiknight/Leorio Paradiknight/Leorio Paradinight
Greg Chun
as Ikalgo/Zepile/Stick Dinner/Game Player/Owl/Rock Climber
Hiroyuki Yoshino
as Genthru
Daisuke Namikawa
as Hisoka Morow
Yûji Ueda
as Shoot McMahon
Mikako Takahashi
as Greed Island Auctioneer (MC)/Eeta/Elena
Dan D.W. McCann
as Latarza
Kyle McCarley
as Pariston Hill
Xander Mobus
as Welfin/Bean
Tony Oliver
as Beans/Kortopi/Amori/Agon/Additional Voices/Additional voices/Citizens/Islander B/Rammot/Referee 2
Laila Berzins
as Milluki Zoldyck
Aiko Aihashi
as Female Receptionist
Ichitarô Ai
as Beans/Riehlvelt
Rikiya Koyama
as Ging Freecss
Brianna Knickerbocker
as Eeta/Elena/Reina/Shidore
Grant George
as Knov/Citizens
Kimberley Anne Campbell
as Hina
Eiji Itô
as Nostrade/Ivlenkov
Austin Lee Matthews
as Man with Afro/Motaricke
Masaya Matsukaze
as Illumi Zoldyck/Gittarackur/Illumi
Yôko Soumi
as Women at Agency
Masatake Yamamoto
as Lippo
Taiten Kusunoki
as Morel Mackernasey
Kaname Mikami
as Referee 3
Toshiharu Sakurai
as Tonpa
Gido Tsujioka
as Applicant
Erika Harlacher
as Kurapika/Elevator Girl
Michelle Ruff
as Kikyo Zoldyck/Female Receptionist/Female Receptionist 2/Kikyo/Nen Exorcist
Kyle Hebert
as Morel Mackernasey/Umori/Masta/Kiriko Son/Sub/Additional voices/Examiner B/Imori/Kyu/Sailor C/Wong
Kotono Mitsuishi
as Cocco (Commentator)
Hiromichi Tezuka
as Audience/Security Guard
Takashi Matsuyama
as Johness/Teradein/Scientist
Yuka Keicho
as Shopkeeper B
Mamoru Miyano
as Chrollo Lucilfer
Wataru Hatano
as Shaiapouf
Fumihiro Okabayashi
as Guest B
Jason Marnocha
as Bushidora
Jackie Lastra
as Announcer/Woman with Ponytail
Tomoya Kawai
as Referee A/Masta/Referee/Referee 1/Wrestler
Miki Nagasawa
as Baise/Bus Guide
Edward Bosco
as Franklin/Yunju/Mafia
Sarah Anne Williams
as Neferpitou
Reba Buhr
as Ponzu/Podungo Lapoy/Coco Loo (Bus Guide)
Jade Dennis
as Additional Voices
Janice Kawaye
as Shizuku/Reporter/Binolt (as a young boy)
Jon Allen
as Binolt/Kazsule/Nomdieu/Number Zero
Banjô Ginga
as Isaac Netero
Michael Sorich
as Tonpa/Additional voices/Islander A
Kaiji Tang
as Balda/Dwun/Koala/Koala Ant
Kikuko Inoue
as Palm Siberia
Kôichi Yamadera
as Silva Zoldyck
Kiyono Yasuno
as Banana Kavaro
Miho Arakawa
as Shizuku/Eliza
Miho Miyagawa
as Female Operator
Cristina Valenzuela
as Killua Zoldyck
Steve Kramer
as Bizeff/Citizens/Dojo Owner
Chris Hackney
as Illumi Zoldyck/Gittarackur/Illumi/Panda Ant
Ted Sroka
as Boki/Carabid Beetle
Ayumi Fujimura
as Neferpitou
Masato Kaji
as Amori/Imori/Man B
Joshua Tomar
as Menthuthuyoupi/Johness/Togari
Kenichiro Ohashi
as Phinks
Erika Tsunashima
as Female Customer B
Takahiko Sakaguma
as Pekuba/Agon/Porcupine/Applicant B/Audience A/Islander B/Kung Fu Man/Sailor/Shopkeeper A/Turtle
Sean Chiplock
as Riehlvelt
Spike Spencer
as Gido/Additional voices/Audience
Ichirô Nagai
as Isaac Netero
Xanthe Huynh
as Alluka-Nanika/Potclean/Alluka Zoldyck
Mela Lee
as Canary/Female Proprietor/Female Receptionist 1
Akemi Okamura
as Female Newscaster
Tom Bauer
as Feitan/Jispa/Linssen/Punker
Mari Murakami
as Female Customer A
Erica Lindbeck
as Pakunoda
Lucien Dodge
as Imori/Sedokan/Katzo/Additional voices/Man A/Matthew
Kirk Thornton
as Dalzollene/Puhat/Small Man/Street Vendor
Abby Trott
as Machi/Eliza/Greed Island Auctioneer (MC)/List/Female Receptionist
Masaki Aizawa
as Bendot/Bushidora/Mizuken
Tomohiro Nishimura
as Seaquant/Kiriko/Dojo Owner/Small Man
Naoya Uchida
as Nobunaga Hazama/Receptionist
Jake Eberle
as Basho/Skinhead
Tim Friedlander
as Tsezguerra
Jeannie Tirado
as Cluck/Kasuga
Hidenobu Kiuchi
as Franklin/Leech
Christopher Corey Smith
as Kite
Lauren Landa
as Kalluto Zoldyck
Dorothy Elias-Fahn
as Melody/Senritsu (Melody)
Naoya Nosaka
as Audience B
Barbara Goodson
as Tsubone/Great-Grandmother/Old Lady/Great-grandmother
Fumi Morisawa
as Female Receptionist 1/Kiriko Daughter
Ken'yû Horiuchi
as Gotoh/Ikalgo/Koala
Keith Silverstein
as Hisoka Morow/Additional voices
Joe Thomas
as Nobunaga Hazama/Gotoh/Leech/Additional voices/Shop Owner
Kiyoyuki Yanada
as Tsezguerra/Todo
Mariya Ise
as Killua Zoldyck
Derek Stephen Prince
as Lippo/Worm/Examinee A/Security Guard/Shachmono Tocino/Tocino
Yuya Murakami
as Umori/Balda/Applicant/Bloster/Yunju/Applicant A/Gangster B/Man/Opponent/Sabazushi/Street Vendor/Wong
Jamieson Price
as Scientist
Erica Mendez
as Gon Freecss
Richard Epcar
as Bendot/Additional voices/Goz/Cherry
Maaya Uchida
as Alluka-Nanika/Alluka Zoldyck
Masahiro Yamanaka
as Pike/Stick Dinner/Owl
Zach Aguilar
as Colt/Citizens
Chieko Sasai
as Villager B
Hiromasa Taguchi
as Masador Diego
Rachael Lillis
as Cocco (Commentator)/Mito/Additional voices/Cutie
Beau Billingslea
as Nostrade/Mafias
Issei Futamata
as Narrator/Peggy/Angry Crowd/Announcer/Guide/Rock Climber
Christopher Bevins
as Saiyu/Angry Crowd/Guide/Receptionist
Yôji Ueda
as Shoot McMahon
Ben Diskin
as Knuckle Bine
Laura Megan Stahl
as Spinner Clow/Little Kite
Karen Strassman
as Palm Siberia
Tomoko Kaneda
as Potclean/APR
Yukitoshi Tokumoto
as Pokkle/Man A/Ruffian
Chika Anzai
as Female Receptionist 2/Kurt/List
Joe Ochman
as Zeno Zoldyck
Mitsuaki Hoshino
as Islander A
Rena Maeda
as Machi/Reporter
Shin'ya Hamazoe
as Kortopi/Lin Koshi/Rammot
Mamiko Noto
as Kalluto/Kalluto Zoldyck
Kimiko Saitô
as Milluki Zoldyck/Cutie/Villager A
Carrie Keranen
as Baise/Female Operator/PC Voice
Masako Ikeda
as Chimera Ant Queen
Chinatsu Akasaki
as Mitsuba
Cindy Robinson
as Chimera Ant Queen/Female Newscaster/Villager A
Taisuke Nishimura
as Mafia
Miyuki Sawashiro
as Kurapika
Takeharu Ônishi
as Worm/Cherry/Shachmono Tocino/Tocino
Hiroyuki Yokoo
as Sub/Sommy
Ray Chase
as Hanzo/Squala/Geretta/Additional Voices/Announcer/Bounty Hunter Boss/Man B
Kayli Mills
as Piyon/Mitsuba
Paul St. Peter
as Pike/Additional voices/Examinee/Razor/Todo
Junko Iwao
as Kikyo Zoldyck/Kikyo
John Snyder
as Isaac Netero
Keiko Han
as Mito/Mito Freecss/Mito Freecs
Matthew Mercer
as Leorio Paladiknight/Leorio Paradinight/Leorio Paradiknight/Opponent
Tokuyoshi Kawashima
as Kastro
Maureen Price
as Amane/Geru/Yasuha
Skyler Davenport
as Banana Kavaro
Jun'ichi Kanemaru
as Buhara
Michael McConnohie
as Narrator/Battera/Captain/Zenji/Ivlenkov/Wrestler
Machiko Toyoshima
as Khara
Megumi Han
as Gon Freecss/Cluck/Yasuha
Allegra Clark
as Zazan/Dr. Lee/Kurt/Villager B
Tôru Nakane
as Basho/Audience
Kappei Yamaguchi
as Feitan
Takehito Koyasu
as Dalzollene
Joe Hernandez
as Additional Voices/Referee 1
Yuka Terasaki
as Zushi/Female Receptionist
Kana Ueda
as Neon Nostrade
Cedric L. Williams
as Cheetu/Lin Koshi
Seasons & Episodes
Season 1
2016 | 148 Episodes
Awards
Awards & Nominations
Behind the Voice Actors Awards 2017
Winner
Behind the Voice Actors Awards
Best Male Vocal Performance in an Anime Television Series/OVA in a Supporting Role
Winner
Behind the Voice Actors Awards
Best Male Vocal Performance in an Anime Television Series/OVA in a Supporting Role