Demand Insights
> Last 7 days
Demand Rank
Worldwide
WW
#
October 24, 2021
WW
Daily Demand (Last 7 days)
Travelability
Global Travelability indicates how well a title performs internationally relative to its home market
Family Guy's
home country is:

United States
Demand Score
Worldwide
WW
Average Demand for Family Guy is 0.0 times the demand for the average show in Worldwide in the Last 7 days.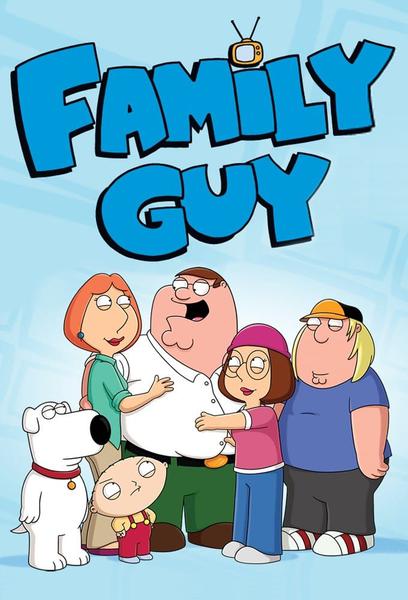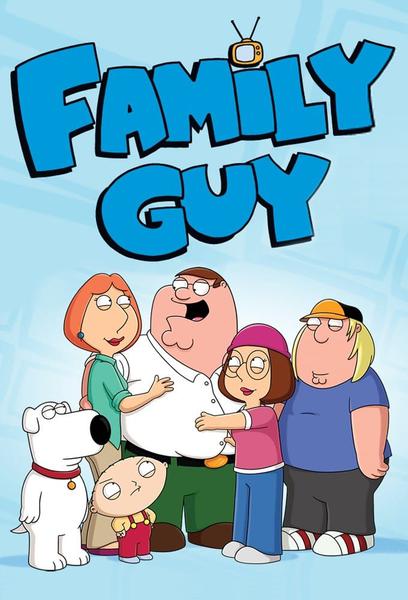 Trend
Worldwide
WW
Family Guy has a neutral trend. It has grown in demand by 0x in Worldwide in the Last 7 days.
In Genre Performance
Worldwide
WW
Family Guy ranks at the 0.00th percentile in the genre. This means Family Guy has higher demand than all other titles in Worldwide
About this title
Storyline
Sick, twisted and politically incorrect, the animated series features the adventures of the Griffin family. Endearingly ignorant Peter and his stay-at-home wife Lois reside in Quahog, R.I., and have three kids. Meg, the eldest child, is a social outcast, and teenage Chris is awkward and clueless when it comes to the opposite sex. The youngest, Stewie, is a genius baby bent on killing his mother and destroying the world. The talking dog, Brian, keeps Stewie in check while sipping martinis and sorting through his own life issues.
Plot Keywords
adult humor
satire
parody
middle class
Company Credits
Production Co: 20th Century Fox Television, Fuzzy Door Productions |  See more »
Cast
Nicole Byer
as Airport Security Officer
Dana Walden
as Dana Walden
Dee Bradley Baker
as Squirrel/Barnaby Bananas/Demagorgon/English to Racoon Translator/Gremlin/Gremlin Stewie/Hooded Monster/Jared Kushner/Klaus Heissler as Admiral Ackbar/Male Bat/Maurice/Owl/Parrot
Steve Callaghan
as Audience Member/Cop/Customer/Employee/Waiter/1960s Executive/AA Member/Barista/Blue Man/Brewery Employee #1/Co-Worker at Meeting/Cocoa Puffs Bird/College Student/Counselor/Crossing Guard/Cruise Ship Passenger/Customer #1/Customer #2/Customer #3/Dad/Delivery Man/Deputy Mayor/DirecTV Announcer/Distinguished Man #1/Drive-Thru Attendant/Edison's Assistant/Executive/Family Feud Contestant/Fantasy Baseball Participant #4/Fast Food Cashier/Fast Food Employee #2/Fast Food Worker/Father/Football Player #2/Friend/Gallery Viewer #3/German General #1/Giraffe #2/Grocery Store Employee/Guard #3/Guest #3/Guy #2/Guy on Raft/Head Executive/Imperial Controller/Isaac/James Dean/Kid/Kid #2/Male Customer/Male TSA Worker #2/Man/Man #2/Man #3/Man Across Street/Man in Car/Milo/Nervous Writer/Other Peter Griffin/Parent of Distracted Kid/Party Guest #3/Partygoer #3/Patient/Peter's Customer #1/Pontius Pilate/Prince/Quahog Citizen #1/Rebel Soldier/Ride Attendant/Skinhead Father/Smitty/Son/Stage Manager/Stagehand/Steve/Supermarket Employee #2/Target Employee/Technician/Teen #3/Third Man/Tourist Dad/Usher/Victim
Christina Pickles
as Left Eyeball/Newport Heiress/Queen Elizabeth II
Louise DuArt
as Joan Rivers
Max Charles
as Kid/Charlie Bucket/Davy Crockett/Opie's Son/Teenage Boy/Timmy/Water Park Kid
Danny Trejo
as Clint Beltran
Jamison Yang
as Japanese Chris/Japanese Peter/Japanese Stewie
Brian Williams
as Brian Williams
Rob Huebel
as Business Meeting Leader
Dwight Schultz
as Clerk/Randall Fargus
Neil deGrasse Tyson
as Neil deGrasse Tyson
Rainn Wilson
as Dwight Schrute
Sunkrish Bala
as Cricket Fan/Guru
Sarah Utterback
as Lindsay Lohan
Indigo
as Esther/Gloria the Hippo
Randy Crenshaw
as Barbershop Quartet Member/Barbershop Quartet Singer #4/Singer
Hillary Tuck
as Cecilia/Girl in Blind Date/Patty
Kel MacFarlane
as Barney the Dog's Owner
Juanita Jennings
as Miss Clifton
Anne Hathaway
as Hot Blonde/Mother Maggie/Self
Garrett Donovan
as Dream Santa
Michael Bell
as Allstar Seaworthy
James Burkholder
as Kid/Bully/Dewey/Gene Shalit/Grandson/Kid #1/Various
Luke Adams
as Club Manager/Marvin Astley/Quahog Cantina Manager
Debra Wilson
as Black Woman/Janet/Mrs. Kanner/Mrs. Kraner/Nurse/Sandy Belford/Star Jones/Whitney Houston/Whoopi Goldberg
Carol Channing
as Carol Channing - Celebrity Boxing
Aaron Taylor-Johnson
as Jaidan
Simon Cowell
as Simon Cowell
Carrie Fisher
as Angela/Angela as Mon Mothma
Lori Alan
as Diane Simmons/Charles Lindbergh's Wife/Coco/Diane Simmons as Imperial Newscaster/Eva Braun/Jolene/Nancy the Postal Lady
Fairuza Balk
as Connie D'Amico
Billy West
as Rob Fry/Various
Tom Devanney
as Driver/Man/Marilyn Manson/Shouting Arab
Richard Appel
as Focus Group Tester
Thomas F. Wilson
as First Step
Lane Schnaitter
as Barbara Mandrell/Jeremy's Mom/Natalie Wood
Jim Parsons
as Gay-jacker/Sheldon Cooper
Brian Dunkleman
as Buck Owens
Judd Nelson
as John Bender
Randy Jackson
as Randy Jackson
Florence Stanley
as Mrs. Griffin
Shannon Smith
as Shannon Smith
Wendy Schaal
as Francine Smith/Newport Heiress/Secretary
Belita Moreno
as Rosario Vargas
Liam Neeson
as Liam Neeson
Anne Murray
as Anne Murray
Johnny Galecki
as Leonard Hofstadter
Michele Lee
as Estelle Lewis
Tara Lipinski
as Tara Lipinski
Andrew Hibbard
as Customer
Peter Riegert
as Max Weinstein
George Wendt
as Norm Peterson
Raoul Bova
as Tuscan Mob Boss
David Cross
as Jerry Kirkwood
Dimitri Diatchenko
as Russian Dinosaur/Russian Guard #2
Dan Aykroyd
as Dan Aykroyd
Edie McClurg
as Edie McClurg
Marc Alaimo
as Dean of the Secret Order of Dirty Joke Writers
Carl Reiner
as Fantasy Baseball Coach/Old Man
Meredith Baxter
as Elyse Keaton/Meredith Baxter
Gedde Watanabe
as Long Duk Dong
Charlie Sheen
as Charlie Sheen
Rachel Butera
as Meryl Streep
Mary Kay Bergman
as Sherry
David A. Goodman
as Jewish Man/Ray Romano/Raymond/Trekkie #1
Debbie Reynolds
as Mrs. Wilson
Hank Azaria
as Apu Nahasapeemapetilon/Carl/Chief Wiggum/Comic Book Guy/Dr. Nick Riviera/Lou/Moe Szyslak/Nigel Harpington/Police Superintendent Chalmers/Reginald Barrington
Troy Baker
as Jorah Mormont
Robert Herjavec
as Robert Herjavec
David Skyler
as Bobby/Paul/Ryan
Martin Savage
as London Silly Nannies Player/Priest
Gene Simmons
as Gene Simmons/Prisoner #3
Gary Janetti
as Apple/Eric McCormack/Gay Man #2/Godzilla/Jolly Farm Executive #3/Michael/Various/Waiter/Wise Man #3
Andrew Goldberg
as Man Handing Bryan Cranston Emmy
Jonathan Osser
as Jimmy/Jonas
Harvey Levin
as Harvey Levin
Bill Cameron
as Meg's Whistling
Rick Logan
as Barbershop Quartet Singer #3
Alan Bennett
as Alan Bennett
Emily Osment
as Ruth/Ashley's Granddaughter/Blackjack Dealer/JoAnne 'Jojo' Fuller/Kira/Little Miss Muffet/Sandy/Schoolgirl/Uncomfortably Hot 18-Year-Old Girl
Ted McGinley
as Helicopter Rental Agent
Mark Burnett
as Mark Burnett
Jeff Probst
as Jeff Probst
Gary Cole
as Principal Shepherd/Mike Brady/Michael Eisner/Principal Shepard/Security Guard/Agent Jessup/Bartender/Bill Lumbergh/Billy's Father/Chairman/Charles/Coach/Cop/Dean Wagner/Dr. Franklin/Dr. McKenzie/Father O'Leary/Gambler Bob/Jack/James 'Grizzly' Adams/Jerry Nelson/NCIS Fan/Optometrist/Priest/Thug #1/Various/Warren Fredericks
William Woodson
as Super Friends Narrator
Chris Cox
as George W. Bush/Man/Ross Fishman/Student/Various/AA Member/Additional Voices/Angry Mob Man/Ben Fishman/Cop #2/Crowd/Door Guard/Ferris Bueller/Focus Group Tester/Football Player/Gay the Waterbear/Guy Dressed as Ace Frehley/Higgins/Jeff Campbell/Jock/Jouster #2/Justin Timberlake/Kent Lastname/Kevin Connolly/Kirk Cameron/Kyle/Magnum P.I./Man at Party/Man on the Street/Mark/Mike/Passerby/Patient/Peter's Customer/Priest/Randy Fulcher/Rudolph/Salesman/Seafood Customer/Sears Employee/Suicidal Man/Surgeon/Tea Party Member/Vaper/Waiter
Max Burkholder
as Kid/Bobby Stalling/Calvin/Child #1/Eighth Grader/Homeless Kid/Kid in Audience/Kid in Play/Little Boy/Mouse Alter Boy/Scotty/Will Robinson/Young Patrick Pewterschmidt
Brody Hutzler
as Shovin' Buddy
Stephen Curry
as Steph Curry
Fred Savage
as Fred Savage/Kyle H.
Faith Ford
as Corky Sherwood/Girl #1 in Commercial/Girl in Prison/Miss Watson/Pretty Woman/Sarah Bennett
Anthony Skillman
as Children/Chorus Singer/Vegetable Hating Doctor
Whitney Port
as Whitney Port
Gina Gershon
as Policewoman
Joey Slotnick
as Angry Man/Bob/Carter/Cashier/Dick Clark/Jewish Man/Officer/Various
Gary Hoffman
as Announcer/Mall Santa/Papa
Kate Rigg
as Brandi/Esperanza
Allison Munn
as Accused Witch/Autograph Seeker/Caillou Narrator/Jester/Suits Actress
Michael Dorn
as Lieutenant Worf/Self
Stephanie Beatriz
as Hostess
Melora Hardin
as Patsy Ramsey
Ari Graynor
as Kitty Hawk Woman
Lucas Grabeel
as Student/Airplane/Amusement Park Manager/Anthony/Chad/Chadley/Eighth Grader/Indian Kid/Party Guest/Seventh Grader/Seymour Krelborn/Timmy/Vaper
Al Thompson
as African American Tree
David Boreanaz
as David Boreanaz
Mason Cook
as Kid #1/Little Boy in Wheelchair
Andre Robinson
as Hudson/Kid #3
Wellesley Wild
as Agoos Bahnwati
Nancy Cartwright
as Bart Simpson/Daffney Gillfin/Maggie Simpson/Nelson Muntz/Ralph Wiggum/Todd Flanders
Victor J. Ho
as Chinese NASCAR Driver
Aimee Garcia
as Isabella/Nicole
Edward Asner
as Steve Bellows
Dennis Farina
as Dennis Farina
Jason Segel
as Marshall Eriksen
Ben Stiller
as Ben Stiller
Johnny Weir
as Johnny Weir
Arianna Huffington
as Arianna Huffington
Stacey Scowley
as Chrissy Snow/Clothing Store Clerk/Girl at the Mall/Hope Shanowski/Various
Adam Levine
as Adam Levine
David Boat
as Rupert/Richard Gere/Alex the Lion/Hand #1/Latino in Hardhat
Nat Faxon
as Coach Herrera/Jet Li's Nemesis/Water Park Employee
Greg Garcia
as Pat Buchanan
Jackson Douglas
as Jason Voorhees/Audience Member #2/Dale Robinson/Doctor in Audience/Italian American/Vacuum Repairman
June Foray
as Rocket J. Squirrel
Kate Jackson
as Mrs. Amanda King
Beverly D'Angelo
as Ellen Griswold
Ken Marino
as Dallas Portland
Sara Fletcher
as Kate/Lois' New Friend
Bob Barker
as Self/Bob Barker
Christy Carlson Romano
as Quagmire's One-Night-Stand
Piotr Michael
as Booze Cruiser/Gandalf the Grey/Police Captain/Sergeant
Kei Ogawa
as Japanese Lois/Japanese Meg
Joe Buck
as Baseball Announcer
Eamon Pirruccello
as Loan Officer
Cathy Cahlin Ryan
as Fred Goldman's Wife
Christine Lakin
as Joyce Kinney/Girl #2/Lamp Store Owner's Wife/Paula's Friend #1/Quagmire's Date/Stripper/Woman at Party/Woman on Phone
JoAnna Garcia Swisher
as Liddane
Hugh Laurie
as Bar Patron/Dr. Gregory House
Elizabeth Banks
as Pam Fishman
Jimmy Connors
as Jimmy Connors
Natasha Melnick
as Ruth Cochamer
Michelle Dockery
as British Woman
Mark Harmon
as Leroy Jethro Gibbs
Noah Gray-Cabey
as Black Kid
Clancy Brown
as Toilet Announcer
Hugh Hefner
as Hugh Hefner
Brett Gelman
as Escape Room Guy
Richard Marx
as Richard Marx
Sendhil Ramamurthy
as Indian Man
Issac Ryan Brown
as Kid/Bowling Alley Boy/Cobain
Kimberly Brooks
as Black Sitcom Mom
John Riggi
as Dennis Miller
Jonathan Lipnicki
as Wesly
Judy Greer
as Bozo's Client/Hope/Judy Greer/Luna Bar Lover/Middle-aged Woman/Mrs. Henderson/Pregnant Dancer/Sylvester Stallone's Assistant/Various
Missi Pyle
as Kitty Hawk Woman
Zachary Gordon
as Grandchild #1
Tony Sirico
as Vinny/Tony Sirico
Jerry Lambert
as Dentist/John Travolta/Man Congratulating Peter/Sex Offender
Evil Dave
as David Letterman
Jason Mraz
as Some Guy with a Hat
Bobby Lee
as Chinese Man/Sharply Dressed Asian Man
Jim Cummings
as Winnie the Pooh
Tia Carrere
as Hawaiian Woman
Charles Durning
as Francis Griffin
Freddy Rodríguez
as Handy Manny
Melissa Villaseñor
as Nora Ephron
Tom Hiddleston
as Statue Griffin
Peter Criss
as Peter Criss
Ted Jessup
as Adam Sandler/Albino/Husband
Jimmy Fallon
as Jimmy Fallon
Denis Leary
as Car Mechanic
Ellen Albertini Dow
as Aunt Helen/Elderly Woman
Will Ferrell
as Fat Greek Guy/Miles 'Chatterbox' Musket/The Black Knight
Roy Scheider
as Roy Scheider/Narrator
Jennifer Tilly
as Bonnie Swanson/Bonnie
Alexander Siddig
as An Onlooker/Lead Archer/London Silly Nannies Player
Nolan North
as Dutch TV Announcer/Lois' Driver/The Turtlenecks
Judd Hirsch
as Judd Hirsch/Judd Hirsches
Ron Livingston
as Video Store Clerk
Peter Chernin
as Peter Chemin
Ava Acres
as Girl/Bowling Alley Girl/Kid/Opie's Daughter
Russell Peters
as Padma's Father
Wally Wingert
as Various/Announcer #1/Auctioneer/Austin Powers/Bert/Corner Man/Dr. Bruce Kaplan/Dr. Kaplan/Fred Rogers/KFC Employee/Lemonade/Ornithologist/The Grinch/The Pawtucket Patriot/Wally
Rob Lotterstein
as Rob the Director
Louis Gossett Jr.
as Drill Sargent
Darrel Heath
as Black Gif/Screaming Black Dolphin 2
Kathleen Turner
as Kathleen Turner disguised as Peter Griffin
Glenn Howerton
as Other Co-Worker at Meeting
Alex Fernandez
as Gerardo/Various Mexican Guys
Maurice Lamont
as TMZ Cameraman
Amy Schumer
as Crew Leader
Louis Tomlinson
as Louis Tomlinson
David Lodge
as Kelsey Grammer
Bruce McGill
as John Williams/Lincoln's Cabinet Member/Santa Claus
Thomas Dekker
as Kid in Bathroom
David Thewlis
as British Father
Don Swayze
as Patrick Swayze
Peter Chen
as Chinese NASCAR Driver
Lacey Chabert
as Meg Griffin/Jan Brady/Nancy Bradford
Olesya Rulin
as Russian Meg Griffin Double
Eddie Kaye Thomas
as Barry Robinson
Danielle Panabaker
as Hillary
Andrew Morgado
as Man on the Street
Lea Thompson
as Lorraine McFly/Teenaged Girl in Diner
Ace Frehley
as Ace Frehley
Keith Ferguson
as Jimmy Smits/Various
Mike Henry
as Cleveland Brown/John Herbert/Bruce the Performance Artist/Consuela/Bruce/Greased-Up Deaf Guy/Various/Cleveland Brown as R2-D2/Greased-up Deaf Guy/John Herbert as Obi-Wan Kenobi/Mr. Herbert/Rallo Tubbs/Spider-Man/Bruce The Performance Artist/Cleveland Brown Jr./Jesse/Nurse/RJ/Secret Service Agent/TV Announcer/Additional Voices/Airplane/Bike Courier/Black Guy/Booze Cruiser/Brian's Lawyer/Broderick Brown/Bruce the Performance Artist as Angel Gabriel/Bruce the Performance Artist as Captain Piett/Bruce the Performance Artist as Chimey Sweep/Bruce the Performance Artist as Greedo/Bruce the Shark/Church of Spaceship Beep Boop Representative/Cleve Tessio/Cleveland Brown as Businessman/Cleveland Brown as Wise Man/Colonel Cleveland/Consuela as Gatekeeper Droid/Consuela as Virginity Coach/Consuela the Waterbear/Cool Hand Luke/Department Store Employee/ESPN announcer/Easy Storage Auctioneer/Edna Garrett/Fouad/Fouad as Imperial Officer/Friar/Fuad/Gardner/Gay Encounter Man/Giant Mutant Rat/Greased Up Deaf Guy/Gun Range Employee/Harry McAfee/Head Construction Worker/Janitor/Jaws/Jeffrey/Jeffry/John-Boy/Johnny/Literary Publisher/Magic Johnson/Man in Ocean/Mario/Michelin Man/Minstrel/Morbidly Obese Albert/Narrator/O.J. Simpson/Officer/Orgy Attendee/Paramedic #2/Partygoer #1/Peanuts Bag Man/Police Officer/Prisoner/Rallo Tubbs as Nien Nunb/Red/Redneck Pilot/Robber/Space Cat/Stewie's Customer/Subway Employee/Talking Dead Commentator/Theater Patron/Thug #2/Train Crossing Guard/Valet/Various Voices/Veterinarian/Walmart Greeter/Wild Bee/Xenomorph Queen/Yellow-headed Warbler/Zoo Audience Member
Charlet Takahashi Chung
as Brittany Hologram/Waitress
Damien Fahey
as Corey/Airplane/Antiques Roadshow Host/Booze Cruiser/Bug/Don De-Don-Don/Dr. Michael Milano/Dunkirk Soldier/Hammer/Husband/Matt/Pound Employee/Student/Sugar Ray Band Member
Christina Milian
as Esther
Robin Leach
as Robin Leach
Cynthia Watros
as Security System
Della Saba
as Funeral Girl #2
Anders Holm
as Superintendent
Gary Newman
as Gary Newman/Undecided Voter
Kristen Li
as Funeral Girl #1
Jeff Bergman
as Fred Flintstone/Homer Simpson/Barney Rubble/Joe Piscopo/John Goodman/Max Weinstein/Paul Sorvino/Scott Caan/Swift Songwriter/Sylvester/Victor
Carolyn Lawrence
as Various
Gregory Jbara
as Jonathan/Nazi General/Nazi Guard/Priest
Bryce Dallas Howard
as Bryce Dallas Howard
Richard Dreyfuss
as Richard Dreyfuss/Narrator
Billy Gardell
as Mike Biggs
David Zuckerman
as Various
Katharine McPhee
as Mother Maggie
H. Jon Benjamin
as Carl/Bob Belcher/Carl as Yoda/Focus Group Tester/Rebooted Peter & Co.
Anne-Michelle Seiler
as Bimbo #1/Contestant #3/Female Student/Girl #2/Karen/Wife
Ron MacFarlane
as Self - Narrator
Keith David
as Jazz Documentary Narrator
Chris Regan
as Bakery Customer/CNN Panelist/Focus Group Tester
Mike Desilets
as Chinese Peasant/Giant Crab/Rocky
Camille Guaty
as Lisa/Donna/Gina/Maid/Puerto Rico Girl
Alex Borstein
as Lois Griffin/Tricia Takanawa/Barbara Pewterschmidt/Additional Voices/Loretta Brown/Old Lady/Barbara Pewderschmidt/Girl/Jewish Woman/Woman/Lois Griffin as Princess Leia/Mother/Wife/Asian Woman/Babs Pewterschmidt/Connie's Friend/Crystal Quagmire/Ellen DeGeneres/Fat Woman/Fran Drescher/Hooker/Joanna/Julie/Kelly McGillis/Marlee Matlin/Nurse/Receptionist/Stephanie/Stewardess/Voiceover/Woman in Car/Wonder Woman/37 Year Old Woman/Adoption Agency Receptionist/Alex Borstein/Amelia Bedford-Furthington-Chesterhill/Andrea/Andy Capp's Wife/Angie/Asian Hooker/Asian Kid/Aunt Bee/Aunt Lil/Aunt Marguerite/Band Member #3/Barara Stresiland/Barbara Pewterschmidt as Aunt Beru/Barbra Streisand/Beach Girl #1/Becca/Betty/Black Actress/Black Chick/Black Student/Black Woman/Boy/Boy in K-Mart/Brad's Mom/Brenda/Broadway Actress/Calvin Klein Model #3/Carol Alt/Carol Brady/Catherine Bell/Cathy/Channel 5 News Reporter/Charmisse/Cheerleader #2/Chemotherapy Patient's Wife/Classmate #2/Coach/Condoleezza Rice/Customer/Customer #1/Deborah Kerr/Deep Sea Trainer #3/Dharma/Diabeto's Mom/Diana/Dixie Student #1/Dixie Teacher/Dora/ET Announcer/Edith Bunker/Elderly Woman/Eleanor/Ellen/Ellen Barkin/Empire Member's Wife/Erica/European Woman/Eva/Female Announcer/Female CBS Executive/Female Classmate/Female Co-Worker/Female Coach/Female Crowds/Female Customer/Female Hipster/Female Reporter #1/Female Voiceover/Fisty/Flappy's Waitress/Fourth Girl Teacher/Fox-or-Disney Payroll/Future Teacher/Georgia O'Keeffe/Gerald's Wife/Girl in Commercial/Gladys/Gloria/Gorgeous Woman/Grandma/Gym Teacher/Harriet/Harry Houdini's Wife/Helen/Hostage #2/Hot Girl's Mother/Housewives/Ice Man's Wife/Irene Takanawa/Irish Nun/Italian Mom/Jane Bronte/Jennifer/Jenny Curran/Jessica Fletcher/Jewish Boy/Jewish Teacher/Jock #2/Jodie Foster/Judge Judy/Julia Louis-Dreyfus/Julia Roberts/Jury/Karen/Karen Black/Kathy Griffin/Katie Coates/Kelly/LaToya Jackson/Lady Astor/Lady Cadwallider/Lady Redbush/Lemonade Girl/Lesley Stahl/Librarian/Lifeguard/Lifetime Announcer/Linda Tripp/Lindsey Lohan/Little Boy/Liza/Liza Minnelli/Lois Griffin as Constance/Lois Griffin as Mary/Lois GriffinDeirdre Jackson/Lorelai's Mom/MTV Host #1/Maggie Gyllenhaal/Marcia Sindell/Marge Simpson/Marion Cunningham/Marla/Marty's Daughter/Massager/Mexican #2/Mexican Actress/Middle Eastern Woman/Middle-Aged Woman/Midge/Miracle Worker Mother/Miss Stratford/Mom/Mr. Berler's Wife/Mrs. Connors/Mrs. Epstein/Mrs. Garrett/Mrs. Lipstein/Ms. Pac-Man/Ms. Swan/Mts. Stevens/Nancy/Natalia/New Quahog Citizen #2/Nicole/Nun #1/Nun Leader/Old Woman/Olivia's Mom/OnStar Voiceover/Passenger/Passenger #2/Patty/Paula Poundstone/Pearl Burton/Peggy/Penguin Publishing Receptionist/Phone Operator/Phone Voiceover/Piano Boy's Mom/Pink Panther's Wife/Princess/Prisoner/Quahog Resident #2/Quahog Soup Kitchen Waitress/Rat Wife/Renee Russo/Ricky Martin Fans/Robin Hood/Robot Wife/Rodney's Wife/Rose DeWitt Bukater/Rosie/Rudolph/Sally/Sandra Bullock/Scarlett Johansson/Secretary/Sharon Stone/Sheila/Short Sitcom Mom/Sidney/Spanish Maid/Stripper/Supreme Justice #2/Survivor's Wife/Susan Sarandon/Susie Myerson/Sy Snootles/Tasty Juice Actress/Teacher/Teenage Girl #2/Thomas' Wife/Tiffany/Tim's Wife/Tracey/Vanessa/Vera/Veterinarian/Voicemail/Widow/Wile E. Coyote's Wife/Wilma Flintstone/Winona Ryder/Wisconsin Nymphomaniac/Witch/Woman #1/Woman at Baseball Game/Woman at Picnic/Woman from Roadhouse/Woman in Bar/Woman in Bathroom #1/Woman in Bed/Woman in Book Club #2/Woman in Club/Woman on Bench/Woman on Game Show
Julie Kavner
as Marge Simpson/Patty Bouvier/Selma Bouvier
Frank Welker
as Fred Jones/Megatron/Additional Voices/Kermit the Frog
Alec Sulkin
as Jesus Christ/Man/Jewish Man/Waiter/Audience Member #1/Bellgarde/Doctor/Dumb Beaver/Floyd/Jock/John Lennon/Pirate/Pirate #1/Scientist #2/Singer/Tomik/Adam Kenneth Handleman/Alan Rickman/Alarm/Albino/Alien/Amazon Drone/Announcer #10/B-Ryan/Band Member/Band Member #1/Baseball Announcer #1/Big Chin Guy/Bigger Jaws/Bill Gates/Blind Guy/Blue Ghost/British Radio Broadcaster/CNN Panelist/Cadet/Canadian Bully #1/Carney/Caveman #2/Chicken's Friend/Clerk/Co-Pilot/Co-Worker/Co-Worker #2/Cobra/Cop/Cop #2/Court Servant/Customer/DVD/Dale/Dan Rather/Deep Sea Trainer #2/Dick Clark/Dog/Driver Ed Instructor/Eric/Evan/Excavator/Fat Boy #2/Firefighter #2/Fish #1/Footman/Fred Goldman/Gamer #2/Gangster #1/Goat/God's Friend/Gordon/Guard/Guard #2/Guest/Guy at Book Reading/Gym Teacher/Harry Reid/Heckler #4/Hockey Coach/Husband/Iceman/Imperial Shuttle Guard #1/Indian Trite/Inmate #2/Italian Chef #2/Italian Man #2/Italian Son #1/Jayce/Jeremy Irons/Jerry Falwell/Jewish Guy #1/Jim Brady/Jinx/Jock #3/John McCain/John Wilkes Booth/Judas/Judd Nelson/Justin-Bobby/Kate's Dad/Knight/Lex Luthor/Mailman/Man #1/Man #2/Man Holding Ice/Man in Audience/Man in Black Suit #2/Matt Damon/Mexican Guy/Mexican Guy #2/Midget #1/Mob #2/Moise the Low Energy Bar Mitzvah Clown/Mole/Movie Clerk/Mr. McCoy/Mr. Moose/Negatron/Nude Vampire/Number 3/Osmond #1/Ottoman #2/Paramedic #1/Parole Board Guy/Phil/Pimp/Rabbi/Ranger/Rapist/Robber #2/Rollercoaster Employee/Ron/Sarcastic Co-Worker/Satan/Sergeant Extreme/Sex Offender #2/Sharhooz/Slave/Snoopy/Soldier/Soldier #2/Steve Buscemi's Tooth #1/Stick Figure/Superman/Teacher/Tetris #1/Texan/Thomas Jefferson/Tom Cruise/Trekkie #3/Turtle/Twin #1/Vader Assistant #1/Vader Guard #2/Veteran #2/Walt Abernathy/Waterbear/Wavyhair Doucheston/Wimpy/Wolf/York Peppermint Pattie Customer
Regis Philbin
as Regis Philbin
James Carville
as James Carville
Jimmy Iovine
as Jimmy Iovine
Sebastian Siegel
as Various/Voice
John Moschitta Jr.
as Jim Spleen
Julia Sweeney
as Naomi Robinson/Woman in Bar
Tatum Hentemann
as Little Girl/Baby Lois/Girl Singing ABCs
Jacob Tremblay
as Treehouse Boy
Marina Sirtis
as Counselor Deanna Troi/Self
Patrick Stewart
as Baby Susie Swanson (Inner Voice)/Avery Bullock/Captain Jean-Luc Picard/Narrator/Dick Pump/Patrick Stewart/Patrick the Waterbear/Peter Griffin with the vocal chords of Patrick Stewart/Self/Talking Cat
Daisy Fuentes
as Daisy Fuentes
Gilbert Gottfried
as Dog Whistle/Horse
Don Thai Theerathada
as Thai Pilot
Frank Sinatra Jr.
as Frank Sinatra Jr.
Mary Kay Place
as Farting Lady
Danny Smith
as TV Announcer/Jim Kaplan/Man/Ernie the Giant Chicken/Al Harrington/Announcer/Businessman/Evil Monkey/Robin Williams/Buzz Killington/Doctor/Officer/Bird/Cat/Customer/Emcee/Guy/Irish Man/Lawyer/Live Ostrich/Mike/Officer Horowitz/Owl/Paul McCartney/Priest/Student/Who Else But Quagmire Announcer/50s Customer/A Professional Man/Abner/Abraham/Abraham Lincoln/Adam/Agent/Airline Employee/Airport Employee/Al/Alan Sherman Record/Albert/Amish Employee/An Onlooker/Andy Capp/Angus Young/Announcer #1/Aquaman/Armando/Asian Shopper/Audience Member #2/B.C./Barber/Baseball Announcer/Baseball Announcer #1/Basketball Player #1/Bathroom Man/Beer Can/Benjamin Franklin/Bidder #1/Bill/Bingo Announcer/Bingo Guy/Blacky/Blind Man/Boiler Chief/Boy/Brian Eisner/British Guy #1/Bronx Guy #1/Burglar 1/Buskin/Buttscratcher Salesman/CNN Panelist/Cab Driver/Camera Guy/Captain Hook/Car Owner/Carruthers/Casino Dealer/Casting Director/Census Man/Chef/Chicken/Church Goer/Church Goer #1/Co-Worker #3/Coach/Construction Worker #1/Cop #1/Cop #2/Cow/Crackle/Crocodile/Crossarmed Guy #2/Crowd Audience #1/Customer #2/Cyrano/Dairy Cow/Darth Harrington/Deaf School Principal/Dirk Bandit/District Attorney/Dog/Dog #1/Donnie Osmond/Dr. Ling/Dr. Rubin/Driver #1/Drunk Guy/EWW Worker #1/Emperor Member 1/Employee/Eric/Ernie the Giant Chicken as Boba Fett/Eye Doctor/Fan #1/Farmer/Fat Boy #3/Fat Twin #1/Father Karras/Firefighter #1/Fish/Fish #3/Foreign Country President/Founding Father/Founding Father #2/Fourth Stooge/Fred Rubin/French Executioner/Frog #2/Game Show Host/Gazelle/Gerald the Clown/Giraffe/Gnome/Golfer #2/Guard/Guy Friend/Guy in Background/Guy in Car/Guy in Chicken Suit/Guy in Threesome/Guy with Laptop #1/Guy with Mumps/Gypsy/Hamburger Helper/Harrison/Herbie the Elf/High School Employee/Horse's Owner/Horton/Husband/Imperial Shuttle Guard #1/Inmate #2/Italian 1/Italian Man #1/JJ Evans/Jack/Jack Dawson/Jack Nicholson/Jake Gyllenhaal/James Caan/Janitor #2/Jeff Daniels/Jeremy/Jew/Jewish God/Jewish Man/Jim Stevenson/Jimmy Kaplan/Joaquin/Job Searcher/John - Atlanta Senator/Keanu Reeves/Keenan/Kid/Lamb/Laverne & Shirley Announcer/Leper/Letter E/Library Officer/Lottery Announcer/Louisville Auditoneer/Luke Skywalker/Lyle Lovett/Magician/Mall Santa #2/Man Reading Newspaper/Man at Baseball Game/Man at Opera/Man at Sauna #1/Man in High Trouser #1/Mario/Match Maker Host/Matthew/McMurphy Brother #2/Meeting Group/Methodist/Mexican Guy #1/Midget/Mike Drunkbeater/Minister/Mobster/Moby Dick/Moose/Morley Saffer/Movie Announcer/Mr. Henson/Mule/New Yorker/Newspaper Reader/Officer #1/Old man/Olympics Referee/Other Audience Member/Parishoner #3/Password Announcer/Patrick Pewterschmidt/Paul Simon/Pete 'Maverick' Mitchell/Peter Weller/Petercatcher/Phineus/Phone Operator #2/Photographer/Picnicker/Pigeon #2/Pink Panther/Pirate 2/Political Man #1/Praying Mantis/President Douchebag/Quahog Cabana Owner/Quentin Tarantino/Rabbi/Radar/Random Guy/Ranger/Receptionist in Airport/Redneck/Refugee #1/Rehad Doctor/Roarin' Twenties Guy/Robin/Robot Husband/Rodeo Announcer/Rohan/Ronald Lockhart/SNL Announcer/Sailor #1/Sampler/Samuel Adams Announcer/Scientist #1/Scientist #2/Sex Offender #1/Sheriff/Singing Animals/Skeeter/Smoking Monkey/Snake/Sneakers O'Toole/Snuggles/Soldier #2/Spiderman/Station Manager/Stephen/Stephen King/Steve Buscemi/Stuffed Bear from The Great Outdoors/TV Announcer #1/Ted Danson/Teen Boy #3/Tennis Ball/Tetris #2/Texan Audience Member #1/The Pope/The Thug/Thomas Edison/Tin Man/Tom Hanks/Tommy/Umpire/Vade Guard 1/Vader Assistant 2/Vader Guard 1/Voice on Walkie Talkie/Voiceover/Voiceover in CD #1/WQHQ 97.1 Boss/Waiter/Waiter #2/Wise Man #1/Worm/Yellow Monster/Zeke the Moody Drifter Doll
Rachael MacFarlane
as Miss Tammy/Barbara/Various/Waitress/Woman/Cheerleader/Fangirl/Nurse/Olivia/Prostitute/Student/1920s Woman/911 Operator/Alexa/Amelia Bedelia/Animatronic Irish Woman/Baby Elisabeth Hasselbeck/Beauty Academy Secretary/Beverly/Black Widow/Blonde Sitcom Mom/Bo Peep/Booze Cruiser/Brandy/Brian's Fan/British Woman/Britney Spears/Catherine the Great/Club Girl/College Girl/Decapitating Nun/Demagorgon's Wife/Dognapper/Dorothy Gale/Drug Den Announcer/Emma Stone/Farting Women/Female Bat/Female Mouse/Firehouse Girl/Focus Group Tester/Front Desk Clerk/Future Quahog Mother/Girl #2 in Commercial/Girl #3/Girl Jumping From the Tree/Girl in Commercial/Girlfriend/Hudson Comics Shopkeeper/Human Resources Manager/Ivanka Trump/Jaimee/Jane Austen/Jayna/Jennifer/Jennifer Love Hewitt/Jill/Joan of Arc/Kate/Kate Moss/Katie/Kim Kardashian's Friend/Kitchen House Narrator/Lois Lane/Luke's Wife/Mad Men Producer/Madonna/Maid Madelaine/Mall Shopper/Marie Osmond/Mary Steenburgen/Meat Customer/Meg Griffin/Meg's Friend/Minnie Mouse/Monica/Mother/Mother of Young Boy/Mrs. Friendston/Mrs. Hollander/Mummy Pig/Newport Heiress/Olivia Fuller/Paula's Friend #2/Peaches/Porsche Cayenne Driver/Professor Knockers/Quagmire's Mistress/R/Rape Victim/Reporter/Roller Derby Girl/Room Service/Roxane/Sarah/Savannah Guthrie/School Board Woman/Secretary/Shelley Duvall/Sonja/Stewie's Mistress/Tanya/Teacher/Teenage Girl/Tracy Flannigan/Veterinarian Nurse/Wife/Woman in Lab Coat/Woman in Restaurant/Woman on Plane
Michaela Watkins
as Girl Pulling Train
Olivia Hack
as Various/Cindy Brady/Melissa Rivers
JJ Snyder
as Penelope Cruz
J.P. Manoux
as Alan Harper
Ian McKellen
as Dr. Cecil Pritchfield
Tara Strong
as Amanda/Little Girl/Amy Grant/Anna Paquin/Ashley Olsen/Ball in a Cup Ad Singing Voice/Beth/Bride's Mother/British Children/Cheerleader #1/Cheerleader #2/Cindy/Classmate/Collette/Eliza Pinchley/Fangirl/Girl/Janet/Jenna/Little Baby Girl/Maria Jimenez/Mary Kate Olsen/Meg Griffin/Miss Jacobs/Mother on TV/Price is Right Contestant/Sarah's Friend/Scout on Plane/Teenage Girl/Waitress
Sarah Paulson
as Costumed Woman/Marcia Clark/Sarah Paulson
Elijah Wood
as Elijah Wood
Sam Elliott
as Sam Elliott/Wild Wild West
Josh Robert Thompson
as Morgan Freeman/Donald Trump/Alan Thicke/Aziz Ansari/Boiling Pot/Christoph Waltz/Craig Kilborn/Danny McBride/Dennis Franz/Dennis Quaid/Don Imus/Elf/Fonzie/Heckler/Joe Biden/Joey Lawrence/John Mayer/Josh Robert Thompson/Justin Trudeau/Kevin James/Mark Ruffalo/Michael McDonald/Patrick Swayze/Scott Baio/Space Dog/Stanley Tucci/Star #1/Stewie's Robots/Swift Songwriter/Ted Williams/The Great Sebastian/Tim Robbins/Tommy Lee Jones/Willie Nelson
Brad Goreski
as Gay Man #1
Kiernan Shipka
as Singing Cheerleader
Kathleen Wilhoite
as Sam/Various
Betty White
as Betty White
Joel David Moore
as Jake Sully
Nana Visitor
as Mother/Rita/Audition Caller/Brenda Quagmire/Justin's Mom/Lottery Announcer/Nancy Pelosi/Woman
Artie Johann
as James Taylor
Christa Campbell
as Blonde/Elizabeth Shue
Lyndon Smith
as Cubby/Various
Chris Parnell
as Doug/Priest/Card Store Owner/Father Raccoon/Guy at Pool/Highway Man/Joe Paterno/Smarmy
Ricky Blitt
as Milano's Lawyer/Mordecai/Stewie's Laugh
Rolando Molina
as Cellmate/Drug Dealer/Tony Montana/Valet
Amari McCoy
as First Grader
Isaac Hempstead Wright
as Aidan
Ricky Gervais
as Billy Finn
Camilla Stull
as Baby Girl
Will Sasso
as Bernie the Hamster/Bobby Briggs/Ken/Larry/Larry's Doctor/Max/Randy Newman/Todd
Chris Diamantopoulos
as Dean Martin/Frank Maxwell/Millipede/Parker Stanton/Stryker Foxx
Bobby Kesselman
as Various
Alexa Ray Joel
as Alan's Wife/Bride
Jonathan Frakes
as Commander William T. Riker/Self
Patrick Warburton
as Joe Swanson/Boggs/Colonial Joe/Joe/Joe Swanson as Biggs Darklighter/Joe Swanson as Imperial Probe Droid/Joe Swanson as Jabba the Hutt/Joe Swanson as Wise Man/Joe's Mother/Joey Duchamp/Octopus Joe/Superman
Johnny Depp
as Edward Scissorhands
Iwan Rheon
as George Harrison/John Lennon/Ring Announcer
Ty Simpkins
as Little Drummer Boy
Craig Hoffman
as Mother/Norman/Yul
David Lynch
as David Lynch/Gus
Christopher Meloni
as George Townshend
Power Station
as Themselves
Adam West
as Mayor Adam West/Mayor Adam West as Grand Moff Tarkin/Ace Merrill/Batman/Fairy Godmother/Self
Christopher L. Parson
as B.B. King/Charlie Sheen
Jon Joyce
as Barbershop Quartet Singer #2
Frances Callier
as Shonda Rhimes
David Pressman
as Shovin' Buddy
Mark DeCarlo
as Dr. Jake Houseman
Chris Galya
as Daniel LaRusso/Johnny Lawrence
Eugene Byrd
as UPS Deliveryman
Myrna Velasco
as Future Girl
Peter Roth
as Steven C. Callaghan
Wentworth Miller
as Jock #4/Popular Kid #2
Kat Purgal
as Girl in Commercial/Singer/Various
Ashton Kutcher
as Ashton Kutcher
Rhea Seehorn
as Joanie Cunningham
Norm MacDonald
as Death/Norm MacDonald
Julius Sharpe
as Peter's Customer/Tea Party Member
John G. Brennan
as Mort Goldman/Horace/Mort Goldman as Lando Calrissian/Bill Gates/Colonial Mort/Cousin Goldman/Mort Goldman as Innkeeper/Mort Goldman as Jawa/Troll/Various Characters/Zima Bottle
J. Lee
as Black Guy in White/The Black Forest
Kaitlin Olson
as Brenda Quagmire
D.C. Douglas
as Imperial Guard #3/Superman
Stephen Stanton
as Chrone/Various
Sandra Bernhard
as Sandra Bernhard
Alyssa Milano
as Alyssa Milano
Naomi Ekperigin
as Hoda Kotb
Kenny Loggins
as Kenny Loggins
Martin Spanjers
as Ben Fishman
Chris Hardwick
as Johnny Lawrence
Kiefer Sutherland
as Narrator
Joseph Seal
as Chunk/Mikey
Jessica Barth
as Brandee/Kate Hudson/Sookie Stackhouse
Maggie Lowe
as First Grader
Ali Hillis
as Meg's Friend/Teenage Girl
Floyd Van Buskirk
as Old Man
Dick Van Patten
as Tom Bradford
Peter Frampton
as Peter Frampton
Pat Crawford Brown
as Lead Sanka Dancer
Lenny Clarke
as Fantasy Baseball Coach
Jim Goldenberg
as TMZ Voiceover
Butch Hartman
as Various/Charles Montrose/Vet
John Colella
as Don Amnesia
Patrick S. Clark
as Patrick S. Clark
Keri Lynn Pratt
as Shovin' Buddy
Audrina Patridge
as Audrina Patridge
Fred Tatasciore
as Various/Harvey Weinstein/John Goodman/Police Officer/Alligator/Arnold Palmer/Audible.com Announcer/Augustine Washington/Bieber's Bodyguard/Billy Joel/Buffalo Bill/Buisnessman/Carstairs/Catholic Priest/Chevy Chase/Country Singer the Waterbear/Crew Member/Decepticon/Delivery Man/Dick's Sporting Goods Manager/Dickens's Editor/Domino's Deliveryman/Drunk Denny's Patron/Electrician/Etienne/Firefighter/Focus Group Tester/Football Player/Franklin D. Roosevelt/Grinder Guy/Grocery Store Manager/Guy Friend/Hijacker/Inmate/Italian Barber/Italian Guy/James Evans, Sr./Jerry/Johhny Wind Chimes/John Madden/Judge/Kraken/Lamp Store Owner/Librarian/Lou Ferrigno/Man at Podium/Mark Twain/Mega Hardware Sale's Associate/Michael Eisner/Mr. Greenberg/Old Man/Oliver Platt/Orson Welles/Parker Fennelly/Party Guest/Peter's Customer #2/Police Dispatch/Prison Guard/Quahog Concert Hall Announcer/Quahog Pharmacy Manager/Rock/Roller Derby Coach/Russian Astronaut/Schmidtty/Scott/Shirt.Gov singer/Swift Songwriter/TV Announcer/Ted Lawson/The Monster/Thomas Edison/Undecided Voter/Water Park Dad/Wind Chimer
Scott Grimes
as Kevin Swanson/Michael Bublé/Michael Pulaski
Julie Hagerty
as Carol Pewterschmidt/Carol West
Jay Chandrasekhar
as Census Taker/Indian Man
Adam Carolla
as Death/Super Death
Valerie Bertinelli
as Self
Seth MacFarlane
as Peter Griffin/Stewie Griffin/Brian Griffin/Glenn Quagmire/Tom Tucker/Dr. Elmer Hartman/Carter Pewterschmidt/Captain Seamus/God/Announcer/Jake Tucker/Dr. Hartman/Carter Pewderschmidt/Kool-Aid Guy/Additional Voices/Old Man/Seamus/Bill Clinton/Jesus Christ/Man/Vern/Driver/Ida Davis/Jasper/Santa Claus/TV Announcer/Captain/Co-Worker/Cookie Monster/Doctor/Kermit the Frog/Kevin Swanson/Marty McFly/Pilot/Roger the Alien/Stan Smith/Superman/Aquaman/Brian Griffin as Chewbacca/Dick Cheney/Dog/Effeminate Cow/Glenn Quagmire as C-3PO/Johnson/Mr. Berler/Officer/Peter Griffin as Han Solo/Police Officer/Shelley Boothbishop/Stewie Griffin as Darth Vader/Waiter/William Shatner/Airplane Passenger/Audience Member/Bamm-Bamm Rubble/Bartender/Benjamin Franklin/Big Bird/British Announcer/British Man/Businessman/Carney/Carter Pewterschmidt as Emperor Palpatine/Charlie/Chinese Man/Cop/Cowardly Lion/Customer/Dan Quagmire/Dick/Doc Brown/Don Knotts/E.T./Elroy Jetson/Ernie/Father/Fozzie Bear/Game Show Host/George Jetson/George Takei/George Washington/Greg/Hitler/Horse/Ida Quagmire/Jay Leno/Jerry/Judge/Kevin/Leprechaun/Manager/Marty/Mike Tyson/Mr. Furley/Mr. Sulu/Mrs. Garrett/Narrator/Nate Griffin/Obi-Wan Kenobi/Osama Bin Laden/Paddy Tanniger/Phil/Phineas/Piano Boy/Pope/Rabbit/Ralph Kramden/Ringo Starr/Ronald Reagan/Rooster/Scientist #1/Security Guard/Sheriff/Steve Allen/Ted Turner/The Count/Thomas Edison/Tom Hanks/Trevor/Voiceover/Walt Disney/Warden/Wile E. Coyote/Wilford Brimley/50s Customer/A Live Ostrich/A Professional Man/ATM Cashier/Aaron Sorkin/Abraham Lincoln/Adam Sandler/Adrien Beaky/Agent Harris/Airplane Pilot/Airport Manager/Al Gore/Al Michaels/Albania President/Albert Einstein/Alf/Alligator Rally Leader/Amish Man/An Onlooker/Andy Dufresne/Angel/Angry Handicapped Vietnamese Guy/Angus Griffin/Animal/Antonio Monatti/Anus/Ape/Arab #2/Arab Dad/Arabic Passenger/Archie Bunker/Armstrong Manager/Arnold Schwarzenegger/Art Museum Manager/Artist/Asian Man/Asian Manager/Attendee/Auctioneer/Audience Member #3/Bachelor #3/Bachelorette Executive #2/Bandit/Barack Obama/Barnaby/Barney Frank/Barney Rubble/Bartender #2/Bat #1/Beach Guy/Bear/Bell's Friend/Ben/Ben Affleck/Benjamin Disraeli/Bicuspid/Bigfoot/Biker/Biker #2/Bill Cosby/Bill Gates/Bill Pullman/Billy Ray Cyrus/Bing Crosby/Bingo Guy/Bird #1/Bitch-Brian/Bitch-Stewie/Black Jock/Black Player/Black Woman/Blue M&M/Bob/Bob Baker/Bob Hope/Bob Ross/Bob Saget/Boom-Boom/Boston Student/Boy/Brain Cell/Brian Griffin as Dr. John Watson/Brian Griffin as Robby/British Air Force Leader/British Guy #2/British Guy #4/Broccoli/Bruce Jenner/Bugs Bunny/Bull/Burglar #2/Burglars/Bush/Business Man #2/Butler/Butler #2/Cap'n Crunch/Captain Kirk/Captain Von Trapp/Carl Sagan/Carol Alt's Husband/Carson Daly/Carter Pewderschmidt as Moriarty Imposter/Carter Pewterschmidt as King Herod/Carter Pewterschmidt as Uncle Owen/Carter Redbush/Cartoonist/Cary Grant/Cashier/Cat in the Hat/Charles Epstein/Charles Lindbergh/Charlotte Rae/Charlton Heston/Chef/Chemotherapy Man/Chester Cheetah/Chip/Chopper/Christopher Columbus/Church Goer #3/Citizen #4/City Hall Employee/Clerk/Clint Eastwood as Josey Wales/Clint Howard/Cloud #1/Clown/Co-Worker #1/Cobra Commander/Colonial Tom Tucker/Commander #2/Concert Announcer/Congressman #3/Construction Worker/Construction Worker #2/Corky/Costello/Country Club Owner/Country Club Waiter/Cousin Earl/Craig T. Nelson/Crew Member/Crowd/Crowd Member/Cult Kid #1/Customer #2/DMV Tester/Daggermouth/Dagobah Man/Dallas Houston/Damon's Friend/Daniel Day-Lewis/Darrin/David James Elliott/David Leisure/David Letterman/Dead Man/Deer/Demond Wilson/Dennis De Young/Dentist/Disneyworld Guard/Dixie DJ/Doctor in Porn Movie #1/Doctor on TV/Dog Race Announcer/Dog Sheriff/Doggie Daddy Stone/Doorman/Dr. Bunsen Honeydew/Dr. Elmer Hartman as General Rieekan/Dr. Katz/Dr. Kevorkian/Dr. Teeth/Driver #2/Droopy/Droopy Dog/Drunk Guy/Drunken Clam Customer/Dyslexic Baseball Wrap-Up Announcer/Edward/Egg Spitter/Elderly Naked Priest/Elephant/Elizabeth Smart's Dad/Elliott/Emcee/Emeril Lagasse/Emperor Palpatine/Empire Member #2/Ension Ricky/Eskimo/Eskimo Father/European Man/Evil Stewie/Executioner/Eye Floater/Farnsworth/Fat Customer/Fat Kid/Fat Twin #2/Father Sapienza/Faun/Firetruck Announcer/Fish/Fisherman/Flappy/Flint/Fly/Foghorn Leghorn/Fonzie/Former Neighbor/Forrest Gump/Founding Father/Frank Sinatra/Frankenberry/Freddy Krueger/Frog/Frog #1/Frosty the Snowman/Future Student/Gandhi/Gary Miller/Gas Station Owner/Gay Guy #1/Gay Guy #2/Gay Mailbox/Gay Poltergeist/Gazoo/Gene Shalit/General/Genuine Living Homosexual/George/George Bush/George H. W. Bush/George W. Bush/Geppetto/German Security/German Tourist/Ghost Whisperer Actor/Giant Rabid Housecat/Glenn Quagmire as Prisoner/Glenn Quagmire as Wise Man/Gnome #2/God's Assistant/Golf/Golf Cart Driver #1/Golf Competitor/Golfder/Golfer #1/Goofy/Gordon Freeman/Green Shirt Guy/Greg Gumble/Gregory Peck/Griffin Peterson/Groundskeeper/Guard/Guillermo/Guy #2/Guy Getting Tattooed/Guy in Carrot Shirt/Guy in Spiderman/Guy on Phone/Hank the Toilet/Happy Go Lucky Co-Workers/Harold Ramis/Harry/Harry Houdini/Haskell/Hawkeye/Heart Monitor/Helicopter Pilot/Henry Wickenshire/Herb/Hindu God/Hipster #2/Hipster Son #1/Hitler Assassinator/Hitman/Homeless Guy #2/Horse #2/Horse Race Announcer/Hostage #3/Hot Dog/Huck Griffin/Hugh Grant/Incisor/Indian Casino Staff #2/Indian Puppet #1/Inmate #2/Inspector Gadget/Irish Guy/Irish Man/Isaac/Italian #2/Italian Man/Jabba the Griffin/Jack Daniels/Jack the Ripper/Jackie Chan/Jackie Gleason/Jafar/Jake/Jake Ryan/James Brady/James Brolin/Janice/Jared/Jaws/Jeremy/Jerry Seinfeld/Jester Brian/Jesus/Jewish Crooner/Jewish Dad/Jewish Slave/Jezeziah/Jim Henson/Jimmy Fallon/Job Placement Counselor/Jock #1/John/John Edward/John Merrick/Joseph Broadfront/Judas/Jude Law/Jury #1/Karl/Kennedy/Kenneth/Kid #2/Kidnapper/Kids Choice Awards Announcer/King Arthur Griffin/King Stewart III/Kirk/Knight #3/Kool-Aid Man/Kurt Cobain/Lance/Larry/Last Crucify Knight/Lawyer/Lawyer #2/Lee Harvey Oswald/Legs Go All The Way Up Griffin/Leonardo da Vinci/Leslie/Less Successful Friend/Letter Y/Lewis/Librarian/Little Homo/Little Rich/Little Richard/Live Studio Ostrich/Lord Cadwallider/Lord of Darkness/Los Angeles Cop/Lucas Scott/Luigi/MacGyver/Magic Clam/Male Customer/Male Flight Attenden/Mall Clerk/Man #1/Man #3/Man #4/Man During Sex/Man Freeing Slave/Man in Audience/Man in Boxing Match #1/Man in Car/Man in Crowd/Man in Dinner Party/Man in Film #1/Man in High Trouser #1/Man in Nebraska/Man in Operation/Man in Sauna #2/Man in Supermarket/Man in Theater #2/Man on Bench/Man on Bicycle/Man on Chair/Man with Braces/Manson/Margaret's Husband/Marguerite's Lawyer/Mario/Mark/Mark Twain/Mayor Assistant/Mayor McCheese/McMurphy Brother #1/Meowsy McDermott/Merlin/Mexican Radio Voice/Michael McDonald/Michael Myers/Mickey McFinnegan/Mickey Mouse/Mike Brady/Mike Wallace/Mob #1/Mobster #2/Monk/Monkey #1/Monty Python Voiceover/Moses Griffin/Movie Director/Mr. Hale/Mr. Lessenbee/Mr. Magoo/Mr. McCloud/Mr. Sun/Museum Guide/Music Teacher/N'Sync Member/NBC Announcer/NBC Assistant/Naked Guy/Ned/Neil Armstrong/Neil Goldman without his retainer/Neptune/New Quahog Citizen/New Yorker in Bar #2/Nigel Pinchley/Nikita Khruschev/Noah/Noel Coward/O'Brian/Oates/Octopus/Officer #2/Old Attendees/Old Guy/Old Hipster/Old Man #2/Old Man Pressman/Old Writer/Old Yeller/Opera Singer/Orange Crayon/Orange Ghost/Orville Wright/Oscar Actor/Osias Griffin/Osmond #1/Owl #3/Ozzy Osbourne/PA Voiceover/Pablo Picasso/Pal/Parachute Jumper/Parent #2/Parker/Parrot/Party Host/Pasqual/Pasquel/Passenger/Passenger #1/Pat Robertson/Paul/Paul Sheldon/Pawtucket Mill CEO/Peck Kid #3/Pee-wee Herman/Pelican/Peter Falk/Peter Griffin as Joseph/Peter Griffin as Professor Moriarty/Peter the Pig/Peter's Conscience/Peter's High School Friend/Peter's Sperm Donation Offspring/Petey Lachance/Phone Caller #1/Picnic Judge/Pigeon/Pillsbury Doughboy/Pilot #1/Pinocchio/Plumber/Political Man #2/Ponch/Pope Manager/Pope's Assistant #1/Popeye/Pops Racer/Porno Bogart/President Snow/Priest/Principal/Principal Shepherd/Prison Guard/Prisoner #1/Prisoner #2/Prom Night Dumpster Baby/Protestor/Publisher/Quag Chambers/Quagmire's Son/Quahog Airport Inn Manager/Quark Griffin/Rabbi/Rabbit Doctor/Rapid Dave/Rashad/Real cartoony Gay/Red Ghost/Redneck Father/Referee/Reporter/Retep/Rice Krispy Grandpa/Richard Dawson/Richard Nixon/Rick/Rick Moranis/Ricky/Ricky Martin Manager/Roach #1/Rob Berler/Rob Schneider/Rob Schneider's Slave/Robber #1/Robert Baden-Powell/Robert E. Lee/Robert Kimble/Robert Mitchum/Robot/Robot Monitor/Rod Serling/Roger Chapstick/Roger as Moff Jerjerrod/Ronald McDonald/Rover Dangerfield/Rufus Griffin/Russian Rat/Ryan Lochte/Safeguard #1/Santa/Satan/Sauron/Scare Crow/Schneider/Scientist/Scooby-Doo/Scott/Scotty/Scoutmaster/Seagull/Seamus Levine/Serf/Seth MacFarlane/Sherlock Holmes/Silas Pewterschmidt/Simon/Sipowitz/Sitting Duck/Skater/Skeleton/Skincell #1/Sloth/Smiley McGee/Smurf #1/Snail/Solomon Grundy/Speed Racer/Spider/Spring Breaker #1/Spring Breaker #2/Spy/Statler/Stephen Gyllenhaal/Stephen Hawking's Real Voice/Stephen King/Steve/Steve Buscemi's Tooth #2/Steve Guttenberg/Steward/Stewie Griffin as Jesus/Stewie Griffin as Sherlock Holmes/Stewie Silhouette/Stewie Wilkes/Stewie's Friend/Stink Fleaman/Store Manager/Storyteller/Strawberry Peter/Street Punk/Student/Superfriends Announcer/Supreme Justice #3/Swedish Chef/Teacher/Teen #2/Teen in Crowd/Teenage in Show/Teenager/Telegraph Sex/Terry Fabulous/Texan Audience Member #2/Thaddeus Griffin/The Chairman/The Don/The Ghost of Vern/The Pope/Theodore Roosevelt/Thomas Griffin/Thunder/Tim/Tim Tucker/Tim the Bear/Tim the Bear as Wickett/Timer the Cheese Guy/Todd/Toilet/Tom Green/Tom Tucker Sr./Tom Tucker as Imperial Newscaster/Tom Tucker as Newspaper Vendor/Tony/Tony Danza/Tony Robbins/Tony the Tiger/Tooth Fairy/Toy Voiceover/Trapper/Tree/Tree #3/Trix Rabbit/Trooper/Tucan Sam/Turtleneck Man/Tyler/Ulysses S. Griffin/Uninjured Veteran #2/Unknown Voice/Vagina Monologue/Van Voiceover/Vaudeville Guy/Vet/Veteran #7/Vice President/Vincent Van Gough/Virgil/Voiceover in CD #2/Warden Norton/Washington Senator/Wayne/Wellesley Shepherdson/White Guard #2/White Runner/White Spy/Willie Tanner/Willy/Willy Wonka/Wimpy/Winston Churchill/Woody/Woody Allen/Wounded Man/Writer/Yogi Bear/Yosemite Sam/Zebra
James Woods
as James Woods/Family Guy James Woods/James Woods as General Veers/Simpsons James Woods
Drew Pinsky
as The Dermatologist
David Herman
as David Strathairn
Lou Diamond Phillips
as Tribe Leader
Jeff Garlin
as Jeff Garlin
Kyle Chandler
as Coach Doyle
Ryan Reynolds
as Ryan Reynolds/Overweight Guy
Denis Martell
as Santos/Italian Clerk
Mila Kunis
as Meg Griffin/Bank Teller/Elizabeth/Mary Ellen/Meg Griffin as Donkey/Meg Griffin as Giant Space Slug/Meg Peterson/Mila Kunis/Popular Kid #1/Prostitute/UCLA Admissions Representative
Jennifer Birmingham Lee
as Actress/Woman at Park
Ana Ortiz
as Cinammon/Maid
Erinn Hayes
as Attractive Mom
Barkhad Abdi
as Abduwali Muse
Amanda MacDonald
as Lindsay Lohan
Luke Donaldson
as Little Boy
Ali Raizin
as CNN Panelist/Melania Trump
Phil LaMarr
as Ollie Williams/Judge/Doctor/Minister/TV Announcer/Alfonso Ribeiro/Announcer/BET Announcer/Basketball Player/Bernard Shaw/Black Comedian/Black Gif/Black Guy/Black Man/Burglar/Caveman/Chapter President/Chris Tucker/Color Black/Congressman/Customer/D.J. Butcher/Deliveryman/Donald/Ellis Boyd 'Red' Redding/Fat Albert/Gambler Dan/Gary Coleman/Jesse Jackson/Kofi Annan/Lawyer/Louis Farrakhan/Medic/Morgan Freeman/Muddy Waters/N-Word Jim/Ollie Williams as Imperial Meteorologist/Pa/Parishoner #2/Pimp/Pizza Customer/Portland/Professor/Rapper/Redd Fox/Royal Crier/Rupert/The Screaming Black Dolphins/Tourist at Gettysberg/White Person #1
David Anthony Pizzuto
as Willem Dafoe
Alex Thomas
as Black Gif/Screaming Black Dolphin 1/Various
Ariana Grande
as Italian Girl
Ana Gasteyer
as Speed Dater
Dan Castellaneta
as Homer Simpson/Barney Gumble/Blue-Haired Lawyer/Grampa Simpson/Hans Moleman/Kodos/Krusty the Clown/Mayor Quimby/Santa's Little Helper/Squeaky-Voiced Teen
Conan O'Brien
as Conan O'Brien
Ike Barinholtz
as Dane Cook
Joe Regalbuto
as Bull/Editor/Frank Fontana
Jane Lynch
as Dotty Campbell/English Mother at airport/French Teacher
Allison Janney
as Crystal Quagmire/Mistress Vita/Teen People Editor
Kevin Michael Richardson
as Jerome/Cleveland Brown Jr./Bill Cosby/Bouncer/Drill Sergeant/African Warlord/Alex/Announcer/Bear/Black Guy/Black Jesus/Black King/Black Professor/Black To The Future Narrator/Black the Waterbear/Bouncer in Peter's Stomach/Bronson/CIA Director/Charles Barkley/Chris Griffin on Mushrooms/Cleveland Brown, Jr/Cleveland Brown, Jr./Daddy Pig/David Ortiz/Dognapper's Accomplice/Doug the Pimple/Dr. Diddy/Fat Man/Football Player/Giant Chicken #2/Harvard President/Hijacker/Jack Skellington/Jim Crow from 'Dumbo'/John Sanford/League Member #2/Man/Marvin Gay, Sr./Mean Joe/Molten Man/Mr. Plimpton/Peabo Bryson/Pirate/Rapper/Rerun/Roadblock/Scotty Pippin/Sebastian/Snoop Dogg/Stewie I'Like/Strong Black Man/Sudanese Men/Sun/Tom Arnold/Tracy Morgan/Various
Bill Goldberg
as Angry Bus Passenger
Alexandra Breckenridge
as Girl/Girl #1/Rape Victim/Woman/23-Year-Old Girl/A Checkout Girl in a Cheap Dress Who Wants to Be a Model/Alyssa/Andy Garcia's Date/Angry Mob Woman/Bachelorette Party Attendant/Bond Girl/Cancer Sufferer/Christina Aguilera/Club Girl/Cybill Shepherd/Debbie/Dog Owner/Emcee/Female Customer/Helen Hunt/Hilary Swank/Hot Date/Hudson's Mother/Jane/Joanie/Jodie Sweetin/Kate/Kate Austen/Katie Holmes/Masseuse/Mermaid/Miss Emily/Molly Ringwald/Motel Girl/Mrs. Callaghane/Nurse/Patty/Paula/Peggy/Popular Kid #6/Renee Zellweger/Rob's Ex/Roxanne/Salesgirl/Sarah/Sarah Jessica Parker/Sassy/Seal Trainer/Spider-Man's Girlfriend/Stewie's Customer/Teacher/Theater Attendee/Tori/Valerie Bertinelli/Waitress/Woman at concert/Woman in Park/Woman in labor
Liam McIntyre
as Australian Man/British Announcer/Gordon Ramsay/Isaac/The Land Don Under/Wombat
Brian Tochi
as Asian Police Pilot
Jennifer Love Hewitt
as Self
Chris O'Dowd
as Butler/Contestant/Guard
Mary Scheer
as Ann Landers/Mary Bradford/Mother
Bill Engvall
as Duke Dillon
Jim Meskimen
as Ron Howard
Emma Roberts
as Amanda Barrington
Chad L. Coleman
as African Gunman
Patrick Duffy
as Bobby Ewing/Jack/Salesman/Teacher
Nathan Gunn
as Italian Opera Singer
Jimmy Kimmel
as Death's Dog/Man in Suit/Renaissance Guy
Tom Bosley
as Howard Cunningham
Laura Bailey
as Dutch Daughter/Judge
Catherine Reitman
as Wheel-Cher
Katharine Ross
as Mayor West's Mother
Khary Payton
as Abusive Father/Baseball Player/Benicio del Toro/King
Lisa Loeb
as TV Show Singer
Rick Dees
as Peter as Rick Dees
Dwayne Johnson
as Dwayne Johnson
Rick Springfield
as Rick Springfield
Ed Westwick
as Football Player/Wedding Officiant
Christine Baranski
as Christine Baranski/Newport Heiress
Rob Gronkowski
as Rob Gronkowski
Mike Judge
as Beavis/Butt-Head/Hank Hill
Barclay DeVeau
as Patty/Bimbo #2
Suzie Plakson
as Ann Romano/Various
Sarah Ramos
as Teenage Girl
John Bunnell
as Narrator/Sheriff John Bunnell
Matt Weitzman
as Clerk/Shopper #1/Sniper/Soldier/The Senator
Mae Whitman
as Student/Teenage Girl/Vegas Waitress/Angry Mob Woman/Annaleigh Quagmire/Bachelorette/Billy/College Girl/Fat Woman/Fort Lauderdale Tanya/Girly Friendston/Julie/Kidnapped Woman/Kimmi/Kristen/Lacey Chabert/Marcie Miller/Peter's Lover/Popular Kid #5/Roller Derby Girl/Sad Little Fat Girl/Sarah Sanders/Stewie's Customer/Tiffany Trump/Victorian Ghost/Waitress/Young Girl/Young Woman/Zuzu
Chevy Chase
as Chevy Chase/Clark Griswold
Kate McKinnon
as Farmer's Date/Karen Griffin (Heavy Flo)/Philippa
Omid Abtahi
as Faisal/Mahmoud
Hunter Gomez
as Asian Kid/Boy/Dutch Child/Goodman Kid/Justin Bieber/Leonardo DiCaprio/Michael Jackson Boy/Pinocchio/Terminally Ill Child/Various
Russ Leatherman
as Moviefone Guy
Jon Daly
as Javier Bardem/Kelsey Grammer/Lion/Oliver Platt/William Shakespeare
Lauren Conrad
as Lauren Conrad
Joshua Rush
as Sears Employee/Stewie's Friend
Camryn Manheim
as Airline Passenger/Communist Mother
Wendy Raquel Robinson
as Bernice/Jackée Harry
Laura Vandervoort
as Bridgit/Jenny
Lisa Wilhoit
as Connie D'Amico/Beth/Abby Stevenson/Cheerleader/Kim Kardashian/Lisa McDonald/Sexy Meg/Teenage Girl/Various
Aaron Krebs
as Various/Wala
Gordie Gronkowski
as Gordon Gronkowski
Candace Marie
as Hanna Montana/Miley Cyrus
Alfred Molina
as Chris' Neighbor/Panamanian Man
Michael York
as Documentary Speaker
Aries Spears
as Eddie Murphy/Shaquille O'Neal
Will Ryan
as Winnie the Pooh
Robert Downey Jr.
as Patrick Pewterschmidt
Robert Wu
as Asian Man/Mr. Washee-Washee/Anime Father/Asian Baby/Asian Student #1/Asian Student #2/Charles Yamamoto/Japanese Businessman/Korean General/Korean Men/Octopus/Salon Patron/Steven Chu/Tour Guide/Wu's Waiter
Jack Sheldon
as 'Vagina Junction' Conductor/The Bill
Victoria Principal
as Dr. Amanda Rebecca/Pamela Barnes Ewing
Kabir Singh
as Kabir Singh
Kevin Nealon
as Kevin Nealon
Cheryl Tiegs
as Cheryl Tiegs
John O'Hurley
as Cult Leader
Kim Fertman
as Girl/Kristen Bell/Lois' Date/Tonya/Wife
Sean Kenin
as Tiny Tom Cruise
Kotaro Watanabe
as Japanese Brian/Japanese Quagmire
Susana G. Esteban
as Spanish Woman/Woman
Jonathan Kite
as Alec Baldwin
Robert Romanus
as Mike Damone
Shelley Long
as Carol Brady
Barry Manilow
as Barry Manilow
Nicholas Gonzalez
as Drug Dealer
Ben Stein
as Rabbi Goldberg
Harvey Fierstein
as Buster Keaton/Tracy
Chace Crawford
as Jock #2/Luke/Paul/Popular Kid #4/Trainer
Pete Handelman
as Bert's Coworker/Timid Man
Rush Limbaugh
as Rush Limbaugh/Red 6/Rush Limbaugh as The Rancor
Gabrielle Union
as Shauna Parks
Ginger Gonzaga
as Cindy/Italian Teacher/Tammy/Tiffany
Portia de Rossi
as Bonnie Swanson's Prank Call Voice
Mindy Sterling
as Businesswoman
Ursula Taherian
as Gina Devereaux/Heather/Loan Applicant/Mort's Date/Schwarzenegger's Target/Taylor Swift
Ralph Garman
as Various/Waiter/Cab Driver/Cop/Criminal/Jeffrey Fecalman/Larry/Man/Agent Jenkins/Alex Jones/Arnold Schwarzenegger/Audience Member/Ballpark Vendor/Bernie/Bowling Alley Dad/Brad Garrett/Cameraman/Charles Bronson/Clark/Conductor/Cop #1/Doctor/Dog in the Window/Dustin Hoffman/Editor/Eric Trump/Exterminator/Family Feud Executive/Father/Fisherman/Garbageman/Gene Rayburn/Groom/Guy/Guy on Crutches/H/Heckler #2/Husband/Jack Black/Jake/Janitor #1/Jeff Foxworthy/Jeremy Piven/Jerry Lewis/John Smith/Jolly Farm Executive #4/Juror/Kurt Livingston/Letter A/Lincoln's Cabinet Member/Maitre d'/Manager/Maniac Pope/Masturbator/Mattress Store Employee/Mayor West's Aide/Maître d'/Michael Chiklis/Mobster/Motel Clerk/Mr. Penisberg/Newspaper Guy/Ottoman Guy #1/Paramedic #1/Paul Simon/Peter's Customer/Phil/Pink Talking Car/Pirate #2/Police Clerk/Presidential Aide/Rabbi/Reporter/Rich Guy/Scientist/Spa Employee/Star #2/Tea Party Member/Ted Turner/The Man in the Yellow Hat/Todd Meyers/Veteran #5/Veterinarian/Vic/Voice in Bushes/Woodrow Wilson
Julie Bowen
as Claire Dunphy/Julie Bowen
Noel Blanc
as Elmer Fudd/Various Characters
Paget Brewster
as Gretchen Mercer
Cate Blanchett
as Penelope/Queen Elizabeth II
Mark Hamill
as Luke Skywalker/Obi-Wan Kenobi
Martha MacIsaac
as Patty/Airport Announcer
Ignacio Serricchio
as Cuban Man/Fairgoer/Lawnmower Guy/Pitbull
Marion Ross
as Marion Cunningham
Carla Delaney
as Bart Simpson/Jodie Foster
Drew Barrymore
as Jillian Russell/Mrs. Lockhart
Emily Towers
as Focus Group Tester
Helen Reddy
as Channel 5 Jingle Singer/Helen Reddy
Kyrie Irving
as Vernon the Waterbear
Sam Waterston
as Dr. Kaplan
Sung Kang
as Soap Opera Actor
Heléne Yorke
as Bachelorette Party Attendant/Courtney/Dancer/Grocery Store Employee/Sandra
Justin Koznar
as Alfalfa/Kid #2
Nicole Sullivan
as Muriel Goldman/Alexis Radcliffe/Alice/Angelica/Beach Girl/Book Customer/Boxer/Bride/Candi/Cashier/Cheerleader/Doctor and Swim Instructor in Providence Rehab Clinic/Drunk Chick/Faith Fairfield/Girl in a Scavenger Hunt/Joan the Maid/Mary/Mega Hardware Customer/Mrs. Abbott/Mrs. Goldman/Nurse at Sperm Bank/Sandra Bullock/Sandy Duncan/Shelly/Sorority Girl/Stacey/Stewie's Customer/Taco Lover/Tina/Tina, Brian's date
Jaheem Toombs
as Black Kid
Craig Ferguson
as Craig Ferguson
Nick Cannon
as Nick Cannon
Lauren Graham
as Mother Maggie
Rob Lowe
as Rob Lowe/Stanford Cordray
Sharon Osbourne
as Sharon Osbourne
Erik von Detten
as Shovin' Buddy
Majel Barrett
as Ship Computer
Daniel Gronkowski
as Dan Gronkowski
Bryan Cranston
as Bert/Arby's Executive/Bryan Cranston/Dr. Jewish/Hal/Judge
Jenna Jameson
as Jenna Jameson
Ioan Gruffudd
as Man/National Geographic Narrator/Prince Charles
Eddie 'Piolin' Sotelo
as Mikey
Yvette Nicole Brown
as Black Woman/Black Sassy Nurse/Jerome's Mom
Travis Bowe
as Cream/Dutch Dog/Lifeguard/Son Raccoon
Cary Elwes
as Charles Dickens/Chris Martin/Cyrano de Bergerac/Edison's Assistant/Guard #1/Mr. Henderson/Nigel/Watson
Colin Ford
as Kid/Child #2/Flick/Football Player/Jeremy/Randall/Young Kevin Swanson
Mike Barker
as Ben Franklin Bear/Buff Guy/Dilbert/Doctor/Green Monster/Jeremy/Sean Penn/Smurf #2/Writer #1
Daniele Gaither
as Traffic Violations Officer
Michael Winslow
as Michael Winslow
Meredith Scott Lynn
as Brenda/Girl/Marcie
Kirker Butler
as Additional Voices/Alan/First Caterpillar/George W. Bush/Man/Member of Symphony/Second Creature/Various
Don LaFontaine
as FOX Announcer/Narrator/Self
André Sogliuzzo
as Actor/Director/Italian Tour Guide/Language Tape/Man in Restaurant/Waiter
Andrea F. Friedman
as Ellen
Ricardo Montalban
as The Cow
Jonathan Morgan Heit
as Boy/Little Boy/Amusement Park Ride Operator/Billy/Grandchild #2, Great Grandchild/Kid #1
Miriam Margolyes
as Right Eyeball
Stark Sands
as Justin Hackeysack
Candice Bergen
as Gloria Ironbox/Murphy Brown
Robert Costanzo
as Biff/Danny DeVito/Louie Anderson
Tom Hollander
as Contestant/Distinguished Man #2/James Corden/TV Announcer
Caitlyn Jenner
as Bruce Jenner
Casey Wilson
as Jess/Gymnastics Team Mom
Maurice LaMarche
as Ralph Kramden
Alex Rocco
as Bea Arthur/Soccer Mom
Jay Pharoah
as Kanye Canes/Kanye West/Skeetle
Cara Newman Ruyle
as Scout on Plane
Carl Lumbly
as Loan Officer
Glenn Gronkowski
as Glenn Gronkowski
Kiff VandenHeuvel
as Sheriff Woody
Mo Collins
as Daycare Teacher/Kim Cattrall/Little Girl/Mom in Supermarket/Ms. Hobson/Stewardess/Woman #1 in Book Club
Connie Britton
as Connie Britton
Lucas Van Wormer
as Kevin McCallister
Charles Kimbrough
as Jim Dial
Kadeem Hardison
as NBA Player
Steve Urquilla
as TMZ Cameraman
Jay Leno
as Jay Leno/Mayor Jay Leno
Ross Marquand
as Garth Brooks/George H. W. Bush/Indiana Jones/Jesse Eisenberg/Johnny Depp/Slinky
Wil Wheaton
as Anti-Abortion Activist/Wil Wheaton
Keith Olbermann
as Bob Grossbeard
Glenn Close
as Glenn Close
David Mazouz
as Peter's Co-Worker
Lizzy Caplan
as Woman Arguing With Quagmire
John Viener
as TV Announcer/Emcee/Announcer/Doctor/Rabbi/Gregory Peck/Sean Connery/The Butt/Vladimir Putin/Belgrade/Carson/Derek Wilcox/George Washington/Harrison Ford/Indiana Jones/Kyle's Dad/Lawyer/Mayor McCheese/Pilot/Priest/Radio Announcer/Radio Voice/Robert Loggia/Superman/Sylvester Stallone/50's DJ/A Professional Man/Abortion Video Spokesman/Achilles/Adolf Hitler/Agent #2/Agent Jessup/Alexander Graham Bell/Announcer #2/Announcer on TV/Apache Chief/Aquaman/Arab Man/Bachelor #2/Bad Guy/Baseball Announcer #2/Baseball Umpire/Basketball Player #2/Big Brother Narrator/Billy Dee Williams/Black Dad/Black Guard/Black Man/Black Woman/Bobby McFerrin/Boy in Mushroom #2/Braveheart Guy/Brian's Roommate/British Man/British Woman/Buff Guy/Business Man #2/Businessman/Buzz Lightyear/CIA Agent/Camp Counselor/Captain/Captain Beckman/Cashier/Caveman #2/Charles Barkley/Chazz Palminteri/Chieftain/Chuck Berry/Club MC/Coked-up Giraffe/Coma Guy/Commander #1/Commercial Narrator/Cornelius/Cow/Cow #1/Crossarmed Guy #1/Customer/Darth Vader/Dean Martin/Deep Voiced Announcer/Dennis Haysbert/Devon/Dimitri/Director/Doctor in Porn Movie #2/Duke/Dutch Father/Dyslexic Announcer #2/Eeyore/Elwood Edwards/Emperor Member #/Emperor Palptaine/Englishman/European Seen n' Say/Executive/Executive Bathroom Extorter/Ezekiel/FCC #1/FOX News Executive/Fjurg Van Der Ploeg/Flight Attendant/Flower/Framptal Tromwibbler/Francois/Franz/Game of Thrones Announcer/Gordon/Greg in the Window/Guy #1/Guy with Laptop #2.Man in Suit #1/Gynecologist/Hamburger Jones/Han Solo/Heaven Receptionist/Helicopter Pilot/Henry Kissinger/Hiker/Hilter/House Hunters Westeros Narrator/Hugo Boss/Husband/INS Employee/Imperial Shuttle Pilot/Important Buisnessman/Insurance Adjuster/Investment Ad Narrator/Iraqi/Iraqi Man #1/Italian Chef/Jack/Jagermeister/James Bond/Jennifer Keaton/Jetski Instructor/John Travolta/Johnny Feedback Robinson/Johnny Weir's masculine voice/Jolly Farm Executive #2/Josh/Kenneth Gould/Kermit the Frog/King Henry VIII/Kurtwood Smith/Lead Singer/Liam Neeson/Lone Ranger/Madame Claude/Major General Captain/Malcom/Mall Representative/Man #1/Man in Bar/Man in Bathroom Stall/Man in Theater/Man on Walkie Talkie/Man with Cereal/Mark Wahlberg/Marriage Counselor/Matthew Fox/Mayor of Comedy/McBurger Boss/Meeting Group/Mexican Batman/Michael McDonald/Millie/Monopoly Narrator/Morgan Freeman/Movie Announcer/Mr. Crates/Mr. Spark/Mr. Stone/Muhammad Ali/NASA Employee/NBA Announcer/Nazi Priest/New Brian/News Reporter/Nick 'Goose' Bradshaw/Nick Nolte/Nielsen Guy/Nike President/Noriega/Noël/Officer/Osama Bin Laden/Palestinian Alarm Clock/Peck Kid #2/Persian Radio Announcer/Peter's Co-Worker/Pig/Pilgrim/Pilot #2/Pirate/Pirate #1/Police Chief/Police Dog/Police Officer/Price is Right Announcer/Racist Man/Raggedy Randy/Raisin Bran Ad/Randall Carrington/Randall Even Battencourt/Realtor/Rickey Minor/Rob/Robbi/Robert Mitchum/Robot Viewer/Rodrico/Roger/Ron Griffin/Rooster Solicitor/Russian Guard/Russian Spy/Ryan/Sailor/Satan/Scientist #2/Scott Greenberg/Secret Service Agent/Sheriff/Singer/Singing Animals/Sober Peter Griffin/Solider #1/Solomon Grundy/Spaceguard #1/Spelling Bee Narrator/Spock/Star Wars Teacher/Streaming Con Announcer/Subway Announcer/Super Friends Accountant/Supermacist Leader/TMZ Announcer/TV Announcer #2/TV Executive/Target Commercial/Tea Party Rally Speaker/Tech Guy/Terrorist/Terry/Terry the Tiger/Tetris #3/Text Message Announcer/The Thing/Thor/Tinazidine Man/Todd/Todd Goldstein/Tom Brokaws/Tomak/Tommy Lee/Tony/Tony Robbins/Tour Guide/Tree/Tribune/Uncle Sam/Uninjured Veteran #2/Vader Guard #2/Various/Veteran #1/Video Instructor/Video Narrator/Video Store Clerk/Villager/Vohn Jiener/Voice on Phone/Voiceover/Waiter/White Guard #1/Will Smith/Yak/Young Mort
Jon Favreau
as Host of KISS Forum
Beth Littleford
as Jane Jetson/Lois/Mother at Park
Anna-Jane Casey
as British Mother
Courtenay Taylor
as Barbershop Receptionist/Daenerys Targaryen/Jan/Kitchen House Mother/Lonely Woman/Rachel
Tamera Mowry-Housley
as Esther
C.S. Lee
as Soap Opera Actor
Adrianne Palicki
as Tiffani Thiessen
Chris Gronkowski
as Chris Gronkowski
Paula Abdul
as Paula Abdul
Richard Kuhlman
as G.I. Joe/Mel Gibson
Nina Dobrev
as Lois' High School Bully
Jay Mohr
as Joe Pesci/Logan/Wilshard Watkins
Saundra McClain
as Women on Mm-hm
Rick Pasqualone
as Richard Dawson/Tony
Audrey Wasilewski
as Bimbo #3/Lisa Simpson/Mia Farrow/Rhea Perlman
Kelen Coleman
as Hooker #2/Woman #3
Fiona Gubelmann
as Lois' New Friend
Elisha Cuthbert
as New Bedford
Mick Hucknall
as Mick Hucknall
Joe Flaherty
as Vatican Messenger/Western Union Man
Henriette Mantel
as Alice Nelson
Will Shadley
as Kid Doctor
Alan Parsons
as Alan Parsons
Fred Willard
as Dave Campbell
Shawn Michael Howard
as New Orleans Band
Patrick Meighan
as Bank Teller/Employee #1/Gay Man/Jeremy Miller/Ken/Mouse Priest/Peter's Customer/Roman/Roman Centurion #1/Sal/Sensei Dan/Tea Party Member/Testiclles
Megan Hilty
as Old Woman/Teacher
Scott Bakula
as Scott Bakula
Carlos Alazraqui
as Mr. Weed/Mr. Jonathan Weed/Cheech Marin/Chief Justice John Roberts/Cuban Man/Gnome #1/MS-13 Member/Road Manager/Waiter
John de Lancie
as Pewterschmidt Industries Executive
Amir Talai
as Hindu Man/Indian Kid/Indian Man/Wedding Priest
J.J. Abrams
as J.J. Abrams
Wayne Collins
as Basketball Player/League Member
R. Lee Ermey
as Coach/Warden
Esther Ku
as Asian Mom/Meg's Friend/Secretary
Phyllis Diller
as Thelma Griffin
Bob Joyce
as Barbershop Quartet Singer #1
Mark-Paul Gosselaar
as Zack Morris
William Brent
as Handicapped Kid/Kid #1/Other Kid
Michelle Horn
as Eliza Pinchley
Diane Robin
as Contestant/The Bride/Woman
Brian Doyle-Murray
as Bidder #2/Luke/Salty
Michael Chiklis
as Big Fat Paulie/Bronx Guy #1/Cartoony Crewman/Henessy/Mechanic
Sylvianne Chebance
as Heidi Klum
Robert Loggia
as Robert Loggia
Laura Bell Bundy
as Holly/Miss Laura
Scott 'Carrot Top' Thompson
as Carrot Top
Yeardley Smith
as Lisa Simpson
Ashley Tisdale
as Kelly/Priscilla
Billy Eichner
as Billy on the Street
Patrick Stump
as Gay Man/Student/Tyler
Estelle Harris
as Death's Mother
Michael Shipley
as Parking Lot Attendant
Jeff Bennett
as Announcer in Parody Sequence
Patrick Bristow
as Cheesy Charlie's Manager/Hector/Various
Sofía Vergara
as Buxom Woman/Hispanic Woman/Sofia Vergara
Seth Green
as Chris Griffin/Neil Goldman/Additional Voices/Chris Griffin as Luke Skywalker/Jock #1/Matthew McConaughey/Student/Boy/Jeremy/Joe Horrigan/Teenager/Angry College Student/Announcer/Archie Manning/Asian Son/Band Member #4/Blonde Guy/Bobby Williams/Booze Cruiser/Boy at Mall/Boy in Dance #2/Boy in Science Class/Bully #3/Calvin Klein Model #2/Carrot Scalp/Channel 5 News Employee/Chris Griffin as Drummer Boy/Chris Griffin as Queen Victoria/Chris' Classmate/Christian Slater/Classmate/Commercial Announcer/Consuela's Husband/Corey Haim/Cult Kid #2/Dance Choreographer/Diabeto/Director/Dixie Student #2/Driver/Drunk Guy/Dylan/Dylan Flanigan/Dylan Flannigan/El Dorado Parking Employee/Eli/Eskimo Son/Fan/Fly/Friend/Gangster #1/Greg Brady/Guy Playing Hooky/Hanson Kid/Hector/Herschel/Hipster #1/Hollywood Waiter/Home Depot Employee/Italian Man in Line/Jared/Jesus Christ/Jewish Boy/Jimmy/Jock/Justin/Kurt Cobain/Lieutenant Chris/Male Crowds/Male Customer/Man #2/Man in Audience/Man on Paddleboard/Manager/Matt Damon/Mayor Assistant/McBurgertown Employee/McDonald Cashier #2/Messiah Guards/Michael Jackson/Monkey #2/Monkeys/NBC Employee/Nathan Scott/Nerd/Officer #2/Owl #2/PA Voiceover/Partygoer #2/Peter's Conscience #2/Phone/Photographer/Pizza Deliveryman/Police Officer #2/Pop/Popular Kid #3/Postmates Deliveryman/Prom Attendee #1/Random Man/Referee/Richie Cunningham/Ricky/Rocky/Sanders/Satan's Assistant/Sean Penn/Seth Green/Smoker/Space Cat/Speed Skater/Spring Breaker #1/Spring Breaker #3/Stage Manager/Steven Seagal/Stoner/Student Actor/Sugar Ray Band Member/Surfing Instructor/Talking Dead Commentator/Teen #1/Teen #3/Teenage Boy/The Penguin/Tim/Travis Coates/Ulrich/VH1 Host/Virgil MasterCard/Waiter/Young Jesus
Haley Joel Osment
as Daycare Kid/Kid in bathroom/Leonard/Letter R in Crest Ad
Michael McKean
as Andy Rooney/Camel Salesman/Pawtucket Pat/Pengrove Pig
Dikembe Mutombo
as Dikembe Mutombo
Cristin Milioti
as Andrea/Karen
Bobby Slayton
as Leonard Cornfeathers
Gabriel Iglesias
as Mexican #5
David Tennant
as Doctor Who
Sherry Romito
as Joanie/Nancy/Young Wife
Jack Samson
as Children/Kid
Agostino Castagnola
as Opera Singer
Keir Gilchrist
as Kyle/Toby
David S. Jung
as Korean Animator
Margaret Easley
as Hand #2/Various
Paul Stanley
as Paul Stanley
Yara Shahidi
as Little Girl
Michael Gross
as Steven Keaton
D.D. Howard
as Jane Fonda/Jane Jetson/Mrs. Brady/Various
Sanaa Lathan
as Donna Tubbs/Fangirl/Backup Singer/Clair Huxtable/Muhammad Ali's Wife
Chris Sheridan
as James William Bottomtooth III/Man/Various/Agent #1/Blue Talking Car/Cat/Cat Burglar/Caveman/Co-Worker #1/Conductor/Curls from 'B.C.'/Danny Zuko/Deep Sea Trainer #1/Elephant/Emperor Palpatine/Fish/Gay Man/Guy/Guy in Airport/Half-Dead Fat Guy/Holocaust Rollercoaster Employee/Horse #1/Husband/James/James William Bottomtooth IV/Jouster #1/Man at DMV/Michael/NBA Player/Passenger/Pilot #2/Quizmaster/Security/Shuttle Tyderium/Soldier/Thomas Edison's Neighbor/Van Driver/Veteran #3 and #4/Waiter
Nickie Bryar
as Various/Offended Girl/Old Lady/Poor Student/Preschool Girl/Student/Tiffani Thiessen
Sean Bean
as Portrait Griffin
Neil Patrick Harris
as Barney Stinson
Neil Brown Jr.
as Athlete with Money
Karley Scott Collins
as Abby/Little Girl
Mark Hentemann
as Opie/Man/Guy/Holden Caulfield/Alligator/Arby's Executive/Audience Member/Audience Member #1/Beethoven/Bill Cosby/Boat Passenger/Bread/Broom/Chicken/Chief McKenzie/Clark Bald Eagle/Crocodile Dundee/Dog Police Officer/Elephant/FOX News Anchor/Farmer/Fat Guy/Garbageman/George/H&R Accountant/Helicopter Pilot/Jason Seaver/Jewish Man/Jim Varney/Jury/Livingston Winstofford/Man in Baseball Game/Man in Boxing Match/Man in Nebraska #1/Meaty the Quick-to-Anger Clown/Midget/Opie as Distinguished Passenger/Opie as Tusken Raider/Opie as a Small Amphibious Alien/Other Audience Member/Painter/Phone Guy/Phony Guy as Admiral Ozzel/Randy/Ray/Rooster/Sammy Davis, Jr./Squirrel/Streisand's Husband/Student/Texan Clerk/Train Conductor/Trekkie #2
Gavin Dunne
as Christoper Moltisanti
Michael Clarke Duncan
as Black Co-Worker/Boy on Mushrooms/Fozzie Bear
Dakota Fanning
as Little Girl
Mindy Cohn
as Natalie Green
Brian Blessed
as Prince Vultan
Seasons & Episodes
Season 1
1999 | 7 Episodes
Season 2
1999 | 21 Episodes
Season 3
2001 | 22 Episodes
Season 4
2005 | 30 Episodes
Season 5
2006 | 18 Episodes
Season 6
2007 | 12 Episodes
Season 7
2008 | 16 Episodes
Season 8
2009 | 21 Episodes
Season 9
2010 | 18 Episodes
Season 10
2011 | 23 Episodes
Season 11
2012 | 22 Episodes
Season 12
2013 | 21 Episodes
Season 13
2014 | 18 Episodes
Season 14
2015 | 20 Episodes
Season 15
2016 | 20 Episodes
Season 16
2017 | 20 Episodes
Season 17
2018 | 20 Episodes
Season 18
2019 | 20 Episodes
Season 19
2020 | 20 Episodes
Season 20
2021 | 2 Episodes
Season 21
2022 | 1 Episodes
Awards
Annie Awards 1999
Outstanding Individual Achievement for Music in an Animated Television Production
Online Film & Television Association 1999
Nominee
Online Film & Television Association
Best Animated Series