Demand Insights
> Last 7 days
Demand Rank
Worldwide
WW
#
October 20, 2021
WW
Daily Demand (Last 7 days)
Travelability
Global Travelability indicates how well a title performs internationally relative to its home market
Brothers & Sisters's
home country is:

United States
Demand Score
Worldwide
WW
Average Demand for Brothers & Sisters is 0.0 times the demand for the average show in Worldwide in the Last 7 days.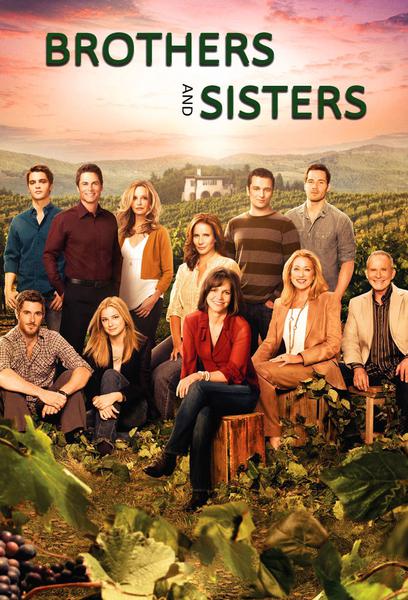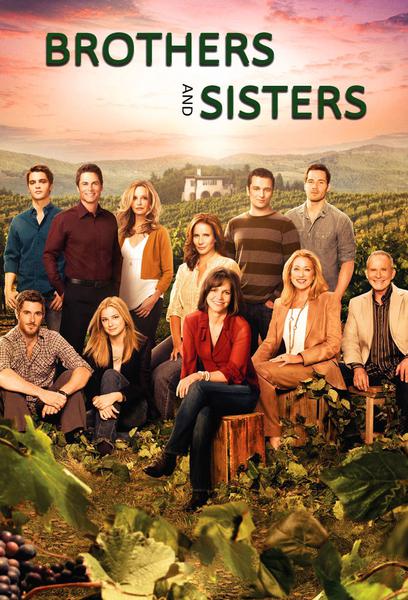 Trend
Worldwide
WW
Brothers & Sisters has a neutral trend. It has grown in demand by 0x in Worldwide in the Last 7 days.
In Genre Performance
Worldwide
WW
Brothers & Sisters ranks at the 0.00th percentile in the genre. This means Brothers & Sisters has higher demand than all other titles in Worldwide
About this title
Storyline
Mother Nora continues to be the glue that holds the dysfunctional Walker clan together as family members face a variety of challenges. Sarah finds new love with a mysterious Frenchman and learns to accept her father's longtime mistress, Holly Harper. Kevin has found his soul mate in chef Scotty Wandell, and the two are looking into expanding their family through surrogacy. Justin has dealt with his war trauma and started a new course, planning to marry Rebecca and attend medical school. Kitty and Robert work on holding their marriage together as they handle new parenthood in the wake of Robert's gubernatorial campaign. Saul tackles life as an openly gay man while looking after the newest member of the family, Ryan Lafferty. And Tommy has isolated himself from his family, fleeing to Mexico on a personal journey. Still, the loss of family patriarch William continues to affect their lives and decisions.
Plot Keywords
big family
death of father
family drama
Company Credits
Production Co: AfterPortsmouth Productions, Berlanti Television |  See more »
Cast
Paul Ganus
as Handsome Man
David Brisbin
as Senator Wade Newman
Bruno Oliver
as Lab Technician
Corey Mendell Parker
as Adam
Luke Grimes
as Ryan Lafferty
Toby Holguin
as The Bus Driver
Michael Gallagher
as Manager
Elena Campbell-Martinez
as The Housekeeper
Ned Vaughn
as Michael Gradstein
Shvona Lavette Chung
as Waitress
Pamela Dunlap
as Patricia Bower
Denis O'Hare
as Travis March
Cathy Ladman
as Carla Hanson
Tyrees Allen
as Dr. John Massey
Rob Zabrecky
as The Auctioneer
Tyler Posey
as Gabriel Whedon/Gabriel Traylor
Alejandro Cardenas
as Waiter
Nancy Linari
as Older Woman #1
Kaitlin Doubleday
as Chelsea Yeager
Sophina Brown
as Bitsy Fairbank
Camila Greenberg
as Sabrina
Kathryn Meisle
as Alice Webb
Andre Johnson
as Sheriff Angelo
Trieste Kelly Dunn
as Lori Lynn
Gina Fricchione
as Woman at Cemetery
Joseph O'Brien
as Wine Festival Attendee
Eric Christian Olsen
as Kyle DeWitt
Marin Hinkle
as Courtney McCallister
Cooper Thornton
as Felix Newsome
John Prosky
as Ron Robinson
Betty Buckley
as Iva March
Chip Sickler
as Cameraman #2
Charleigh Bryant-Stelly
as Pregnant Weiner family teen
Andrea Savo
as Snack Bar Cashier
Kendall Clement
as Supervisor
Andrea Grano
as Barbara Whitaker/Leanne Mitchell
Nigel Havers
as Roger Grant
Martin Morales
as Bartender
Adrian Quinonez
as Shot Stud
Marc Gruninger
as Office Worker
Patrick Pankhurst
as Panel Chairman
Ryan Devlin
as Seth Whitley
Tymberlee Hill
as Vanessa/Female Staffer
Dan Futterman
as Jonathan Sternfeld
Roxy Olin
as Michelle McGregor/Michelle McCormack/Michelle
Jaclyn Lyons
as Young Associate
Keri Lynn Pratt
as Amber Trachtenberg
Regina Saldivar
as Young Gabriela
Michael Durrell
as Judge Howard Chandler
Sônia Braga
as Gabriela Laurent
Rick Worthy
as Officer Collins
Steven Weber
as Graham Finch
Dierdre Holder
as Board Member #2
Tim Ransom
as Human Resources Representative
Joelle ten Damme
as Angela
Kennedy Barnett
as Student
Deidrie Henry
as Dr. Williams
Ron Canada
as Brigadier General Hendrix
Jim Jansen
as Governor Clay Adamson
S.E. Perry
as Winston/Board Member #3
Cristián de la Fuente
as Cal
Robert Foxworth
as Harry Packard
Ryan Michelle Bathe
as Noreen
Sarah Jane Morris
as Julia Walker/Julia March
Sarah Rafferty
as Gloria Pierson-Davenport
Colin Egglesfield
as Young William Walker
Jesse Henecke
as Chris Ward
Steve Dargan
as AA Meeting Participant
Hutchi Hancock
as Party Staffer
Jimmy 'Jax' Pinchak
as Teddy Traylor
Dave Monahan
as Brad Lepage
Christine Garver
as Young Nora
Clint Carmichael
as Ken Baker
Meredith Baxter
as Margaret Packard
Victoria Kelleher
as Helen/Zoe
Darwin Harris
as Security Guard #2
Tucker Albrizzi
as Kid Playinig Tybalt
Azmyth Kaminski
as Retreat Hippy
Lizzie Prestel
as Paralegal
Howard S. Miller
as Senior Partner
Jamison Jones
as Henry's Dad
Holly Harris
as Medical Student
Marika Dominczyk
as Tyler Altamirano
Deirdre Lovejoy
as Marissa Crandall
Jennifer Weston
as Nurse Jennifer Murphy
David Burke
as Jack Bishop
Kate Clark
as Arlow's Girl
Margot Kidder
as Emily Craft
Matthew Kimbrough
as Professor James Gray
Adam Jones
as Military Attorney
Allison Weintraub
as Alison
Kerris Dorsey
as Paige Whedon
Patty Yuniverse
as Female Barista
Rick L. Dean
as Bar Patron
Christina Chang
as Professor Jane Condon
Alan Mueting
as Charity Benifit Guest/Grocery Store Customer
Garrett Backstrom
as Andrew
Stephon Fuller
as Video Editor
David Paymer
as Donald Dudley
Emily Ricks Hahn
as Margaret Hartley
Kate Connor
as The Waitress
Steven Zales
as Kip Rogers
Kevin T. McCarthy
as Christmas Tree Man
Deborah Knox
as Loan Officer
Michael Nouri
as Milo Peterman
Michanne Quinney
as Secretary
Phill Lewis
as Dr. Peter Edwards
Terry Bozeman
as Board Member #1
Pedro Pascal
as Zach Wellison
Susan Pinckney
as Reporter
Brent Jennings
as Officer Dunnigan
Guillaume Dabinpons
as Pierre/Pierre Laurent
Michael Christian Alexander
as Cameraman #3
Christen Dugger
as Wedding Guest
Kay Panabaker
as Young Kitty Walker
Robert Pescovitz
as Rabbi Rothholtz
Jeanne Syquia
as College Girl
Tabitha Morella
as Pretty Girl
Nicki Micheaux
as Michele Yearwood
Darryl Alan Reed
as Dr. Bob Stanton
Luke Macfarlane
as Scotty Wandell
Michael Beach
as Noah Guare
Jim Gleason
as Walter Geary
Christopher J. Hanke
as Marcus
Max Burkholder
as Jack McCallister/Jake McCallister
Erik Alexander Gavica
as Drug Dealer
Matthew Settle
as Jonathan Sellers
Darcy Rose Byrnes
as Gwyneth
Michael Hyatt
as Dr. Katherine Cortez
John Clint Mabry
as Amputee Veteran
Calista Flockhart
as Kitty McCallister/Kitty Walker/Kitty March
Richard Doyle
as Benjamin Wright
Ryan Bailey
as Hotel Employee
Peter Gerety
as Dennis York
Preston Davis
as Boy #2/Guy
Gilles Marini
as Luc Laurent
Michelle Ongkingco
as Dawn McCarty
Shi Ne Nielson
as Spa Worker
John Pyper-Ferguson
as Joe Whedon/Jed Traylor
Chris Owen
as Taylor the Clerk
Perry King
as Curtis Jones
Leonard Wu
as Christopher Chao
Ned Bellamy
as Cutler Weeks
Chevy Chase
as Stan Harris
Caroline Rich
as Court Clerk
Danny Nero
as Wedding Guest
Jeremy Davidson
as Jack Randall
Anderson Goncalves
as Private John Jimpson
Barbara Allyne Bennet
as Female Customer
Shawn Michael Patrick
as Jordan Lisco
Luc Charbonnier
as Ben/Ben Tyler
Isabella Rae Thomas
as Olivia
Jake Broder
as Brian's Attorney
Renee Santos
as Tow Truck Dispatcher
Michael Kostroff
as Realtor
Traber Burns
as Judge Arthur Gray
Bradley White
as Minister Mike
Tom McGowan
as Luther Reeves
Jeanette Brox
as Claire Feller
Dane Garretson
as Potential Recruit
Treisa Gary
as Reporter #2
James Bannon
as Voice Actor
Michele Greene
as Governor Eve Kern
Laura Liguori
as Barista #2
Nick Wall
as Senator McCallister's Aid
Stephen Collins
as Charlie
Emily Rose
as Lena Branigan
Luise Heath
as Alexandra Troy
Caroline Lagerfelt
as Jane
Mark Ricks
as Evan McCallister
Emily VanCamp
as Rebecca Harper
Karl T. Wright
as Alan Simms
Will McCormack
as Ethan Tavis
Dave Annable
as Justin Walker/Justin March
Bobby Soto
as Mateo Paresa
D.W. Moffett
as Michael Pellington
Emily Chang
as Sexy Nurse Kel
Rachel Montez Minor
as L.A. Babe
Garry Marshall
as Major Jack Wiener
Matt Gallant
as The Reporter
Michael Canavan
as David Silver
James Bearb
as Banquet Guest
John Benjamin Hickey
as Major Guinness
Tyler Neitzel
as Young Aaron
Joe Morton
as Peter Madsen
Daniel Oshionebo
as Evan McCallister
Damon Dayoub
as Firefighter
Paul Cassell
as Gary Morris
Barbara Eve Harris
as Carla Brown
Alexander Agate
as Josh Wong-Bates
Adam Trahan
as Young Brody
Burl Moseley
as Campaign Manager
Elaine Kagan
as Judge Driscoll
Ryan Eggold
as Randy Stewart
Robert Kazinsky
as Dr. Rick Appleton
Alex Parlar
as Dr. Eli Weisenberg
Jay Huguley
as Whit Peyton
Scott Michael Campbell
as Young Dennis York
Nicholas Gonzalez
as Mario
Treat Williams
as David Morton
Michael O'Keefe
as Wally Wandell
Ruben Garfias
as Henry Martinez
Rachel Griffiths
as Sarah Walker/Sarah Whedon/Nora Traylor
Michael B. Silver
as Stu Orenbacher
Jessica Parker Kennedy
as Angie
Jozef Fahey
as Cleaver teen
Cotter Smith
as Gordon Alexander
Kathe Mazur
as Ann Waterman
Allan Yates
as Guy with Beard
Richard Chamberlain
as Jonathan Byrold
Jerry Lambert
as Officer Phipps
Cloie Wyatt Taylor
as Vicki
Amy Aquino
as Dr. Joan Avadon
Jayne Brook
as Bertha Wandell
Nasser Faris
as Dr. Bernard Kruger
Andres Arellano
as Michel/Michel Laurent
Brandi Burkhardt
as Kevin's Wife/Waitress
John Berg
as University President
Duffy Dibley
as Doug Jones
Benjamin Patterson
as Masseur
Janet Carroll
as Sloane Dodelson
Paula Rhodes
as B-Movie Victim/Miss Mitchell
Douglas Spain
as Brian Garcia
Subhash Mandal
as Cab Driver
Stella Stahl
as Senator's Aide
Patricia Martínez
as Spring Break Girl
Hugh B. Holub
as The Judge
Joseph Julian Soria
as Garret Perez
David Clayton Rogers
as Jon Lewis
Tamara Gorski
as Yvonne Kalo
Diane Kim
as Female Hotel Guest
Tai Urban
as Orphan at Fair
Skylar T. Adams
as Second Male Soldier
Cody Longo
as Young Tommy Walker
Olivia Presley
as Bar Patron
Matt Letscher
as Alec Tyler
David Carmon
as Classmate #1
Anne Betancourt
as Mrs. Alarcon
Sky Soleil
as Officer Monroe
Geoffrey Wade
as Board Member #3
Wylie Small
as Connie Robinson
Joe O'Connor
as Harvey Childs
Rob Lowe
as Robert McCallister
Christian Keyes
as Bouncer
Marie Michel
as Desk Attendant/Mona
Susan Sullivan
as Miranda Jones
Susan Chuang
as Dr. Debra Cho
Thomas Kopache
as Berkeley Goldschmidt
Josh Hopkins
as Warren Salter
Marguerite Moreau
as Ginny Lawford
Kasey Campbell
as Young Kevin Walker
Barry Ratcliffe
as Auctioneer
Stephanie Lemelin
as Berklee Makowska
Boo Arnold
as Male Hotel Guest
Christine Avila
as Anita Lewis
Jacqueline Wang
as Ballet Student
Elina Madison
as Stephanie Jones-Reed
Martha Boles
as Melanie Cox
John Terry
as Dr. Karl West
Cassius M. Willis
as Secret Service Agent
Dylan Larsen
as Young Justin Walker
Christopher Allport
as Governor Michael Bryant
Michael Edwin
as McCallister Employee #1
Judith Moreland
as Dr. Kate Allenby
Karl Christian
as Marvin Kruger
Trease Baker
as Elizabeth Walker
Tom Virtue
as Dr. Bob Feldman
Jeanette O'Connor
as Shirley
Brennan Bailey
as Boy/Sean
Jacob Diamond
as Restaurant Patron
Emilio Rivera
as The Sponsor
Phillip Sanchez
as Mr. McCallister
Irene White
as The Staff Member
Arlene Martel
as Elegant Grandmother
Tom Skerritt
as William Walker/William March
Dileep Rao
as Arlo Natterson
Viola Davis
as Ellen Snyder
Shaun Russell
as Security Guard #1
Cheryl Francis Harrington
as Dr. Ruth Gibson
Jordan Baker
as Dr. Sara Toni
Joel Grey
as Dr. Jude Bar-Shalom
Juan Carlos Cantu
as Diner's Owner
J. Grant Albrecht
as Joe Corvus
Julia Vera
as Mateo's Abuela
Ramon De Ocampo
as Spencer Travis
Danny Glover
as Isaac Marshall
Cheryl Hines
as Buffy McCreary
Anna Wood
as Young Sarah Walker
Cantrell Harris
as Michael
Naz Deravian
as Dr. Colleen Singh
Maxwell Perry Cotton
as Cooper Whedon
Anita Finlay
as Judge Marsha Forrrest
Tammi Cubilette
as Waiter #2
Lawrence A. Mandley
as Sgt. Herrell
Matthew Rhys
as Kevin Walker
Justine Dorsey
as Sophie McCallister
Ben Ciaramello
as Anthony Lewis
Jared A. Robinson
as Lion's Right Fielder
Philippe Badreau
as French Family Member
Kim Delgado
as Businessman
Romy Rosemont
as The Counselor
Megan Follows
as Maggie Stephens
Pamela Shaddock
as Board Member #1/Board Member #2
Paul Keeley
as James Friedman
Robert Michael Morris
as Lawrence Magill
Balthazar Getty
as Tommy Walker/Tommy March
Stana Katic
as Karen Wells
Stefan Marks
as Photographer
Holly Walker
as Judge's Assistant
Carole Gutierrez
as B&B Owner
Kristina Lear
as Dr. Pat Michaels
Alyssa Bartholomew
as Waitress
Diego Villarreal Garcia
as Shawn
Mitch Pileggi
as Browne Carter
Shelley Robertson
as Lynda/Journalist
Beth Kennedy
as Dr. Flackett
Peter Coyote
as Mark August
Chaim Jeraffi
as Retreat Guest
Délé Ogundiran
as Waitress
Topher Brattain
as Theater Patron #1
Adrian N. Roberts
as State Trooper
Dee Freeman
as Kate Lawson
Michael Shannon
as Tom Burgess
Sonya Leslie
as Private 1st Class Mandeville
Alice Evans
as Dr. Evans/Dr. Felicity Milton
Regis Philbin
as Regis Philbin
Sally Field
as Nora Walker
M.J. Karmi
as Cynthia Carter
Deprise Brescia
as Shot Babe
Jake Morgan
as Airport Passenger
Chris Flanders
as Steve/Reporter
Hilary Ward
as Theater Patron #2
Mark Roman
as Wedding Guest
Julien Michel
as Jean Claude Laurent/Jean-Claude Laurent
Bryan Krasner
as Roger Jones
Scott Klace
as Kent Barnes
Annie McKnight
as Mail Woman
Kathleen M. Darcy
as Loan Officer
Justin Alvarez
as Bartender
Malcolm Foster Smith
as Police Officer
Michael Adler
as Doug Manning
Kathryn Zenna
as Cousin Catherine
Jon Tenney
as Dr. Simon Craig
Matt O'Neill
as Coffee Shop Patron
Maia Danziger
as ER Nurse/Board Member #1
Susan Carol Davis
as Dance Teacher
Ed Moy
as Chinese Businessman/Lao Associate
Eamonn Roche
as Neil Burke
Elayn J. Taylor
as Mrs. Goldberg
Danny Parker-Lopes
as Delivery Guy
John Aylward
as Joe Rawling
Taylor Saracho
as Sexy teen
Gayla Johnson
as Janet/Secretary
John Rubinstein
as Dr. Marc Wilson
Robert Maffia
as Policeman
Sophia Rachel Garcia
as Nicole
Chris Sheffield
as Young Brody
Jack Sydow
as Old Professor
John Glover
as Henry Mittner
Susan Grace
as Nurse Andrea Osborn
Beau Bridges
as Nick Brody
Gage Golightly
as Paige Traylor
Dustin Cyril Robles
as Man
Jesse D. Goins
as Andrew Karas
Eric Pierpoint
as Stanley Hancock
Preston Strother
as Narrator
Cristine Rose
as Dean Danielle Whitley
Spencer Barth
as Elizabeth Walker
Zachary Stockdale
as Male Soldier
James Hornbeck
as Harry Dodelson
Crista Flanagan
as Stacy Hodges
Marley Barth
as Elizabeth Walker
Alfred De Contreras
as Mateo's Dad
Andy Mackenzie
as Flatline Jack
Patricia Wettig
as Holly Harper
Carol Kiernan
as Cousin Margaret
Cecelia Antoinette
as Nurse
Jean St. James
as Mrs. Powell
Leah Ford
as 19 Year Old Nora/Young nora
Peter Horton
as Warren Salter
Patrick St. Esprit
as Bill Stanton
Robbie Amell
as Young William
Pat Destro
as Bonnie Hancock
Steven Anderson
as Officiant
Toni Torres
as Female Soldier
Bill Smitrovich
as Ben Ridge
David Purdham
as Barry Henderson
Dan Watkins
as Patrick Shuman
Eric Winter
as Jason McCallister
David Andrews
as George Lafferty
Carmen Corral
as Maggie Lewis
Emil Beheshti
as Aide Waisman/Male Staffer
David Denman
as Brent Lewinsky
Adria Johnson
as Aide/Female Aide
Keith Carr
as Van's Friend
Christopher Thornton
as Aaron
Michael Gross
as Edward LeMonde
David Oshionebo
as Evan McCallister
Zeberiah Newman
as Steve Cohen
Susan Blakely
as Celia Calmartin
Maura Soden
as Dr. Barbara Riley
Debra Monk
as Alexandra Kirby
Alexandra Staden
as Juliet
Todd Bouldin
as Adoption Fair Parent
Darren Pettie
as Daniel Cole
Jenna Elfman
as Lizzie Jones-Baker
Phil Abrams
as Harold Wallace
Ryan Hellquist
as Keg Stand Dude
Jonathan LaPaglia
as Bryan March
David E. Brown
as Senators Staff Member
Greta Sesheta
as Store Clerk
Hugh Capron
as Young Student
Diva Zappa
as Classmate #2
Dana Snyder
as Office Worker
Seasons & Episodes
Season 1
2006 | 23 Episodes
Season 2
2007 | 16 Episodes
Season 3
2008 | 24 Episodes
Season 4
2009 | 24 Episodes
Season 5
2010 | 22 Episodes
Awards
Australian Film Institute 2007
Nominee
Australian Film Institute
Best Actress
Banff Television Festival 2007
Nominee
Banff Television Festival
Best Continuing Series