Demand Insights
> Last 7 days
Demand Rank
Worldwide
WW
#
October 20, 2021
WW
Daily Demand (Last 7 days)
Travelability
Global Travelability indicates how well a title performs internationally relative to its home market
Bob's Burgers's
home country is:

United States
Demand Score
Worldwide
WW
Average Demand for Bob's Burgers is 0.0 times the demand for the average show in Worldwide in the Last 7 days.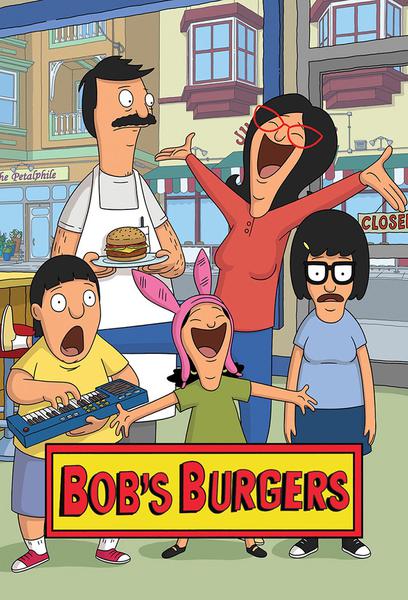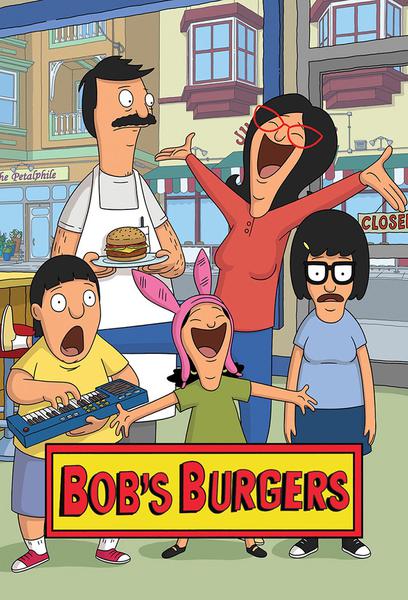 Trend
Worldwide
WW
Bob's Burgers has a neutral trend. It has grown in demand by 0x in Worldwide in the Last 7 days.
In Genre Performance
Worldwide
WW
Bob's Burgers ranks at the 0.00th percentile in the genre. This means Bob's Burgers has higher demand than all other titles in Worldwide
About this title
Storyline
Bob Belcher is a third-generation restaurateur who runs Bob's Burgers with his loving wife and their three children. Bob believes his burgers speak for themselves and isn't afraid to offer a variety of off-beat creations. Bob's wife, Linda, supports his dream but is becoming sick of the slow times, as the restaurant is constantly in danger of going out of business. Despite the challenges, which includes consistent harassment from Linda's ex -- a health inspector -- Bob tries to keep the grill sizzling.
Plot Keywords
puberty
sibling relationship
new jersey
restaurant
Company Credits
Production Co: Bento Box Entertainment, Wilo Productions |  See more »
Cast
Nicole Byer
as Drunk Lounge Lady/Martha
Robert Ben Garant
as Critter/Mitchell/Torpedo
Andrés du Bouchet
as Randolph/Sazerac
Tim Heidecker
as Burt Dellalucci/Dakota/Kevin/Laser Tag Owner
Eugene Mirman
as Gene Belcher/Birdman Gene/Dean/Eugenia Chatter-Teeth/Gene from the House of the Unfarting/Jo-Gene/Mizuchi
Keisuke Hoashi
as Danny/Kojima/Mr. Kim/Shinjin Kojima
Michael Showalter
as Ethan
John Michael Higgins
as Doug/Glencrest President/Mr. Perkins/RV Guy
Nick Offerman
as Clem/Cooper/Pete
Rob Huebel
as Doctor/Graham/Newton/Park Ranger/Producer/Ralph/Steve/The Deuce/The Prince/Vance/Zach
Scott Jacobson
as Paul Blinkman
Keegan-Michael Key
as Todd/Band Member #2/Bartender/Beefersutherland/Cory/Darnell/Dr. Juarez
Rich Fulcher
as Emcee/Professor Wallace/Stacy
Jerry Minor
as Officer Julia
Drew Droege
as Adrian/Deirdre/Donovan
Melissa Bardin Galsky
as Ms. Jacobson/Miss Jacobson/Julie/Charlotte/257 Girl/Beatrice/Board Member #3/Candace/Candle Shop Owner/Charlene/Customer/Director/Florist/Hostess/Jules/Kelly/Lady Lookie-Loo/Librarian/Little Girl/Mara/Millennial #2/Mother/Nora Samuels/Receptionist
Julie Klausner
as Tammy's Mom
Gabrielle Sanalitro
as Isabella
Declyn Thornton
as Little League Player #1
Robert Smigel
as Security Guard/Night Security Guard/Yuli
Larry Murphy
as Teddy/Edith/Gretchen/Coach Blevins/Griffin/Bouncer/Chicago Cop/Customer #1/Delivery Guy/Edith Cranwinkle/Gus/Hildy/Lenny/Science Teacher/Security Guard/Admiral Peter Wilcox/Alex's Dad/Andrew/Arthur/Asch/Audience Member/Biker/Board Member #1/Boatman/Choo-Choo's Father/Clerk/Colleen Caviello/Cook/Cop #1/Customer/Customer #2/Customer Service Rep/Daughter/Dealer/Derek/Dismembered Actor/Dmitri/Doctor/Elderly Patron #1/Farmer/Grand Marshall/Guy on Radio/Hiker 2/Home Eccy/Hotel Desk Manager/Hotel Manager/Javed Fazel/Joe/Judge/Juggler #2/Kabob Customer/Krissy's Dad/Laser Tag Announcer/Lenny DeStefano/Lifeguard/Mailman/Male Cyclist #2/Male Cyclist #4/Man/Man #2/Man in Line/Moderator/Mushroom Stall Guy/Neighbor #2/Old Man/One-Eyed Snakes Leader/Petting Zoo Man/Pocket-Sized Rudy/Quinceañera DJ/Radio DJ/Ranger/Robert/Robotics Guy/Russell/Scott Baggs/Skater/St. Paddy's Guy/Stilts Guy/Teacher/Teddy's Doctor/Theodore the Blacksmith/Ticket Seller/Timmy/Topsy/Tyler's Friend/Upstairs Gentleman/Vance/Waiter/White Talkers/Widow/Woman #1
Lucy Davis
as Princess Paula McCartney
Greg Hollimon
as Well-Dressed Man
Kristen Schaal
as Louise Belcher/Alien Baby #2/Charlize/Female Cyclist #1/Knight Louise/Lou Belchera/Louisa Chatter-Teeth
Jordan Peele
as Fanny/Band Member #1/Don/Horace/Hotel Security Guard/Max/Salesman/Sandy
Peter Serafinowicz
as Scottjon Dansteve
Eric Wareheim
as Phil Finnegan
Tymberlee Hill
as Ms. Twitchell
Tiffany Haddish
as Patricia
Jessica Lowe
as Dahlia/Elf/Skye
Brendon Small
as Animal Control Guy
Judah Friedlander
as Ferdie
Maria Bamford
as Catherine/Kendra
Jon Glaser
as Jairo/Service Agent/Tape
Todrick Hall
as Miss Triple X-Mas
Aparna Nancherla
as Susmita
Tom Kenny
as Box Puppet/Guy/Paramedic #1
Sarah Baker
as Ms. Selbo/Rena/Bethany/Jacob/Woman in Chair
Andre Royo
as Andre Royo/Marcus
David Herman
as Mr. Frond/Trev/Mr. Branca/Marshmallow/Announcer/Tammy's Dad/Clerk/Customer/Ernie/Host/Ranger Matthew Dainko/Salesman/8th Grade Boy/Angel/Astronaut/August/Automated Greeting Guy/Bartender/Basketball Player/Beard Guy/Blood Bank Guy/Board Member #2/Campus Cop/Captain Davis/Carine/Charac/Chris/Clay/Clyde/Coach/DJ/Dancer/Director/Dog Walker/Dude/Duval/Eddie 'Tude/Eric/Ethel/Farmer Keith/Foreman/Frond's Mom/Front Desk Clerk/Garbageman/Glencrest Worker/Gum Boy/Harley's Dad/Herbert/Herbie/Highway Patrol Officer/Hot Cousin Dave/Jamie/Joel/Kabob Customer/Kevin/Kid #2/Kyle/Laundrynado/Limo/Logan's Friend/Male Cyclist #1/Man in Dress Shirt/Manny/Marco/Marshall/Martin/Michael/Michel Du Rocher/Mr. Branco/Narrator/Neighbor #1/Neil/Norman/Officiant/Oscar/Oscar Anthony/Patty's Dad/Pet Shop Guy/Photographer/Police Chief/Pony Danza/Re-enactor/Referee/Restaurant Guy/Rink Manager/Rocker/Rodney/Santa Doll/Scott Baggs/Scott Bakula/Security Guard/Security Guy/Sheilla/Soldier/Sorting Clerk/St. Paddy's Guy #2/Taxi Driver/Theater Employee/Thunderful Badge/Troop Leader/Tyler/Tyler's Father/Usher/Video Game Character/Waiter/Waiter #2/Walkie Talkie Voice/Walter/Wedding Guest
Oscar Nuñez
as Cha-Cha/Pepe
Dan Mintz
as Tina Belcher/Dodomeki/Mona/Page/Stage Girl/Tina Chatter-Teeth/Tina's Grandson
Patton Oswalt
as Moody Foodie
Bill Hader
as Mickey/Big Bob Belcher
Megan Mullally
as Gayle/Beverly/Jill/Tabitha Johansson
Craig Anton
as Mr. Dowling/Bank Manager
Thomas Lennon
as Chuck/Customer/Jason/Kenny
Brooke Dillman
as Alex's Mom/Alice/Booth Lady/Brake Pads/Brenda/Bus Driver/Cheryl/Claire/Customer Service Woman/Delilah/Donna/Doris/Dot/Elaine/Emily/Female Cyclist/Ginny/Girlfriend/Goldie/Heather/Hiker 1/Jamie Lee Curtis/Janet/Josie/Kayak Rental Lady/Lady Judge/Laverne/Leg Waxer/Madeline Greenberg/Meatcute/Mom/Ms. Morris/Old Lady/Passerby/Salesperson/Shelly/Stacy/Tour Guide/Trish
Katie Crown
as Harley/Abby/Dip Game/Dispatch
Samantha Shelton
as Amanda/Angela/Cougardoodle/Misty Gish/Susan
Gary Anthony Williams
as Judge Conklin/Plant Manager
Michael Cyril Creighton
as Spencer
Phil LaMarr
as Franklin/Jeremy
Kurt Braunohler
as Logan/Dominic/DJ/Doctor/Sunpuddle/Tom/Turd/Vagrant/Waiter
Samantha Bee
as Nurse Liz/Pam
Jeffrey Tambor
as Captain Flarty
Doug Benson
as Dave/Stoner Guy
H. Jon Benjamin
as Bob Belcher/Jimmy Jr./Speedo Guy/Ms. LaBonz/Peter Pescadero/Jimmy Pesto Jr./Jeremy/Miss LaBonz/Parrot/Alien Baby #3/Aunt Frida/Bad Kuchikopi/Bakeneko/Banjo/Big Bob Belcher/Biker/Bob as Popcorn/Bobdor/Boy/Burgerboss/Cab Driver/Candy/Child/Civil War Re-enactor/Cop #2/Debbie/Drunkard/Dude #1/Dude #2/Ed Samuels/Farmer/Firefighter/Fletcher/Girl/Girl #1/Godfrey/Good Kuchikopi/Gus/Hell Jail Cafeteria Lady/Jim Skillman/Jimmy Junior/Juggler #1/Julianne/Justin/Kevin/Large Tommy/Little Boy Bandit/Little League Player #3/Lord Jimmy Jr./Marco/Matt/Miss Labonz/Miss Schraeder/Ms Labonz/Ms. LaBonz Collins/Ms. Labonz/Nick/Old Lady/Pedicab Passenger/Petting Zoo Woman/Pocket Sized Rudy/Postal Clerk/Sam/Sandra/Scooper/Scott/Sidecar/Sir Bob Belcher/Student #2/Tom Selleck/Umpire/Warden/Xander
Michael Madsen
as Kevin Costner
Mark Proksch
as Mr. Dinkler
Natasha Rothwell
as Firefighter
John Gemberling
as Nicholas
Kevin Kline
as Mr. Fischoeder
Will Forte
as Mr. Grant/Kurt
Adam Driver
as Art the Artist
Joe Lo Truglio
as Bryce/Carl/Don/Kiosk Guy/Lionel/Noah/Scab
Andy Kindler
as Mort/Mort's Mother/Customer #2/Elderly Patron #2/The Mort-tain
Paul F. Tompkins
as Randy/Bronconius/Deputy Mayor Cunningham/Herman/Man on Barge Ship/Marilyn/Pierre
Gabe Liedman
as Douglas/Robin
Laura Silverman
as Andy/Mother/Animal Control Girl #1/Ashley/Customer #2/Dillon/Female Customer/Girl/Girl #3/Guitar Player/Nurse/Ollie/Stage Manager/Student
Jason Mantzoukas
as Mr. Manoogian
Daveed Diggs
as Douglas/Jesse
Ron Lynch
as Ron/Funtime Exec
Pamela Adlon
as Olsen Benner/Customer #1/Female Patron/Kristi/Rose/Superintendent Douglas/Teenage Girl #1/Teenage Girls/Yoga Instructor
Gary Cole
as Sergeant Bosco/Bosco
Jack McBrayer
as Marbles/Kevin/Squeeze Ball/Trip
Jenny Slate
as Tammy/8th Grade Girl/Becca/Bernadette/Customer #2/Girl/Kid #3/Opera Girl/Rosa/Saleswoman/Sally/Student
Ron Funches
as Horseplay/Patrick/Tim
Nathan Fielder
as Jordan/Nathan
Cyndi Lauper
as Performer ('Taffy Butt')
Lindsey Stoddart
as Cynthia/Angie/Barbara Bunkley/Crossing Guard/Dolores/Gina/Jazzercize Instructor/Jennifer/Kathy/Lindsay Lohan/Mandy/RV Lady/Ramone/Shelby
Rory O'Malley
as Chad/Kevin/Man Diner 3
Kulap Vilaysack
as Farrah/Rupa
Suzy Nakamura
as Yuki/Yuki Kojima
Sam Seder
as Hugo/Harold/Al/Officer Cliffany/Harold Cranwinkle/Huge/Hugo Habercore/Nathaniel/Officiant/Security Guard Two
Nicolette Robinson
as Destiny
Paige King
as Customer #2/Woman Diner 2
Carly Simon
as Carly Simon
Todd Barry
as Checker/Hummer Guy/Joel/Moolisa/Waiter
Jennifer Smedley
as Other Jennifer
Wendy Molyneux
as Jen/Barbara's Friend/Customer/Dental Hygienist/Dorothy Receptionist/Dottie Minerva/Karen/Lady in a Big Hat
Stephanie Beatriz
as Chloe Barbash/Alien Baby/Julia/Pam/Señora Balthazar
Hannibal Buress
as Hefty Jeff
Jim Gaffigan
as Henry Haber
Henry Winkler
as Mall Santa
Rachel Dratch
as Jodi/Abby/Bethany/Christy/Girl
Jonathan Slavin
as Shoe Salesman
Johnny Pemberton
as Dr. Eigerman
Jon Daly
as Sasha/Dom Lippo
Kumail Nanjiani
as Skip/Skip Marooch
Jaime Moyer
as April/Colleen
Fred Stoller
as Sal/Sex Shop Owner
Chris Parnell
as Warren Fitzgerald
Brian Huskey
as Regular Sized Rudy/Rudy/Customer/Ms. Merkin/Rudy's Father/Adam/Clerk/Customer #1/Danny/Lawyer/Man/Mourner/Mr. Platt/Nitcracker/Parent/Phil/Robot/Sylvester/Terry
Jonathan Katz
as Dean Dixon
George Wallace
as Mr. Huggins
Eugene Cordero
as Brian/Sawyer D.
Billy Eichner
as Mr. Ambrose
Zach Galifianakis
as Felix/Chet
Paul Rust
as Jonas/Fetal Pig/Milo
Lauren Lapkus
as Krissy/Krissy's Mom
Sarah Silverman
as Ollie/Ms. Schnur/Animal Control Girl #2/Carly/Devin/Lead Singer/Maid/Meredith/Student #1
Ken Marino
as Agent Flanley/Becket/Jack Conway
Jackie Kashian
as Jailbird
Bobcat Goldthwait
as Dino/Gary
Jessica St. Clair
as Joanne/Nancy
Betsy Sodaro
as Patty/Jackie
Stephanie Allynne
as Susan
John Roberts
as Linda Belcher/Jocelyn/Jocelyn's Mom/Akkoro Kumui/Barfing Fan/Becky/Beefsquatch Fan/Brenda/Customer #2/Dad with Toddler/Denise/Franchesca/Girl/Guard/Hippie/Horse/Insane Man/Jacqueline/Jennifer/Katie/Kevin's Mother/Lady Linda/Lindaryen/Lindette/Male Cyclist #3/Man #1/Parrot/Party Goer/Pineapple/Robber/Rosetta Free/Squire/Tameka/Teenage Girl #2/Tim/Vanessa/Waiter
Timothy Simons
as TSA Agent
Bridget Everett
as Officer Bridget
Tim Meadows
as Mike/Mike the Mailman/Leaser
Beth Dover
as Annie/Caitlin
Steve Buscemi
as Tom Innocenti
Daniel Van Kirk
as Flips Whitefudge
Natalie Palamides
as Kayla/Willow
Tig Notaro
as Jody/Officer Large
Lennon Parham
as Janine/Marsha
Thomas Middleditch
as Alex
Holly Schlesinger
as Barbara/Kathy
Wendi McLendon-Covey
as Mudflap
Lance Barber
as Justgrillin'
Nick Kroll
as Customer/Mr. Desanto
David Wain
as Courtney/Grover
Jay Johnston
as Jimmy Pesto/Foodie
Meredith Hagner
as Madison
Kerri Kenney
as Allison/Amy/Esther/Judy/Paramedic #2
John Early
as Dalton Crespin
Andrew Daly
as Auctioneer/Blake/Manager/Q.R. Dunlop/Ranger Carl/Ray/Samuel
Damon Wayans Jr.
as Arnold
Dana Snyder
as Pud/Sheldon
Seasons & Episodes
Season 1
2011 | 13 Episodes
Season 2
2012 | 9 Episodes
Season 3
2012 | 23 Episodes
Season 4
2013 | 22 Episodes
Season 5
2014 | 21 Episodes
Season 6
2015 | 19 Episodes
Season 7
2016 | 22 Episodes
Season 8
2017 | 20 Episodes
Season 9
2018 | 22 Episodes
Season 10
2019 | 22 Episodes
Season 11
2020 | 22 Episodes
Season 12
2021 | 2 Episodes
Season 13
2022 | 1 Episodes
Awards
Teen Choice Awards 2011
Nominee
Teen Choice Awards
Choice TV: Animated Show
Critics Choice Television Awards 2012
Nominee
Critics Choice Television Awards
Best Animated Series