Demand Insights
> Last 7 days
Demand Rank
Worldwide
WW
#
October 24, 2021
WW
Daily Demand (Last 7 days)
Travelability
Global Travelability indicates how well a title performs internationally relative to its home market
Altered Carbon's
home country is:

United States
Demand Score
Worldwide
WW
Average Demand for Altered Carbon is 0.0 times the demand for the average show in Worldwide in the Last 7 days.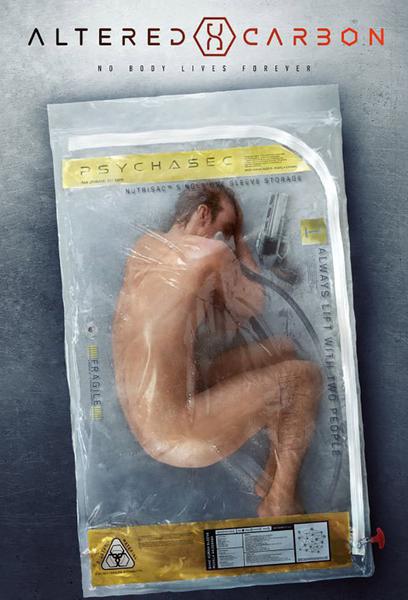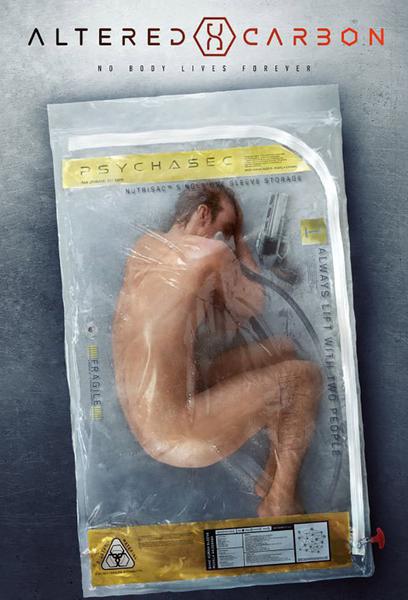 Trend
Worldwide
WW
Altered Carbon has a neutral trend. It has grown in demand by 0x in Worldwide in the Last 7 days.
In Genre Performance
Worldwide
WW
Altered Carbon ranks at the 0.00th percentile in the genre. This means Altered Carbon has higher demand than all other titles in Worldwide
About this title
Storyline
ALTERED CARBON is set in a future where consciousness is digitized and stored in cortical stacks implanted in the spine, allowing humans to survive physical death by having their memories and consciousness "re-sleeved" into new bodies. The story follows specially trained "Envoy" soldier Takeshi Kovacs, who is downloaded from an off-world prison and into a combat ready sleeve at the behest of Laurens Bancroft, a highly influential aristocrat. Bancroft was killed, and the last automatic backup of his stack was made hours before his death, leaving him with no memory of who killed him and why. While police ruled it a suicide, Bancroft is convinced he was murdered and wants Kovacs to find out the truth.
Country: United States
Type: Scripted
Status: Canceled
Language: English
Release Date: April 10, 2017
Also Known As: オルタード・カーボン, Degistirilmis Karbon |  See more »
Parents Guide: Australia (MA15+), Brazil (18) |  See more »
Plot Keywords
virtual reality
yakuza
investigation
biotechnology
Company Credits
Production Co: Mythology Entertainment, Skydance Television
Cast
Chelsea Mainwaring
as Envoy
Nickolas Baric
as Kadmin's Man 1
Guy Christie
as Enraged Person #2
Linley Subryan
as Grounder/Grounder Patient
Muhumuza Mushega
as African Male/Dimi African Male Sleeve
Orphée Ladouceur-Nguyen
as Morgaine/Wedge
Alison Araya
as Female Investigator
Charles Zuckermann
as Control Tech
Vanessa Richards
as Enraged Person #5
Torben Liebrecht
as Colonel Ivan Carrera
David Will No
as Male Fighter
Jason Schombing
as Detective Ray Lorcan
Franckie Francois
as Bounty Hunter
Kristi Taylor
as Miriam Clone #3
Bruce Blain
as Re-Sleeve Guard
Kwasi Thomas
as Meditech 2
Alika Autran
as Okulov/Okoluv
Antonio Marziale
as Isaac Bancroft
Mike McLeod
as Tech/Tech (Wedge Barracks)
Jim Eliason
as Police Officer (with Mohawk)
Edward Dalmas
as Meth Client
Andre Tricoteux
as The Mongol
Nicholas Dohy
as Bounty Hunter
Shawn Clark
as Kemp Soldier
John Emmet Tracy
as Warden Sullivan
Trevor Roberts
as CTAC Intel Officer
Sonia Beeksma
as Newscaster
Victor Zinck Jr.
as Anton Durov
Alan Mak
as Needlecast Tech #1
Lela Loren
as Danica Harlan
Cliff Chamberlain
as Ava Elliot
Jessica Garcie
as Mother at Stronghold
Jason Cermak
as VR Tech #1
Wolfgang Klassen
as Security Office Guard
Riley Lai Nelet
as Young Reileen
Christian Sloan
as Vincente Giraud
Darien Martin
as Male Synth
Chris McNally
as Sergei Brevlov
Lisa Chandler
as Mary Lou Henchy
Shane Kim
as Praetorian #1
Juana Lerma Juarez
as Xalbador's Wife
Alessandro Juliani
as Jack Soul Brasil
Genn Love
as Man of Mandrake
Hugo Raymundo
as Latino Guy
Philip Cabrita
as Enraged Person #3
Mitra Suri
as Simone/Wedge
Heather Doerksen
as Captain Veutin
Michelle Clarke-Brown
as Enraged Person #4
Juliana Lopez Collado
as Needlecast Folk
Dichen Lachman
as Reileen Kawahara
Tamiko Brownlee
as Bar Patron #18/Rebel #2
Leonie Bennett
as Sexy Synth Girl
Hannah Rose May
as Synth Woman
Alex Rockhill
as Dimi Latino Male Sleeve
Bailey Corneal
as Scratcher #2
Alyson Bath
as Woman Speaking Hologram
John Specogna
as Precinct Detective
Hyuma Frankowski
as Uniform Officer
Victoria Katongo
as Female Synth #1
Mauri Bernstein
as Wei Receptionist
Marlene Forte
as Alazne Ortega
Nalani Wakita
as Advert Spokeswoman #2
Enrique Dante Miles Lopez
as Xalbador Kid #2
Kareem Tristan Alleyne
as Anil Imani
Neal McDonough
as Konrad Harlan
Michael Shanks
as Horace Axley
Carl Lumbly
as Lukas Imani
Kat Pasion
as 'B' Side Synth
Anthony Mackie
as Takeshi Kovacs
Hesham Hammoud
as Officer #2
Eddie Flake
as Officer Davis/Uniform Cop
Toby Levins
as Pervy Guard/Pervy Guard (HITC)
David Lewis
as Director Nyman
James Purefoy
as Laurens Bancroft
Ian Hawes
as Mandrake Guard
Craig Haas
as Renouncer Halo
Sen Mitsuji
as Tanaseda Yukito
James Saito
as Tanaseda Hideki
Shawn Bordoff
as Enraged Person #9
Troy Rudolph
as Re-Meet Dad
Mike Wasko
as Mandrake Manager
Lorna Joan Barrie
as Escort
Darren Dolynski
as Male Investigator
Rob Hayter
as Corridor Guard
Yuvraj Kalsi
as Boy at Stronghold #1
Sean Millington
as Praetorian Guard
Justin Fortier
as Enraged Person #1
Francisco Trujillo
as Xalbador
Ray G. Thunderchild
as Customer
Anna Van Hooft
as Clarissa Severin
Stephanie Cleough
as Anemone
Daniel Bernhardt
as Jaeger
Heather-Claire Nortey
as VR Tech #2
Peter Woodward
as Pleasure Concierge
Tina Grant
as Overextended Mom
Fraser Aitcheson
as Praetorian/Gene Freak Rhino Man/Rhino Man
Dario de Iaco
as Neanderthal/Gene Freak Neanderthal
Melanie Chan
as Dimi Asian Woman Sleeve
Waleed Zuaiter
as Samir Abboud
Cecilia Deacon
as Cartel Meth #2
Winson Won
as Officer Levine
Joel Montgrand
as Meditech 3
Praise Vaughn
as Alaina Marriot
Bree Woodill
as Woman Meth
Alexander Lowe
as Gatekeeper
Michelle Lee
as Female Fighter
Kristin Lehman
as Miriam Bancroft
Marcus Aurelio
as Latino Guy
Sarah Porscheta
as Poe Woman
Aaron Collett
as Advert Spokesman #1
Jackie Blackmore
as Needlecast Agent #2
Dalias Blake
as Batu/Wedge
Adam Thomas
as Hazmat Tech #1
Hayley Law
as Lizzie Elliot
Bradley Stryker
as Shifty Man
Teach Grant
as Jimmy DeSoto
Naomi Simpson
as Enraged Person #11
Renée Elise Goldsberry
as Quellcrist Falconer
Celeste White Steele
as Fell Station Detective
Yukari Komatsu
as Mother Kovacs
Nia Cummins
as A.I. Directory
Kindall Charters
as Miner #1
Michael Meneer
as Newscaster #2
Michael Adamthwaite
as Father Kovacs
Nigel Brighton
as Man in Black
Jorge Vargas
as Scratcher #1
Kat Ruston
as Disheveled Synth
Simon Chin
as Alcatraz Guard
Kevan Ohtsji
as Haruki Okada
Sean Kohnke
as Kadmin's Man 2
Glynis Davies
as Old Junkie Woman
Brittany Mitchell
as Female Synth #2
Scott Corban Sikma
as Bartender
Tamara Taylor
as Oumou Prescott
Jay Cardinal Villeneuve
as Spirit Saver Demonstrator 2
Hiro Kanagawa
as Captain Tanaka
Chris Loubardeas
as Enraged Person #10
Jason William Day
as Praetorian #1
Ely Jackson
as Hazmat Tech #2
Jessie Fraser
as Screaming Woman
Sherry Nelson
as Newscaster #3
Andrew Chin
as Yakuza Thug
Jason McKinnon
as Handsome Guy
Martha Higareda
as Kristin Ortega
Shayn Walker
as Security Guard
Camille Martinez
as Mother
Kareem Malcolm
as Millsport Uni
Paul Lazenby
as Trooper #1
Vivian Full
as Nyman's Assistant
Jody Racicot
as Mr. Philips
Natascha Schulmeister
as Enraged Person #8
Maxwell Sloan Yip
as Mickey Nowaza
Mark Acheson
as Gertie the Fence
Leanne Khol Young
as Praetorian #2
Xander Hall
as Cartel Meth #1
Nikohl Boosheri
as Nalan Ertekin
Karen Khunkhun
as Newscaster
Skyler Mowatt
as Finch/Wedge
Celeste Ziegler
as Advert Spokeswoman #1
Peter Brown
as Meth/Attendant
Richard Ian Cox
as Cheap Lawyer
Gaalen Engen
as Enraged Person #6
Will Yun Lee
as Stronghold Kovacs/Kovacs Prime/Kovacs
Isabella Farrier
as Cousin #1
Jillian Fargey
as Mrs. Henchy
Teana-Marie Smith
as Needlecast Agent #1
Chelsea Gill
as Needlecast Tech
Amitai Marmorstein
as Junkie Dealer
Cory Chetyrbok
as Spirit Saver Demonstrator
Lauren Overholt
as Enraged Person #12
Ato Essandoh
as Vernon Elliot
Jeremiah Oh
as Yakuza Guard
Darren E. Scott
as Warehouse Guard
Jane Hancock
as Orientation Woman
Kira Clavell
as Cartel Meth #3
Oliver Rice
as Mattias Stone
Sean Owen Roberts
as Scratcher
Kamran Fulleylove
as Jarek
Matt Biedel
as Dimi/Abuela
Veda Maharaj
as Boy at Stronghold #2
Anoop Randhawa
as Policeman
Joel Kinnaman
as Takeshi Kovacs/Kovacs
Seth Whittaker
as Officer #1
Hector Borderas
as Xalbador Kid #1
Tahmoh Penikett
as Dimi 1/Dimitri Kadmin
Arnold Pinnock
as Hemingway
Daphne Hoskins
as Young Daughter
Amro Majzoub
as Enraged Person #7
Nelina Nenadic
as Little Girl
Maddie Dixon-Poirier
as Little Girl
Salli Richardson-Whitfield
as Commission Leader
Seasons & Episodes
Season 1
2018 | 10 Episodes
Season 2
2020 | 8 Episodes
Awards
Academy of Science Fiction, Fantasy & Horror Films, USA 2018
Nominee
Academy of Science Fiction, Fantasy & Horror Films, USA
Best New Media Television Series
Dragon Awards 2018
Best Science Fiction or Fantasy TV Series